This article first appeared in City & Country, The Edge Malaysia Weekly, on August 19, 2019 - August 25, 2019.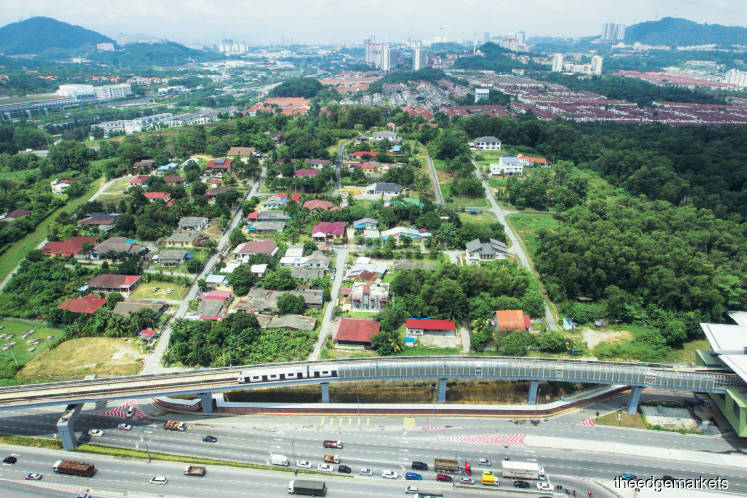 Today, Sungai Buloh has emerged as one of the fastest-growing areas in Greater KL with a wide choice of housing and amenities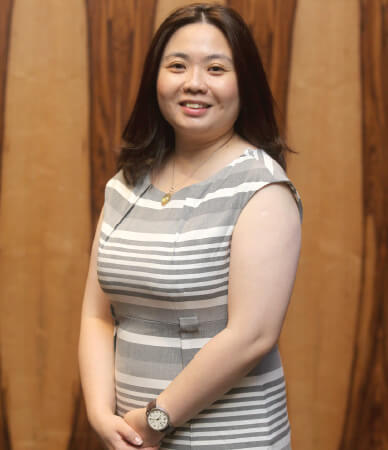 Property values in Sungai Buloh appreciated when the MRT SBK line was completed and have the potential to appreciate further once the new MRT Sungai Buloh-Serdang-Putrajaya line is completed." — Wong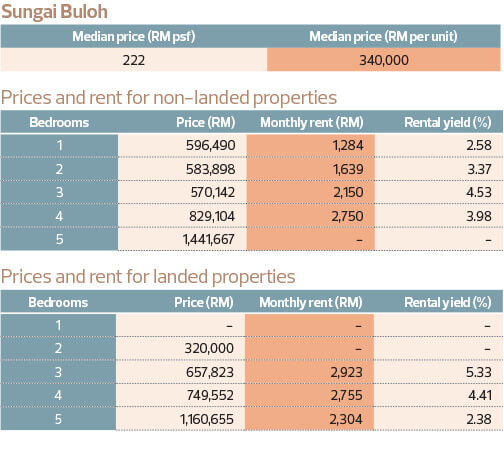 The Sungai Buloh we know today is far different from its early days. Ask around and many people still remember when it was best known for the leprosy settlement, Valley of Hope. Today, Sungai Buloh has emerged as one of the fastest-growing areas in Greater KL with a wide choice of housing and amenities. Much of this can be attributed to its transport infrastructure, thanks to the development of new highways and rail systems.
It is easy to get from Sungai Buloh to established retail outlets such as The Curve and IKEA in Mutiara Damansara via the New Klang Valley Expressway (NKVE) or Damansara-Puchong Expressway (LDP). Kuala Lumpur city centre is an easy drive away via the Middle Ring Road 2 and Duta-Ulu Klang Expressway, says Savills Malaysia director of research and consultancy Amy Wong.
Sungai Buloh is also served the MRT (mass rapid transit) Line 1, the Sungai Buloh-Kajang (SBK) line, as well as KTM Komuter trains, which link the area to the KL city centre and other parts of the Klang Valley. The impact of the MRT SBK line on the property market in Sungai Buloh can be seen in the prices and demand, says Wong.
According to data from Savills Malaysia, the average price of Danau Seri Apartments has increased 60%, to RM337 psf last year from RM210 psf in 2014. A similar upward trend can be seen at Lestari Apartment, which also rose 60% to RM187 psf last year from RM116 psf in 2014.
Earlier this year, a 4,004 sq ft house in Bandar Seri Coalfields KLK Land was transacted for RM1.21 million, or RM303 psf, and another 1,076 sq ft house in the estate was transacted at RM220,000 or RM303 psf. Late last year, a 1,281 sq ft unit in Villamas Condo, Bina Puri Holdings Bhd, was sold for RM200,000 and a 1,335 sq ft unit in Astana Putra was sold for RM525,000, or RM393 psf, in April.
A search through the listings on EdgeProp.my shows that 1,000 to 3,000 sq ft terraced houses command asking rents of RM1,000 to RM3,600 per month. As for non-landed properties, units with the same built-ups are asking RM900 to RM3,600 per month.
The area's average price psf for non-landed property is RM153, compared with the state average of RM237, while the average price psf for landed property is RM1,820 compared with RM2,085.
Sungai Buloh has also seen a growth in gated-and-guarded residential communities aimed at middle to upper-class residents, with some prices reaching seven figures. These include KLK Land's Sierramas and Bandar Seri Coalfields and Sunway Group's Sunway Rahman Putra, which overlooks the 36-hole Rahman Putra Golf & Country Club.
Sungai Buloh is set to undergo its next phase of growth in the coming years. The 2,230-acre Kwasa Damansara, Kwasa Land, is projected to generate a gross development value of RM50 billion over the next 20 years and have a population of 150,000 once it is completed, says Wong.
"2021, Sungai Buloh will be served two MRT stations. This will bring in more residents who can commute to work MRT," she says, referring to the first phase of the MRT Line 2 that will be added from Sungai Buloh to Kampung Batu.  This will make Sungai Buloh a good area for homebuyers and investors. "Property values in Sungai Buloh appreciated when the MRT SBK line was completed and have the potential to appreciate further once the new MRT Sungai Buloh-Serdang-Putrajaya line (the entire MRT2 line) is completed."
Spoilt for choice
Sungai Buloh offers gourmands a wide selection. Restoran Soon Hock in Kampung Desa Aman is well known for its fish dishes. The steamed tilapia with fungus, bird's eye chilli, tomatoes, toufu, mushrooms and garlic comes highly recommended.
Considered the best Chinese restaurant in the area many residents, Restoran Lee Hong Kee at Kampung Baru Sungai Buloh is known for its home-style food and a menu that includes all the standard Chinese dishes. One of the highlights is the standing roast chicken — a whole roast chicken is served hanging from a hook.
Another local favourite is Jeff Lee Kitchen, located in Kampung Baru Sungai Buloh as well. Jeff Lee Kitchen is famous for its roast duck and its steamed chicken is also a must-try.
Also in Kampung Baru Sungai Buloh is Restoran Yin Her, which is located next to a pond that provides a nice view for diners. The signature dish is golden pumpkin butter chicken — chicken is fried with a coating of puréed pumpkin and butter with sliced curry leaves. Another recommended dish is the red tilapia steamed in Nyonya style.
Kampung Baru Sungai Buloh's Restoran LYJ is famous for its poon choi (basin dish). It is a traditional Cantonese dish that offers a variety of the best delicacies in a basin (traditionally wooden) to be shared with a group of people.
The poon choi here comes in two layers. The dry ingredients — scallops, chicken, duck, prawns, ribs, abalone and oysters — are on top while the wet ingredients — mushrooms, chicken feet, pork knuckle, fish, fish maw and stewed pork — are at the bottom. The pork lard rice is also a must-try.
De Chiang Mai Thai Seafood Restaurant in Kampung Melayu Batu 13 serves popular dishes such as tom yum soup and thapthim krop, a popular dessert of water chestnut cubes served in coconut milk and ice. Other delicious dishes are steamed siakap, seafood tom yam, otak-otak and pandan chicken.
If you are looking for vegan and organic bread, Whitebrickoven Food is the place to go. Named after the wood-fired brick oven that the owner and baker Martin Prior aka Mustafa Abdullah built himself, Whitebrickoven Food operates from his home. Together with his wife Mardia Nasir, Mustafa bakes traditional European pastries with organic flour from France and Germany. They also mill their own wholemeal flour on a stone mill imported from East Tyrol.
All pastries are made from homemade levain derived from sourdough and everything is completely organic and vegan. Their bread is made to order so head over to their website to make your purchase. The couple open the bakery to the public only on Sundays and serve a variety of soups, quiche, pastries and bread products such as pretzels and bagels.
Sungai Buloh is also known for its many plant nurseries, which are closely tied to its history.
Close to the nurseries is the Valley of Hope, the former leprosy settlement. Today, the area is open to the public. A trip there will take one through the history, good and bad, of the leprosy settlement.
For some indoor entertainment, head to Flip Out Trampoline Malaysia in Taman Industri Sungai Buloh. It has various areas for adults and children alike to jump around and burn some calories.