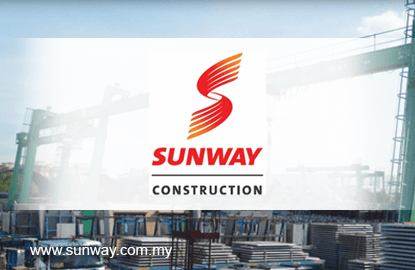 KUALA LUMPUR (March 28): Sunway Construction Group Bhd (SunCon)'s subsidiary has been awarded a RM1.21 billion project by Mass Rapid Transit Corp Sdn Bhd (MRT Corp) to build a viaduct guideway and other associated works for the MRT Sungai Buloh-Serdang-Putrajaya Line (SSP Line).
In a statement, MRT Corp said under work package V201 given to Sunway Construction Sdn Bhd (SCSB), the contractor would build and complete the project for a 4.9km stretch of the SSP Line's elevated alignment from Sungai Buloh to Persiaran Dagang.
SCSB is currently the work package contractors for Package V4 of the MRT Sungai Buloh-Kajang Line, said MRT Corp, adding that on that basis, the company was pre-qualified to tender for work packages for the SSP Line.
MRT Corp chief executive officer Datuk Seri Shahril Mokhtar said this was the second viaduct package awarded for the construction of the SSP Line after the RM1.44 billion award for Work Package V202 last week to Ahmad Zaki Sdn Bhd on Friday.
"The pace that packages were awarded was very good. Both contractors (SCSB and Ahmad Zaki) will very soon be clearing their sites and mobilising machinery to begin construction work.
"This is a very good development for the project to ensure that phase one of the SSP Line begins operations in the second quarter of 2021 and the rest of the line in the second quarter of 2022," he said.
The award of the project to SCSB was made following a One Stop Procurement Committee meeting chaired by Prime Minister Datuk Seri Najib Razak.
Shahril pointed out that successful tenders were selected on the basis of the best-evaluated tender — based on technical and commercial aspects, which meant that the lowest price was not always the factor for tender selection.
"However, I can state that the best-evaluated tender for this work package was also the one with the lowest price among the four tenders submitted," he said.
The SSP Line is 52.2km long, with 13.5km running underground. It will have 37 stations — 11 of them underground.
MRT Corp said in total there are 66 work packages tendered for SSP Line construction, which includes 10 viaduct guideway packages, one underground package, two depot work packages, 10 station work phase, and 15 multi-storey parks and ride work packages.
The remaining tenders are for advance works, connectivity, systems, designated suppliers and contractors, it said.
SunCon shares closed unchanged at RM1.67 for a market capitalisation of RM2.1 billion.