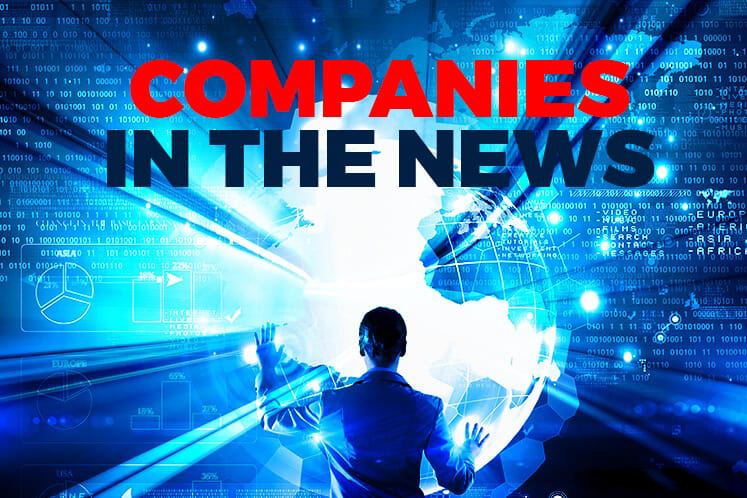 KUALA LUMPUR (Feb 19): Based on corporate announcements and news flow today, stocks in focus for Wednesday (Feb 20) may include: Sunway Construction Group Bhd, Boustead Holdings Bhd, Hup Seng Industries Bhd, Asia Brands Bhd, Hibiscus Petroleum Bhd, Pesona Metro Holdings Bhd, KPJ Healthcare Bhd, GHL Systems Bhd and WCE Holdings Bhd.
Sunway Construction Group Bhd (SunCon) has bagged a contract from Tenaga Nasional Bhd to develop a campus on Jalan Bangsar for RM781.3 million.
SunCon said upon receiving the award of the project today, its outstanding order book to-date amounts to RM6 billion.
The project, it said, is termed Project Platinum Main Building. The works are in respect of phase two of Tenaga's headquarters campus development.
Boustead Holdings Bhd is disposing of its Royale Chulan Bukit Bintang Hotel business to Singapore-based Hotel Royal Ltd for RM197 million.
Boustead's wholly-owned unit Boustead Hotel & Resorts Sdn Bhd accepted the offer from Hotel Royal today. As part of the terms, Hotel Royal is granted an exclusivity period of one month to conduct a due diligence on the hotel.
Hup Seng Industries Bhd's net profit fell 11.4% to RM12.74 million for the fourth quarter ended Dec 31, 2018 versus RM14.38 million in the previous year as a result of higher cost of sales and poorer margins. Revenue slipped to RM85.85 million from RM86.22 million a year ago.
The company declared an interim dividend of two sen per share for the financial year ending Dec 31, 2018, which was paid on Jan 8.
For the full year, net profit was down 3% to RM42.96 million from RM44.45 million in the previous year, though revenue rose 3% to RM307.37 million from RM299.67 million a year ago.
Asia Brands Bhd has aborted its plan to undertake a private placement exercise, which would have seen it issuing up to 20% of its enlarged share capital to new investors to raise RM23.27 million.
It said it will not proceed with the implementation of the private placement as the company had achieved its objective to raise funds from the rights issue for the repayment of the Islamic Medium Term Notes (Tranche 1, Series 3) of RM40 million due on March 18, 2019.
Hibiscus Petroleum Bhd's net profit for the second quarter ended Dec 31, 2018 jumped over four times or 354% to RM50.11 million from RM11.04 million a year ago, on additional contribution from its recently-acquired North Sabah assets and higher production efficiency at its Anasuria Cluster in the UK.
Revenue grew 117% to RM165.16 million from RM76.06 million a year ago.
For the cumulative half year period ended Dec 31, 2018 (1HFY19) the group's net profit skyrocketed 588% to RM150.11 million, which is about seven times the RM21.83 million it recorded in the year-ago period. Cumulative revenue grew 291% to RM525.11 million from RM134.3 million.
Pesona Metro Holdings Bhd has bagged a contract worth RM408.8 million from Malaysian Resources Corp Bhd (MRCB) for superstructure works for a mixed development in Seksyen 98, here.
Pesona Metro's wholly-owned subsidiary Pesona Metro Sdn Bhd has accepted the letter of acceptance today from MRCB's wholly-owned subsidiary MRCB Builders Sdn Bhd.
Separately, it said its Pembinaan Kaleigh-Pesona Metro joint venture (JV) has mutually terminated another project worth RM371.42 million in relation to the civil works for Section 6 of the Kapar Interchange to Asam Jawa Interchange of the privatisation of the West Coast Expressway.
The termination comes with a settlement sum of RM7.17 million payable by the main contractor — Konsortium Kontraktor Sdn Bhd-Pembinaan Kaliegh JV — to the Pembinaan Kaleigh-Pesona Metro JV.
KPJ Healthcare Bhd posted a net profit of RM53.32 million in the fourth quarter ended Dec 31, 2018 (4QFY18) down 12.47% from RM60.92 million in the same quarter last year due to higher effective tax rate and losses from the discontinued Australian operations.
The decline was despite quarterly revenue rising 3.55% to RM863.35 million from RM833.73 million previously, mostly helped by better contribution from its Malaysian operations which made up over 95% of group revenue.
For the full-year ended Dec 31, 2018 (FY18), KPJ's net profit saw growth of 10.83% to RM179.44 million from RM161.91 million the year before, as full-year revenue rose 4.03% to a record-high of RM3.31 billion from RM3.18 billion in FY17.
GHL Systems Bhd's wholly-owned subsidiary PT Payment Electronic Indonesia (GHL Indonesia) has entered into a merchants and aggregator transaction acceptance agreement with Bank Negara Indonesia (BNI).
GHL said the agreement will enable GHL Indonesia to manage merchant transactions and allow them to receive electronic payments through EDC terminals (electronic data capture), QR (mobile payments), mPOS (mobile sales points) or other acceptance methods as determined by both parties.
WCE Holdings Bhd's net profit grew 7.4% to RM10.34 million for the third financial quarter ended Dec 31, 2018 (3QFY19) from RM9.62 million a year ago, on lower taxation.
Quarterly revenue, however, fell 19.9% to RM123.3 million from RM153.88 million in 3QFY18.
For the cumulative nine months ended Dec 31, 2018 (9MFY19), WCE saw its net profit fall 21.7% to RM21.71 million from RM27.72 million a year ago, while revenue declined 9.2% to RM493.07 million versus RM543.07 million in 9MFY18.