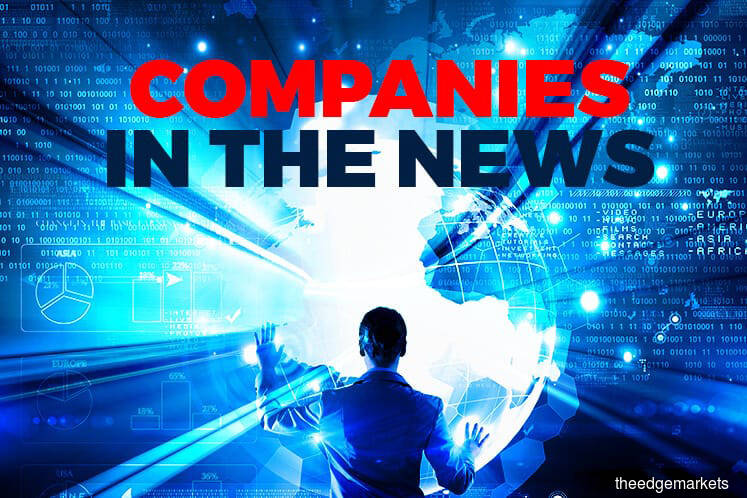 KUALA LUMPUR (Dec 20): Based on corporate announcements and news flow today, companies that may be in focus on Monday (Dec 24) may include the following: Sumatec Resources Bhd, Top Gloves Bhd, Sime Darby Bhd, Advance Synergy Bhd, PRG Holdings Bhd, Muhibbah Engineering (M) Bhd, WCT Holdings Bhd, Sedania Innovator Bhd, DKSH Holdings (M) Bhd, AirAsia Group Bhd and My E.G. Services Bhd.
Sumatec Resources Bhd's largest shareholder Tan Sri Halim Saad has been seen paring down his stake in the Practice Note 17 (PN17) oil and gas company.
Halim, who has been disposing of his shares over the past four months, sold 54.39 million shares today via the open market. He now holds a 9.28% stake in the company.
In just December alone, he has so far disposed of 1.3%. In January he held 12.7%, and the last time he disposed of his shares before then was in April 2017.
Top Gloves Corp Bhd, which said earlier this year it would be investing RM100 million to set up a new plant to produce vinyl gloves in Vietnam, announced it has incorporated a subsidiary there for the purpose of manufacturing gloves and other products.
The subsidiary that was incorporated on Dec 19 as a one-member limited liability company has a charter capital of 136.70 billion dong (RM24.42 million).
Sime Darby Bhd is buying a 65% stake in a Chinese motor vehicle retailer to further strengthen its footprint in Yunnan province. 
It is paying 19.50 million yuan (RM11.83 million) for the stake in Qujing Bow Kai Motors Sales & Services Co Ltd. 
Kuching-based Advance Synergy Bhd is buying Beaver Hotel in London, UK, for £10.25 million (RM55.63 million), which it expects will be able to provide it a steady revenue income.
It said the acquisition is also in line with its intention to have a greater presence in Europe and to further enhance its hospitality operations in major cities around the world.
PRG Holdings Bhd has agreed to subscribe for shares in Singapore-listed Capital World Ltd, which is primarily involved in property development in
Malaysia. 
Capital World's flagship project is Capital City in Johor Bahru, comprising a shopping mall, hotel, serviced suites and serviced apartments. 
PRG said it will subscribe for 265 million new shares in Capital World for S$9.28 million, and another 44 million option shares at S$1.00 per share.
Muhibbah Engineering (M) Bhd has bagged two Engineering, Procurement, Construction, Installation & Commissioning (EPCIC) contracts worth a collective RM205 million.
The first is a contract from Regas Terminal (Sg Udang) Sdn Bhd, a wholly-owned subsidiary of Petronas Gas Bhd (PetGas), to provide EPCIC of seawater overboard upgrading, firewater network improvement and new pressure control installation project in Melaka. 
The second is to provide EPCIC of Yetagun Acid Gas Removal Unit project in Myanmar, from PC Myanmar (Hong Kong) Ltd, a wholly-owned unit of Petronas.
WCT Holdings Bhd and TSR Capital Bhd have accepted a contract award worth RM676.8 million to build a shopping complex at the integrated Merdeka 118 development in Kuala Lumpur.
Their wholly-owned subsidiaries — WCT Bhd (WCTB) and TSR Bina Sdn Bhd (TSRB) — today executed the letter of acceptance issued by PNB Merdeka Ventures Sdn Bhd.
WCTB and TSRB will in due course form an incorporated joint venture company, on a ratio of 51:49 respectively, to undertake the contract.
Sedania Innovator Bhd is to jointly supply and install its green technology solutions with Matrix Energy (M) Sdn Bhd in 100 additional branches of a bank, having already installed the technology in 100 branches earlier.
Sedania said the move is part of the group's RM8.4 million five-year energy performance contract (EPC), which entails the supply, installation and maintenance of its greentech solutions.
DKSH Holdings (M) Bhd is acquiring the entire equity interest in chilled and frozen products distributor Auric Pacific (M) Sdn Bhd for an initial price of S$157.67 million (RM480.91 million) from Singapore-based Auric Pacific Group Ltd to complement its existing fast moving consumer goods market expansion services.
Auric is principally involved in the supply of bakery and confectionary materials, as well as other general products.
DKSH said the final purchase price will be the sum of the initial purchase price, less the completion net debt. The range of indicative values for the entire equity interest in Auric was between S$148 million (RM451 million) and S$171 million (RM522 million).
AirAsia Group Bhd said its unit Asia Aviation Capital Ltd (AACL) has executed an agreement with CDB Aviation Lease Finance DAC for the acquisition of the entire equity interest of GY Aviation Lease Labuan 1 Ltd to restructure the lease of an Airbus A320-251N aircraft.
In another development, Garuda Indonesia said it is in talks with AirAsia Indonesia on possible joint operations.
Garuda sees a possible partnership between its unit Citilink and AirAsia Indonesia on international flights. 
My E.G. Services Bhd's Philippine-based joint venture has signed a memorandum of agreement with the country's National Bureau of Investigation (NBI) to
implement the agency's electronic payment and collection system (EPCS).
MyEG said the joint venture, comprising I-Pay MYEG Philippines Inc and I-Pay Commerce Ventures Inc (IPCVI), was signed on Dec 17.
It said the memorandum is to outline the terms and conditions to be observed by both parties to implement the NBI's EPCS, including the installation and operation of the EPCS, as well as other aspects of the project.