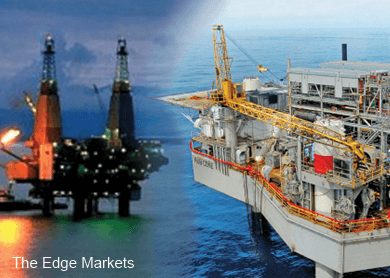 KUALA LUMPUR (Mar 27): Sumatec Resources Bhd and Perisai Petroleum Teknologi Bhd erased gains among top active stocks as crude oil prices fell.
This followed a substantial rise in crude oil prices earlier as investors anticipated military strikes in Yemen would affect world supply of the commodity.
However, prices fell after analysts said the existing oversuply of crude oil would still have an upper hand in dictating prices.
At 11:18am, Sumatec (fundamental: 2.4; valuation: 0.3) traded flat at 23 sen after rising to a high of 23.5 sen so far today. The stock saw some 13 million shares transacted.
Perisai (fundamental: 0.45; valuation: 1.2) fell as much as 0.5 sen or 0.9% at 11:19am to 58 sen after rising to a high of 60.5 sen. The second most active stock saw some 33 million shares changing hands.
FBM KLCI component SapuraKencana Petroleum Bhd also saw profit-taking. SapuraKencana (fundamental: 1.3; valuation: 1.8) traded flat at RM2.40 at 11:29am after rising to a high of RM2.44 so far today.
Some 3.5 million shares were transacted.
 
According to Reuters, Brent crude jumped about 5% yesterday, its biggest daily gain in a month, while West Texas Intermediate (WTI) crude soared above $50, approaching 2015 highs.
Today, Brent crude fell 1.25% to US$58.45 per barrel while WTI crude fell 1.69% to US$50.56 per barrel.
The Edge Financial Daily (Edge FD) carried a report today on the impact of the political crisis in Yemen on crude oil prices and the shares of Malaysian oil and gas (O&G)-related companies.
 
Edge FD, quoting analysts, reported that the rise in crude oil prices, after Saudi Arabia started military operations against Iranian backed-Houthi rebels in Yemen, and its impact on local O&G-related stocks would likely be temporary.
The report quoted M&A Securities head of research Rosnani Rasul as saying the conflict's influence on local O&G stock prices would be limited as the underlying landscape of the global O&G sector remained unchanged.
"With Saudi Arabia being the largest oil producer in the world, any news about them will cause an oil price shock. The air strike in Yemen is a localised conflict and the fundamental issues within the global O&G sector is the same. There is a global supply glut," she said.