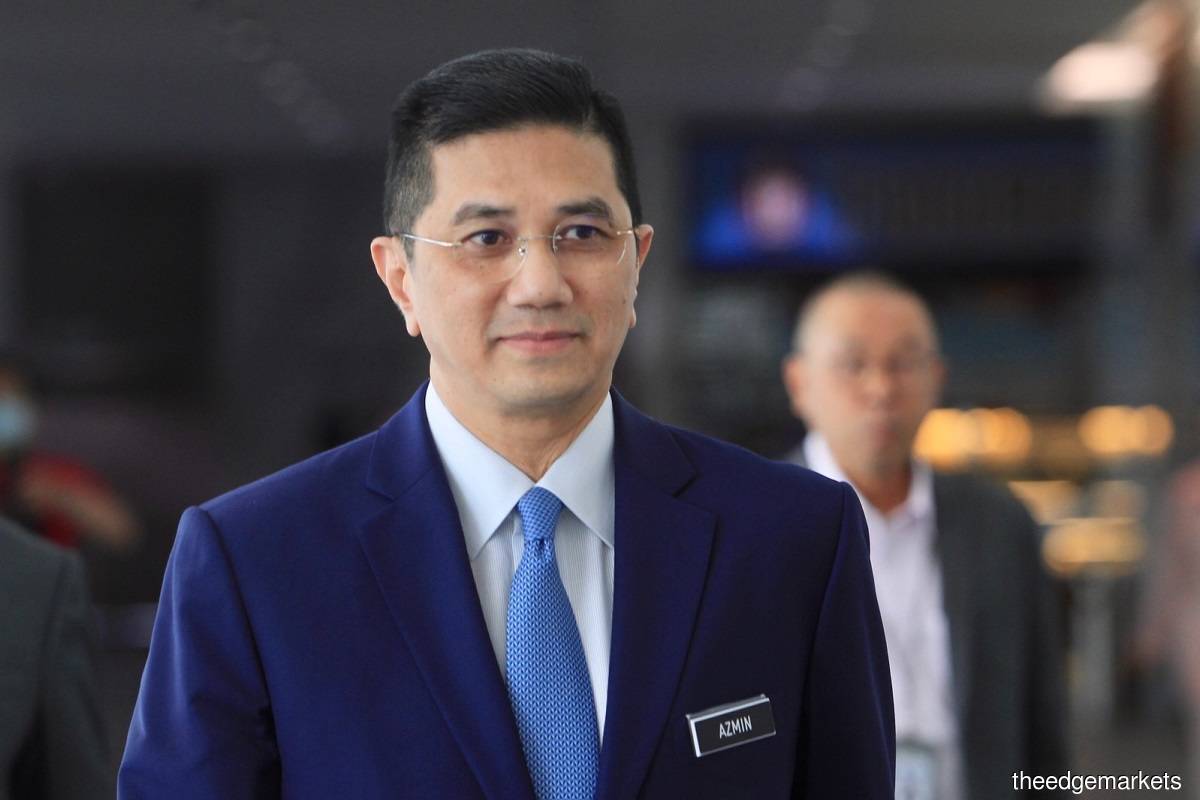 KUALA LUMPUR (Nov 27): The Sessions Court has fixed Jan 26, and two dates in February, as trial dates for YHA Travel & Tours (M) Sdn Bhd's RM167,322 suit against Senior Minister and International Trade and Industry Minister Datuk Seri Mohamed Azmin Ali over unpaid travel bills as well as his counterclaim.
The dates were fixed by Sessions Court Judge Lailatul Zuraida binti Harron @ Harun.
Besides the Jan 26, 2021 date, Lailatul also fixed Feb 24 and 25 for the hearing.
The dates were confirmed by Mohamed Azmin's lawyer Shahid Adli Kamaruddin and YHA's lawyer Adam Yap with theedgemarkets.com.
It remains uncertain if YHA Travel's RM102,650 suit against three of Azmin's children will be heard together on that same day as the company's lawyers are continuing efforts of substitute service. Shahid is not representing the trio.
Last Nov 19, it was reported that the court had allowed Yap to institute substitute service to serve the documents on the three children by putting the advertisements in newspapers this week.
Yap, however, today said they need to amend the order of substitute service and it would be delayed.
According to YHA's statement of claim, which was found by theedgemarkets.com through a file search, Mohamed Azmin had been a customer of the travel agency for 20 years.
The company claimed the senior minister would normally settle his bills within three to four months but in this instance, the payments had been outstanding for far longer.
It was referring to family trips made between Sept 10, 2018 and Aug 5 last year, including to Marrakech, London, Jakarta, the Gold Coast, Dubai, Geneva, Singapore, Bangkok, Barcelona and Santorini.
The company also provided the itineraries of Mohamed Azmin's trips to Hanoi and Kota Kinabalu between Sept 14 and Sept 16, 2018, and to Sandakan on May 10 to May 11 last year, which was during the Sandakan by-election.
YHA is now seeking payment of RM167,332 from the minister and a total of RM102,560 from his children.
The company claimed it sent a letter of demand to Mohamed Azmin on Aug 27 and another on Sept 30 last year, but had received no responses.
"Notwithstanding the repeated demands, the defendant had failed and neglected and refused to pay the amount stipulated," YHA said.
Meanwhile, Mohamed Azmin was reported to have filed a counterclaim against the travel agency through Messrs Daim & Gamany.
The senior minister claimed that the travel agency's majority shareholder Yasmin Hanim Arbee and her husband, chairperson Datuk Mohd Ayub Hassan, are the parents of one Mohd Haziq Hassan Mohd Ayub.
According to the counterclaim, Haziq Hassan had been arrested in connection with a police probe into a purported sex video that allegedly features Mohamed Azmin and one other individual.
The countersuit said both Yasmin and Mohd Ayub had enjoyed a "very close relationship" with PKR president Datuk Seri Anwar Ibrahim.
"The filing of this suit by the travel agency is not for the vindication of the plaintiff's rights but for some ulterior purposes designed to harm the defendant (Mohamed Azmin)," it said.
"The conspiracy in relation to the 'fitnah video' was orchestrated by the leader of a political party," it added.
The countersuit also alleged that YHA's statement of claim had been leaked to Sarawak Report, which could not have been privy to the filing, thus supporting the claim of an ulterior motive.
Mohamed Azmin admitted liability to the sum owed by himself and his children under the age of 20, which according to him amounted to only RM162,272.
However, he said his children that are older than 20 would have to pay the sum owed themselves.
The minister is seeking damages, costs and other relief deemed necessary by the court.
Read also:
Court allows substitute service on travel agency's claim against Azmin's three children