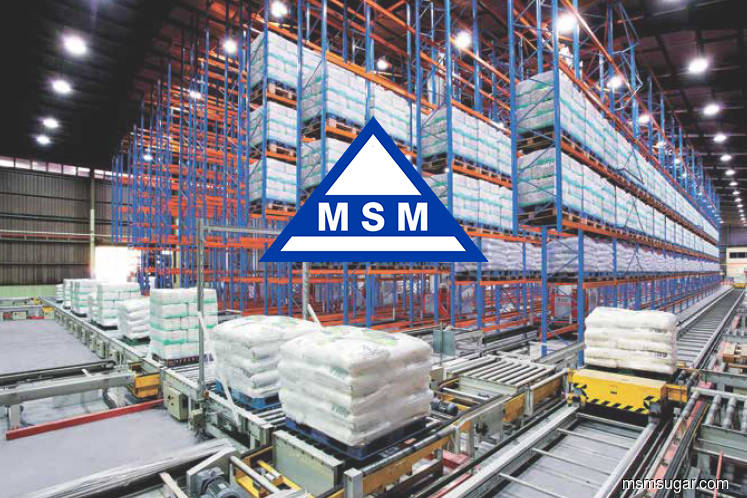 KUALA LUMPUR (June 17): MSM Malaysia Holdings Bhd, the country's largest refined sugar producer, aims to make its financial year ending Dec 31, 2020 (FY20) a profitable one, helped by improved efficiency and higher utilisation rate at its Johor plant under MSM Sugar Refinery (Johor) Sdn Bhd.
Speaking at a virtual press conference after its annual general meeting today, MSM group chief executive officer (CEO) Datuk Khairil Anuar Aziz said the group aims to maximise the potential of MSM's Johor operations, which involve aggressive product diversification into premix and liquid sugar, besides fine syrup, to cater to industrial demand across Asia.
"We are very optimistic this year and we will do whatever we can to make sure that we can go back on track and repeat our history of profitability at MSM," Khairil said.
In the first quarter ended March 31, 2020 (1QFY20), the group widened its net loss to RM34.71 million, from RM7.06 million a year earlier, a filing with Bursa Malaysia on May 27 showed.
MSM reported a net loss of RM299.77 million in FY19 compared with a net profit of RM35.66 million in FY18.
According to Khairil today, MSM has total sugar production capacity of more than two million tonnes a year, which half of it is from the Johor plant.
The Johor plant has a utilisation rate of 34%, now and the group is targeting to raise the utilisation rate to 50% by year end, he said.
"The challenge for us now is to ensure that our factory in Johor runs smoothly. The production of all refineries has to be strategically balanced as we need to optimise utilisation and manage costs efficiently."
Khairil said a higher plant utilisation rate will result in lower production cost for the group.
With extra capacity at MSM's Johor plant, the group has started producing liquid sugar for export since October last year.
Khairil noted that while production of liquid sugar is still incomparable to crystal sugar, liquid sugar has a "promising future" as industrial buyers seem to be switching to this product.
"We want to grow this business and our aim is to be the largest liquid sugar provider in Asia. It will be tough, but we have seen increasing demand. We just started [this newly-launched export product], so we are quite conservative (on our target) this year," Khairil said.
He said MSM is looking at a liquid sugar production of about 50,000 tonnes by year end.
On its foray into healthy sweetener products, Khairil said MSM plans to launch the product line by the end of this month.
The product line, originally planned for launch earlier, experienced some setbacks due to the Covid-19 pandemic, he said.
MSM's share price closed up 1.5 sen or 2.65% at 58 sen today, giving it a market capitalisation of RM407.73 million. The stock saw 5.44 million shares traded.