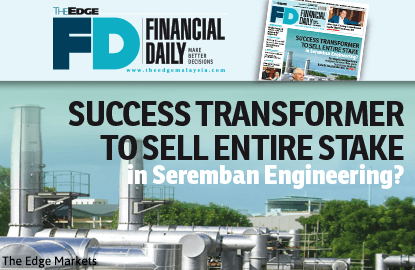 This article first appeared in The Edge Financial Daily, on October 28, 2015.
KUALA LUMPUR: Success Transformer Corp Bhd, one of the largest low-voltage transformer and industrial lighting manufacturers in the country, is said to be looking to sell off its entire 65% stake in the loss-making Seremban Engineering Bhd (SEB), according to a source.
Interestingly, SEB, a Negeri Sembilan-based process equipment manufacturer, received an unusual market activity (UMA) query from Bursa Malaysia yesterday after it hit limit up, surging to a 52-week high of 76 sen yesterday, rising 30 sen or 65.2% from Monday's close of 46 sen.
Within a day, the company saw its market capitalisation jump significantly from RM36.6 million to RM60.6 million.
It was the second top gainer on the bourse yesterday, with some 27.19 million shares changing hands between 48.5 sen and 76 sen, compared with 1.18 million shares on Monday.
SEB's net asset per share as at June 30 stood at 70 sen.
In a reply to the UMA query, SEB said board of directors was not aware of any corporate development, rumour or report, or any other possible explanation that could account for the sharp rise in trading activity.
It is worth noting that the Wong family, that started SEB, ceased to be substantial shareholders of Success Transformer, after disposing of 5.11 million shares, equivalent to about 4.4% stake at RM1.47 apiece in the open market on Oct 16.
The Wong family's vehicle Wtech Holdings Sdn Bhd was still listed as the second-largest shareholder of Success Transformer with a 13.98% stake as at April 30. They had been actively paring down their stake since July this year.
"The Wong family is exiting Success Transformer, so it makes sense that the company is no longer keen on Seremban Engineering," the source said.
At the moment, it is not known who the potential buyers could be for the 65% stake in SEB, but whoever they are, there is a possibility the move could breach the 33% mandatory general offer threshold.
As at press time, Success Transformer could not be reached for comment.
The share price of Success Transformer  is also on the uptrend, gaining 81 sen or 61% in less than three weeks.
Yesterday, shares in Success Transformer rose 13 sen or 6.5% to an all-time high of RM2.14, giving it a market capitalisation of RM246.7 million.
To recap, Success Transformer ventured into process equipment manufacturing by acquiring 100% stake in Seremban Engineering Sdn Bhd between end-2006 and 2008, before the latter was listed on the local stock exchange in 2010.
SEB had been contributing about 20% to 30% of Success Transformer's bottom line over the years, but this changed when the former's Sabah Ammonia Urea (SAMUR) project experienced cost overrun last year.
In financial year ended Dec 31, 2014 (FY2014), SEB reported a net loss of RM5.75 million, compared to a net profit of RM6.27 million a year ago. The company continued to register a net loss of RM5.97 million in the first half ended June 30, 2015 (1H FY2015).
The poor performance of SEB dampened the financial results of Success Transformer, which reported a lower net profit of RM24.44 million in FY2014, compared with RM28.93 million a year earlier, representing a drop of 15.5%.
Success Transformer is 42.39% owned by Omega Attraction Sdn Bhd, a private vehicle of the Tan family. The group managing director Tan Ah Ping, his wife Pan Kim Foon and daughter Tan Chung Ling are also listed as the substantial shareholders.