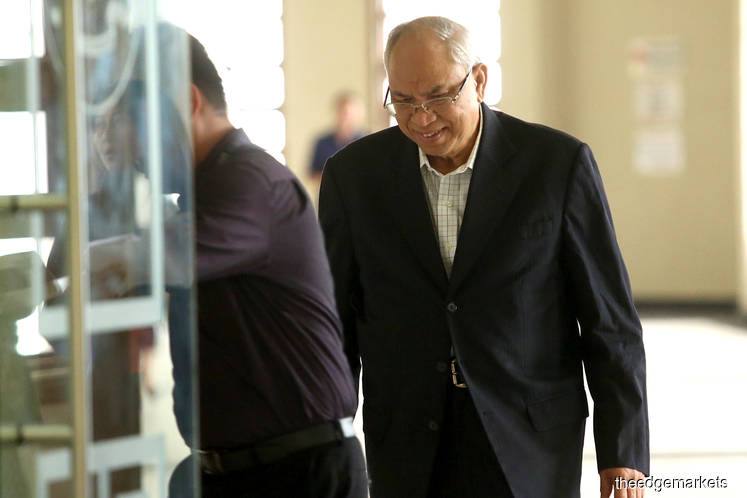 KUALA LUMPUR (July 1): SRC International Sdn Bhd director Datuk Suboh Md Yassin signed a directors' circular resolution (DCR) ratifying Ihsan Perdana Sdn Bhd as the corporate social responsibility (CSR) partner of the company while he was hiding in Bangkok, Thailand.
Nik Faisal Ariff Kamil, the ex-managing director of SRC, had instructed him to sign the DCR, which was passed to him by a Thai national named Kun, he testified at the High Court here today during the 30th day of the SRC trial.
"Nik Faisal said there was unfinished business regarding the CSR and suddenly a Thai national came to me, asking me to sign the document," he said, adding that after signing the document he handed it back to Kun.
After receiving the document, Kun handed him a flight ticket to Abu Dhabi.
"I got to know that I was to head to Abu Dhabi to meet with MACC [Malaysian Anti-Corruption Commission] people," he added.
Suboh had testified last month that he had wanted to assist the MACC investigations into 1Malaysia Development Bhd — the former parent of SRC — when the scandal was at its height in 2015.
After informing the commission that he was willing to meet its officers at its office, he received a call from an unidentified person claiming to be an MACC officer who told him to leave the country.
"I was afraid of my and my family's safety as [Datuk Seri Najib Razak] was in power as the prime minister [then] and was the Finance Minister," he said.
Suboh told Deputy Public Prosecutor Datuk Ishak Mohd Yusoff that Nik Faisal had called him from Shanghai, China, to tell him to stay away from Malaysia after the 14th general election in May last year, but he defied his ex-colleague and returned home.
Suboh is considered a star witness of the prosecution as he had played a pivotal role in funnelling cash from SRC to Najib's personal coffers.
He, along with Nik Faisal, was a signatory of SRC's bank accounts.
Meanwhile, he was also a director of Gandingan Mentari Sdn Bhd, a subsidiary of SRC.
Suboh had signed off numerous cash transfers from SRC to Gandingan Mentari, as well as from Gandingan Mentari to Ihsan Perdana Sdn Bhd, a company engaged to undertake corporate social responsibility activities on behalf of SRC.
Notably, Nik Faisal would sign the documents first, followed by Suboh.
They had signed off transfers, worth at least RM5 million, made between December 2014 and February 2015.
When cross-examined by lead defence counsel Tan Sri Muhammad Shafee Abdullah, the witness was asked to put down 20 of his signatures where he agreed that there are some variations.
He agreed that this could have been caused by him undergoing a heart bypass in 2012 and suffering a stroke in 2017.
Suboh put down his signatures on a blank piece of paper, classifying them as two types — one of which is his "comprehensive" signatures and the other which he declared as "ikut sedap" (one he signed according to his whims).
The trial continues as Najib is facing seven counts of criminal breach of trust, abuse of power and money laundering involving RM42 million of SRC fund between Dec 26, 2014 and Feb 10, 2015.