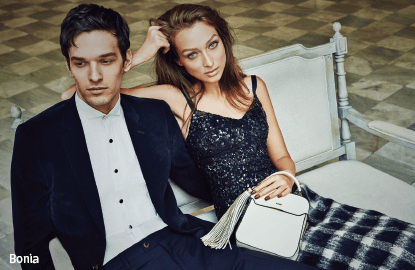 This article first appeared in The Edge Financial Daily, on October 27, 2015.
Bonia blends together sophisticated British elegance with modern design for its latest autumn/winter collection. For this line, creative director Pepe Torres takes inspiration from the attractive modern aristocrat with a fine appreciation for style. 
This range of bags and shoes marks Torres' first collection for the brand. Known for his beautiful designs, he cleverly incorporates modernism and youthfulness with timeless glamour for this collection. The Starsome clutch takes the centre stage of this collection with its simplistic shape and flower design in nappa leather. 
Perfect for the girl about town, the clutch is an ideal accessory to have in your wardrobe, thanks to its ability to mix and match easily when you are picking out what to wear. Fun and flirty, the clutch has a strong youthful element to it. Available in a range of colours, you can choose among mustard yellow, royal blue, ivory white, taupe, classic black and pumpkin. The Starsome clutch also has a plain version without flowers in several colours to choose from. 
Commenting on the collection, Torres highlighted: "It's not an art that I'm developing or a design that I'm drafting; it's a story of artistry inspiration that inspired fashion and [the] life that I'm telling. It's the eyes of an artistic wanderer."
The rest of the collection infuses the brand's signature contemporary Italian flair into everyday handbags and shoes. The Sonia range of bags also has a flower motif similar to the Starsome clutch, while the bucket bags and shoulder bags are versatile in terms of everyday use. The women's shoes are also reflective of the brand's trademark designs. 
With a myriad of styles to choose from, the only problem you will have with Bonia's latest collection is choosing which design suits you best for this season.