This article first appeared in The Edge Malaysia Weekly, on April 20, 2020 - April 26, 2020.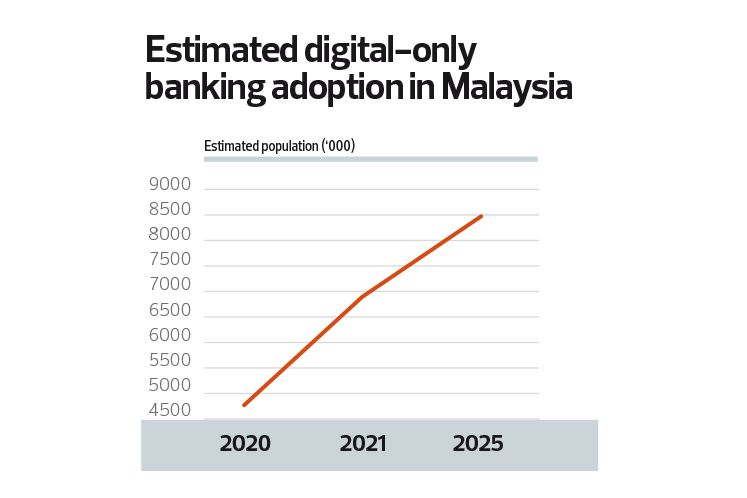 Source: Google Survey, March 2020
THE Covid-19 crisis has turned out to be both a bane and boon to companies intending to apply for a digital banking licence in Malaysia.
On the one hand, it has delayed the licence application process but, on the other, it has proven to be an unexpected catalyst in making more people and businesses turn to digital channels.
"Evidently, consumers and SMEs are turning to digital channels out of necessity during these challenging times. This is proving to be an unlikely catalyst and a further business case for the opportunities for future digital banks in Malaysia," says Lum Kar Hoe, PwC Malaysia's senior manager for financial services.
Bank Negara Malaysia recently announced on its website that, in light of the disruptions caused by the Covid-19 outbreak, it was extending the deadline for the industry to provide feedback on its proposed digital banking licensing framework to June 30, from April 30. The central bank had initially expected to finalise its policy document by the first half of this year, after which it was to open applications for the licences. It plans to issue up to five digital bank licences.
"While the current crisis will almost certainly delay the award of licences in Malaysia, it also highlights the importance of digital and social-distant banking. When the country begins its post-pandemic rebuild, digital financial services will be a high priority to help the economy recover," says Shankar Kanabiran, a financial services advisory partner at EY Malaysia.
In a telephone interview with The Edge, he points out that the Covid-19 pandemic has forced consumer behaviours to change. "Prior to the crisis, there was always the concern that it would be hard to convince the B40, senior citizens and rural folk to use digital services. But now, many have been forced to adapt to the changing circumstances. So, a change in mindset is already happening and that is only going to speed up," he says.
Bank Negara expects digital banks to focus on the "underserved and unserved" in the country — meaning, the SME, micro-SME and B40 (bottom 40% income group) segments.
However, these are the very segments most impacted by the Covid-19 pandemic and ensuing Movement Control Order, either through job losses or a sharp drop in business.
Will this, and the fact that the country faces an economic downturn, turn off potential digital banking applicants?
"It is going to be challenging, as these are the segments that are going to go through the most difficult times. But, I think [the crisis] also provides a lot of opportunities for incoming players … they will have to sharpen their business case and be clearer about what their target segment is. The question of how they plan to make money out of this underserved and unserved segment would be critical in determining whether they meet the threshold for the return on investment," says Shankar.
He believes the crisis will sift out the serious digital banking applicants from those that are "just trying their luck".
"Those who are serious, with strong capital, a strong distribution customer network and a solid value proposition, will still be interested in applying because, for them, this is a long-term play. I think the conglomerates and huge organisations with deep pockets will continue to see this as an opportunity," he says.
Given that Bank Negara's timeline for the application process has shifted, he estimates that it will probably be around end-2021 before a new digital banking player can launch in Malaysia. This, however, ultimately depends on how long it will take to contain the virus.
According to PwC, in the days leading up to the MCO, there was an increase in traditional SMEs opening up online banking accounts to facilitate the transfer of funds, in lieu of depositing traditional cheques at their local bank branches.
It notes that the hard-hit SME sector, which contributed to 38.8% of gross domestic product last year and employs about 10 million workers, will require financial assistance in the aftermath of the MCO.
"[Micro-SMEs and SMEs] face challenges in obtaining traditional credit facilities owing to their limited track record and low credit scores, which typically result in high loan rejection rates. They also have to deal with the intricacies of lengthy processing and approval times.
"Potential digital bank licence applicants can bring innovations which provide better credit assessment as well as lower servicing costs to micro-SMEs. For example, they are able to use data analytics to accelerate lending decisions and are supported by machine learning algorithms to more accurately assist in credit assessment and lending decisions," says PwC's Lum in a recent report.
He notes that digital bank applicants also have a role to play as consumers tighten their purse strings on non-essential spending.
"They are likely to form various partnerships with retailers. With their insights on consumer spending patterns, they will be able to direct consumers towards promotions on their partners' platforms. The B40 segment is likely to benefit from these product features," he says.
Technology firm Grab, telco Axiata Group Bhd and at least five banks — CIMB Group, Affin Bank Bhd, Hong Leong Bank Bhd, AMMB Holdings Bhd and Standard Chartered Bank Malaysia Bhd — are among those who have signalled interest in a digital banking licence, going by reports by The Edge last year.
According to EY, before the crisis, prospective applicants included technology players, gaming firms, telcos and ride-hailing groups. With Bank Negara's deadline now extended, those still in the race have more time to consider how to shape their application.
"What we have seen is interest from large conglomerates within and outside of Asean," says Shankar. "We have had interested parties from South Korea, Japan and China, for example, reaching out to us and wanting to know how they can participate and who they can potentially partner with."
He says applicants will almost certainly need to take a consortium approach, as no single party would be able to fulfil all the key capabilities — including strong capital, customer and distribution network, technology expertise and product design — required to launch a digital bank. "It's unlikely that even incumbent banks will be able to go it alone," he says.
Interestingly, a survey conducted in March by global financial comparison platform Finder.com, indicates that digital-only banking is set to boom in Malaysia. An estimated 4.7 million Malaysians — about 21% of the adult population — currently have a digital-only bank account, with 3.7 million more (16%) planning to open one in the next five years.
The Covid-19 pandemic could speed things up. "Restricted movement means that what was once forecast for the next five years could be squeezed into a much shorter time frame," says its global fintech editor, Elizabeth Barry.