This article first appeared in The Edge Financial Daily, on September 24, 2018.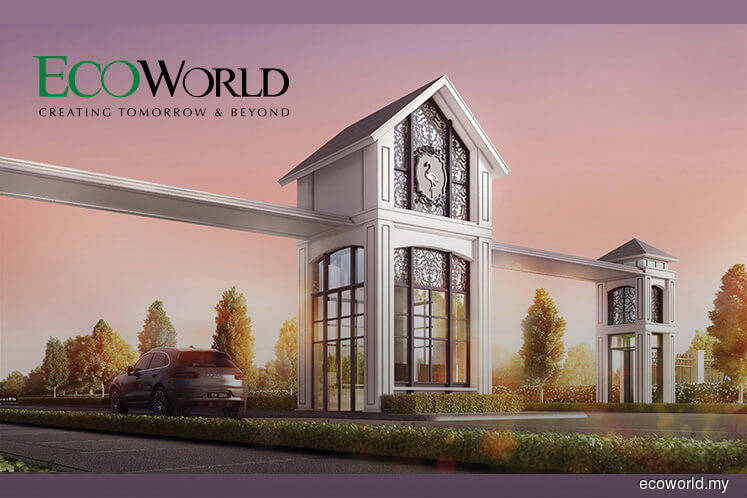 Eco World Development Group Bhd
(Sept 21, RM1.23)
Maintain add with an unchanged target price (TP) of RM1.42: Eco World Development Group Bhd's (EcoWorld) core net profit for the cumulative nine months of the financial year ending Oct 31, 2018 (9MFY18) (excluding a RM94.8 million gain on disposal of a 40% stake in Eco Grandeur in 9MFY17) made up 53% of our and 56% of Bloomberg consensus full-year estimates. We deem the results in line as we expect a stronger 4Q due to ongoing work progress and stronger joint-venture (JV)/associate contributions. Its 9MFY18 core earnings rose 22% year-on-year (y-o-y) on lower selling and marketing expenses (-53% y-o-y), lower administrative costs (-15% y-o-y) and higher JV or associate contributions.
Its 10MFY18 new property sales came in at RM2 billion, boosted by the launching of the
#OnlyEcoWorld campaign in June 2018, which more than doubled total new sales of RM923 million achieved in 1HFY18, representing 57% of its RM3.5 billion FY18 sales target. Eco Ardence was the major sales contributor (RM380 million), followed by Eco Grandeur (RM196 million). Unbilled sales stood at RM6.2 billion as of end-August 2018, translating into 2.1 times FY17 revenue.
We have cut our FY18 to FY19 earnings per share forecasts by 3% to 4% to reflect changes in Eco World International Bhd's (EWI) earnings contribution due to additional promote fees and changes in project handover timelines. We still expect EcoWorld's earnings to come in stronger y-o-y due to: i) higher revenue recognition as 10 projects will have transitioned into the growth phase of their project life cycles; ii) JV projects reaching a higher stage of completion and starting to contribute in FY18; and iii) its 27%-owned EWI turning profitable in FY18.
We remain optimistic about the stock despite the flattish overall property market as we expect EcoWorld's FY18 to FY20 earnings outlook to be stronger than its peers. We maintain "add" and our TP of RM1.42, still based on a 30% discount to revalued net asset valuation. Improving earnings and attractive valuations are key potential rerating catalysts for its share price. A sudden deterioration in property market sentiment is a key downside risk to our call. — CGSCIMB Research, Sept 20