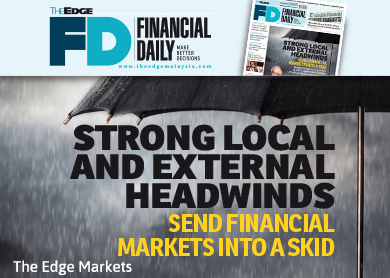 KUALA LUMPUR: Domestic political concerns plus strong external headwinds, for instance deepening of Greek debt crisis and possible sooner-than-expected US interest rate hike, sent Bursa Malaysia and ringgit into a skid yesterday.
The ringgit plunged to a 16-year low of 3.8075 against the US dollar — the lowest level since May 1999. In the stock market, the FBM KLCI slid to an intraday low of 1,706.6 points before closing at 1,717.05, down 17 points or 1% from last Friday's closing.
Year to date, the benchmark index has fallen 2.51%, while the ringgit has depreciated 8% against the greenback. According to Wong Chee Seng, currency strategist at AmBank Group, the ringgit will trade on the weak side "for a while" since it just broke the psychological threshold of 3.80.
The outflow of foreign investment funds has kept the ringgit under pressure. "We need to monitor equity selling by foreign institutions [as it] has yet to [see] signs of peaking," said Wong.
According to MIDF Research, foreign investors have been net sellers on Bursa for 10 consecutive weeks now, taking year-to-date selling to RM9 billion.
"Persistent market cautiousness — as reflected in the five-year credit default swaps — especially with build-up in inflation expectations, risk of financial imbalances, weak external reserves coverage and political noises are not helping as well," he said in an email reply to The Edge Financial Daily.
"The ringgit will likely be caught in changing external cross-currents  as we are entering a crucial period for US dollar over improving US data flows, and expectations of the timing of the US Fed FOMC (Federal Open Market Committee) will ever raise rate — along with the hardening of market expectations of first hikes in September," Wong explained.
According to Affin Investment Bank's head of retail research, Datuk Nazri Khan, the ringgit could see it reach the 3.90 level in the short term and the KLCI declining to 1,680 points, depending on how the Greece crisis pans out.
"The ringgit isn't as weak as it was in the 1998 Asian Financial Crisis. We are more prepared now as forex reserves are higher and we have a current account surplus," he said, adding that as interest rates are low, he believes there is policy room for Bank Negara Malaysia to manoeuvre.
Over at Bursa Malaysia, JF Apex Securities head of research Lee Chung Cheng said confidence issues in relation to the country's prospects in terms of political stability, financial health, and sizeable contingent liabilities had dragged down the ringgit despite current resilient economic growth.
"Selling momentum of foreigners is expected to taper off as compared to the first half of the year. However, any rebound of the ringgit against the US dollar would be mild," he said.
Despite the negative domestic and external environment, Etiqa Insurance and Takaful head of research Chris Eng opined that value stocks might emerge as the market weakened further.
"There could be some good bargains in the market when the benchmark index trading [gets] closer to the 1,700 mark," he said, citing banks and utility as potential good buys.
According to Eng, while there could be potential for further weakness in the KLCI, the downside is limited.
"If investors have not sold, it may not be the time to aggressively buy ... if it drops closer to 1,700 perhaps," he said, adding that he expects the equity market to improve by year-end.
Chief investment officer at Manulife Asset Management Jason Chong concured that values could start to emerge in Malaysian equities, but advised caution due to macroeconomic headwinds.
"Nobody could foresee how severe a slowdown could be. At this point in time, it is better to be cautious," he said.
This article first appeared in The Edge Financial Daily, on July 7, 2015.