This article first appeared in City & Country, The Edge Malaysia Weekly, on August 22, 2022 - August 28, 2022.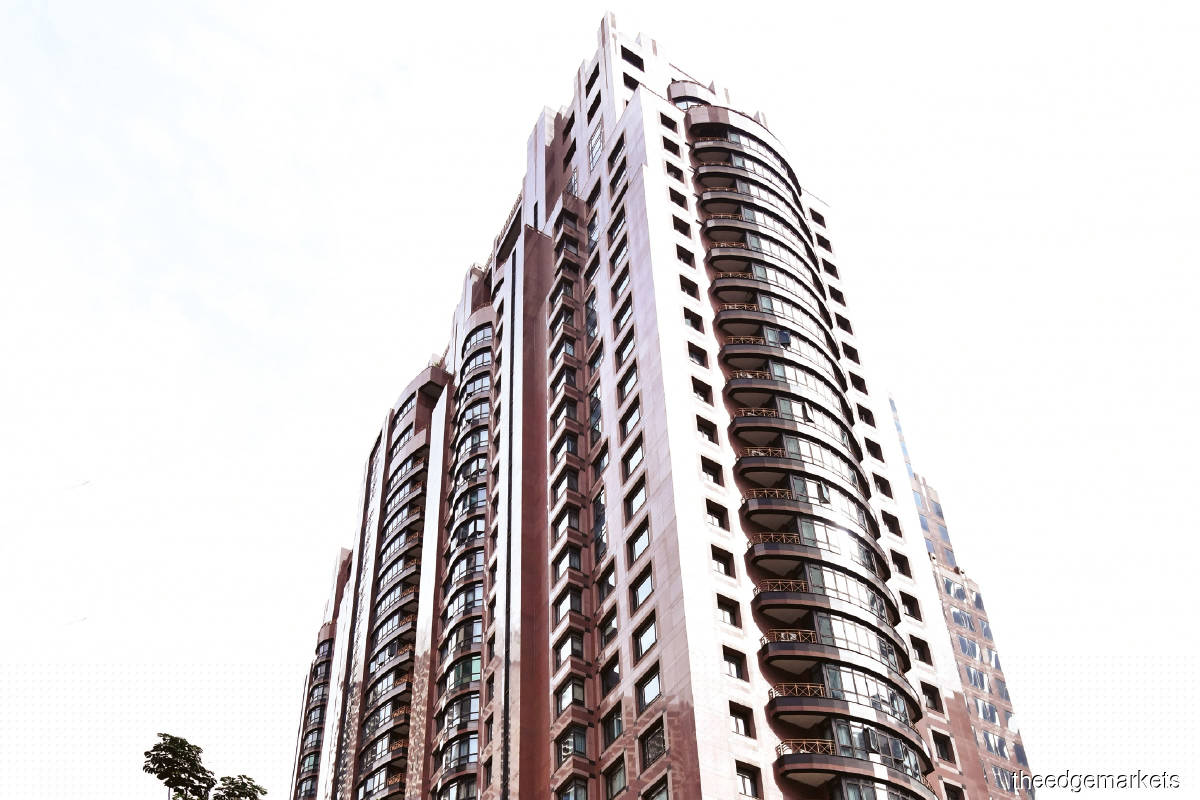 Entering the lobby of 3 Kia Peng Apartment is a memorable experience. With its high ceilings, floral centrepiece, opulent furniture and large artworks, all awash with light, it is like walking into an art gallery or a classy hotel rather than a residential building.
Completed in 2000, 3 Kia Peng Apartment was developed by Kia Peng Development Sdn Bhd, a subsidiary of GuocoLand (M) Bhd. Today, it continues to stand proud in the Kuala Lumpur city centre and retains a charm that is timeless.
3 Kia Peng Apartment is the Gold winner in the 10 Years and Above Multiple-owned Strata Residential category. The development was also awarded the Editor's Choice award for Malaysia's Outstanding Sustainable Residential Strata Development.
Despite being over two decades old, the building remains in good condition, thanks to proper maintenance. "It doesn't feel like it is over 20 years old. This is testament enough that this building has been well looked after," says management corporation (MC) chairman Datuk Seri Johan Tazrin Ngo.
Coming on board in January 2021, Henry Butcher Malaysia (Mont Kiara) Sdn Bhd (HBMK) has been working closely with the MC to ensure that 3 Kia Peng continues to be liveable and to stand tall and proud, he adds.
"There were a lot of things that we wanted to do and since HBMK came in, we have wanted to focus on pre-emptive maintenance. Many times, people run to failure; when it is broken, then they fix it. And they try their luck on the lifespan of whatever it is that keeps the building running," says Johan.
In the early days of 3 Kia Peng Apartment, as the surrounding area started to be developed, it was decided that an external consultant should be brought in to help monitor the construction progress and the impact it had on the building.
MC sub-committee member John Thomson says, "We put monitors on this building to check if there were any structural issues. We engaged — once the construction was completed — an independent property surveyor to analyse the whole building's structure and the M&E (mechanical and electrical) equipment in 2015 or 2016.
"And then we embarked on correcting everything. We realised the reactive culture up to that point had probably worked okay because everything was fairly new and within its lifespan. Then we had a switch, and HBMK has embraced that philosophy, the preventive maintenance culture, and we're proactive — we go after things before they break down.
"I think some people hold the philosophy that you run it until it is broken or if it isn't broken, don't fix it. I think that is a false economy. What happens when you do that, if something breaks down, you have a period of people having a loss of service. You also have to pay a premium to get it repaired or replaced in an emergency, so it costs more in the long term. So from 2016 onwards, we changed and that culture has progressed," Thomson says.
Johan concurs, saying: "We engaged an external consultant to conduct a full audit of the building and it came up with a long list of stuff that we needed to do. And we worked off that list. That was very important to get an external and independent view of what needed to be done. And I think that was the right approach."
Mutual understanding
Since taking on the job, HBMK managing director Low Hon Keong says the working relationship with the MC has been good, thanks to a mutual understanding of their roles and duties.
"We treat the MC as the board of directors — they have to give very clear directions, decide on the policy and make decisions. We are the ones to execute the decision and provide them with all the information and advice. In order for us to run efficiently, we need the MC to make decisions. Over here, the MC is very supportive," he says.
"One of the resolutions when we took over was to revise the service charges. In stratified developments, this is a very unpopular agenda. Over here, we presented the facts to the MC and we had its full support to raise it. Before we met all the residents, we — together with the MC — were able to put together the justification for the increase. The relationship between the MC and the management is very important."
Thomson says, "Last year, we did a full financial survey because we were considering increasing the management fee and sinking fund. We did a very detailed examination, which took several months. Before the annual general meeting (AGM), we circulated a very comprehensive detailed report.
"Obviously, not everybody was happy. Nobody wants to pay more money but most of them realised that costs for services have increased. And for over 20 years, we had no increase in service charges. It was accepted at the AGM … most of the people accept this is a quality building and we have quality service and we need to meet the costs."
He adds that, with the help of HBMK, they did a comparison of rates of similar condominiums around the KLCC area and it was discovered that 3 Kia Peng Apartment's rates were one of the lowest. The new rates were implemented in January this year and, so far, the collection rate has been around 90%.
Being proactive
One of the first things HBMK did once it came on board was to compile a building condition report. Low says, "We analysed what sort of materials [were needed], critical items, urgent and non-urgent matters, short-term, mid-term, long-term plans and from there, we gave a proposal to the MC."
Some of the earlier works included replacing the fire panels. This year, it has been more of exterior cleaning, updating the lobby and replacing what needs to be replaced. In addition, Johan says an external audit was done on compliance and processes to ensure all procurement and other systems have been done properly. This has shored up residents' confidence that the money collected is well spent for the betterment of the building and its occupants.
Other upgrades include the signage at the front entrance, the guardhouse, the intercom system that is linked to the guardhouse — which, Thomson says, gives great comfort to residents that help is a call away — and redoing one of the lounges.
However, the biggest challenge has been with communication and that comes with time and the building of trust.
"One of the key challenges is always communication and dealing with the software and the owners. In any stratified development, the personal touch is very important," says Low.
"When we came in, the owners needed a lot of communication from us. And we went beyond handling the common areas. For example, if a unit has a power trip, although the internal unit is not the responsibility of the MC or the property manager, if it is something we can help with, we help."
Additionally, during the pandemic, when a resident was infected with Covid-19, the property management helped out with getting groceries and other necessities where needed. This soft touch has helped with the communication between residents and the management office.
Johan adds that building executive Ganesh Periyasamy — a long-term staff who has been with 3 Kia Peng Apartment for a long time — was absorbed by HBMK at the request of the MC. This personnel continuity has helped in the transition to the new property management team.
This year, the MC will embark on a lift modernisation project as the lifts are nearing their 25-year lifespan limit and Johan believes after the upgrade, it will result in better cost savings, thanks to the new technology provided. Other ways to save on cost include placing timers on air-conditioning units, using LED lights and setting up a nursery to grow plants to replenish those planted around the building.
While there is still a long list of things to look into, Johan, Thomson and Low all agree that a strong plan and funds are in place to pre-empt future issues and rectify current ones before they get worse. This has certainly given residents a sense of comfort and confidence that their home will continue to stand proud in the years ahead.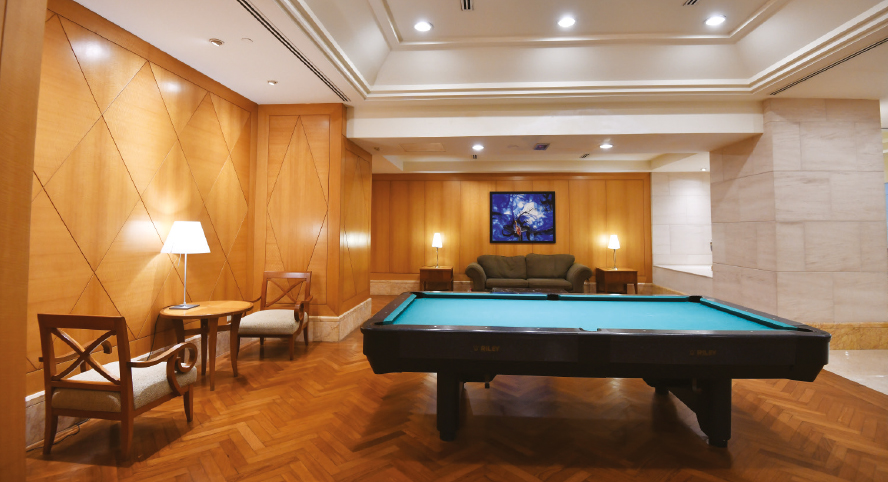 A recreational space for residents to enjoy and connect with each other. (Pictures by Sam Fong/The Edge)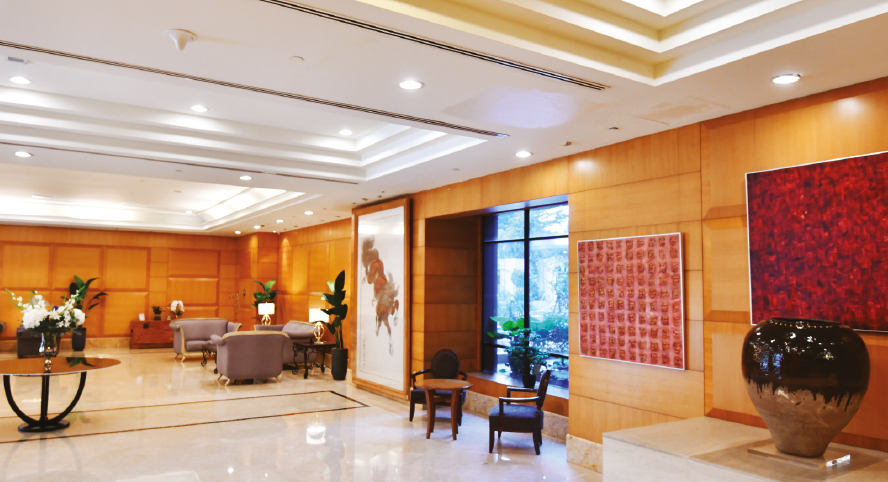 The lobby with its high ceiling, art works and opulent design