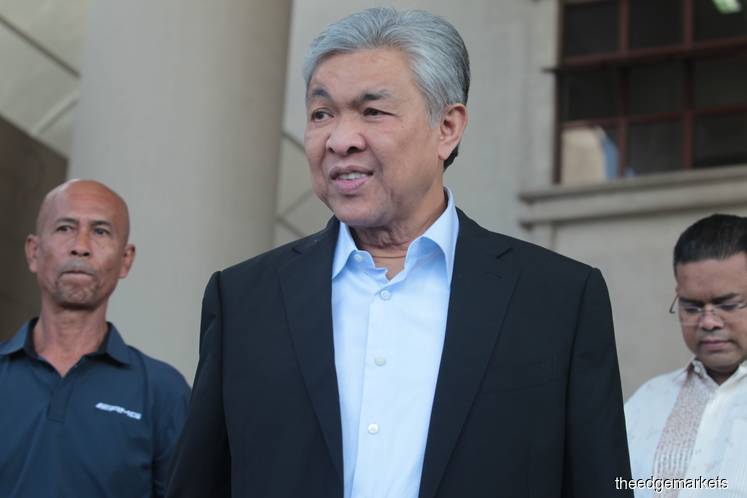 PUTRAJAYA (May 23): A five-member Federal Court bench today dismissed Umno president and former Deputy Prime Minister Datuk Seri Ahmad Zahid Hamidi's appeal to get his international passport back to perform the Umrah on the final 10 days of the Ramadhan month, which starts this Saturday.
The bench, led by Federal Court judge Justice Tan Sri Azahar Mohamed, ruled that High Court judge Justice Collin Lawrence Sequerah had used his discretion judiciously and that the appellate court would not interfere unless the judge applied or used a wrong law principle.
Earlier, Ahmad Zahid courted controversy when he failed to attend the proceedings today, despite this being part of criminal proceedings where the accused should be present at all times.
His lawyers, led by senior lawyer Hisyam Teh Poh Teik, said the Umno president was attending the funeral of the late former Sultan of Pahang, Sultan Ahmad Shah.
Although Ahmad Zahid was not present, the bench directed that the appeal be heard.
On hearing the submissions, the bench dismissed the former deputy prime minister and former home minister's appeal.
It was previously reported that a three-member Court of Appeal bench had on May 14 dismissed Ahmad Zahid's bid to get his passport for to perform umrah, after Justice Sequerah also rejected the politician's bid to get his passport back on May 3.
"From my understanding of the submission, the performance of the Umrah, although highly recommended during the fasting month, is not something compulsory. That is therefore not a desperate need, nor is there an obligation, on the applicant to perform the Umrah.
"Although the applicant has been performing the Umrah for the last 30 years, the situation and circumstances currently prevailing are very different, with that he is presently facing serious and numerous charges.
Ahmad Zahid is facing 47 charges, comprising 12 charges of criminal breach of trust, eight charges of corruption and 27 charges of money laundering, involving millions of ringgit belonging to Yayasan Akalbudi.
Justice Sequerah had fixed Nov 18 to 22, Dec 2 to Dec 6, and Dec 9 to Dec 13 to hear the charges.