This article first appeared in City & Country, The Edge Malaysia Weekly, on August 26, 2019 - September 01, 2019.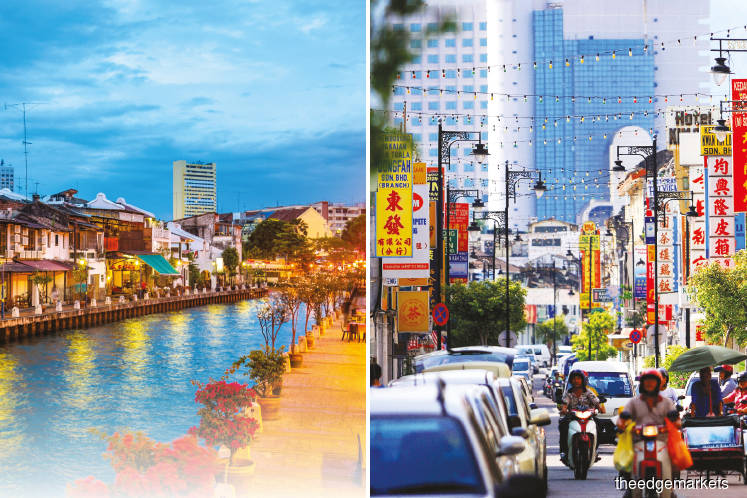 Click / Tap image to enlarge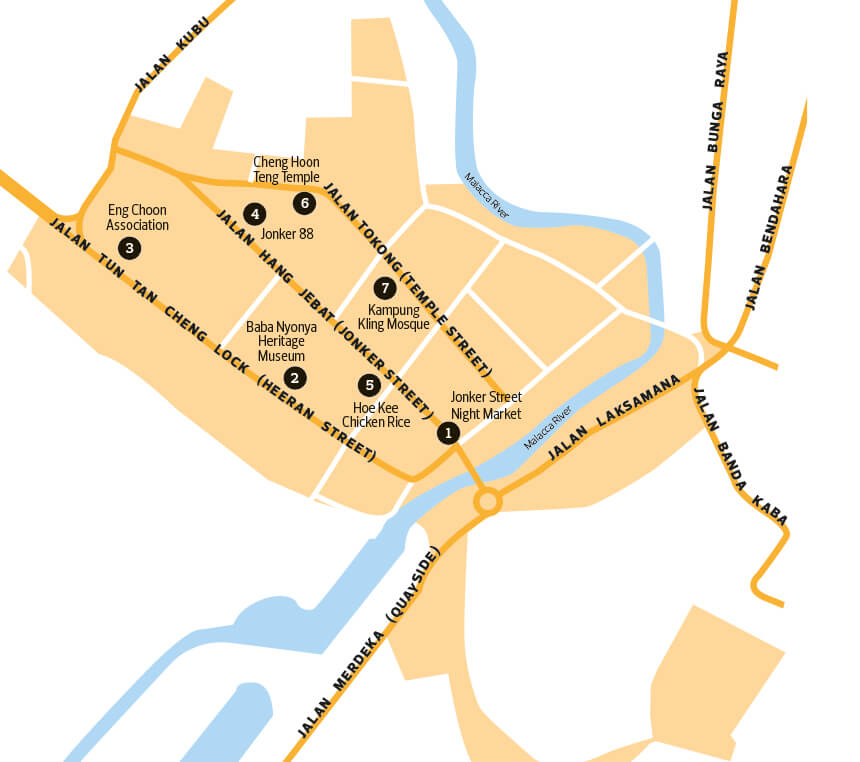 Melaka City
Jonker Street Night Market is crowded every Friday and weekend nights.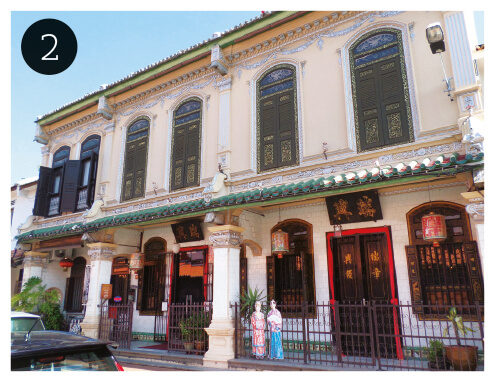 Baba Nyonya Heritage Museum, one of the landmarks in Heeren Street.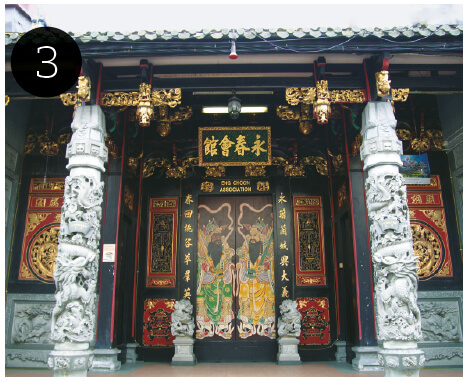 Eng Choon Association is a Hokkien clan body for Chinese migrants from the Eng Choon district of China's Fujian province.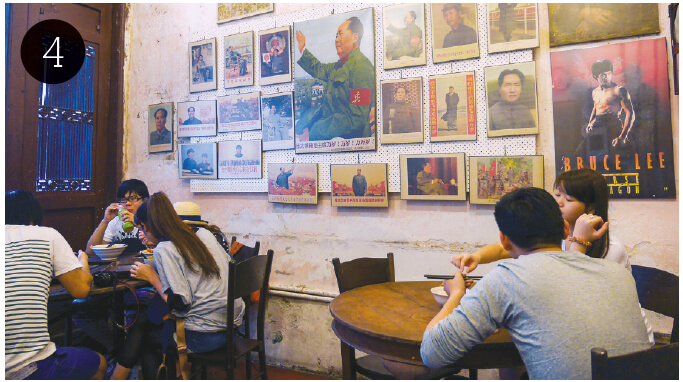 Jonker 88 is a museum café housed in a heritage building.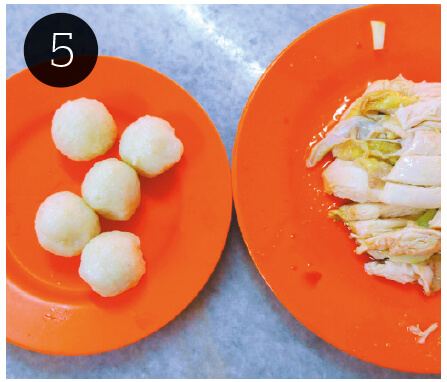 For chicken and golf-ball sized rice, head to Hoe Kee Chicken Rice.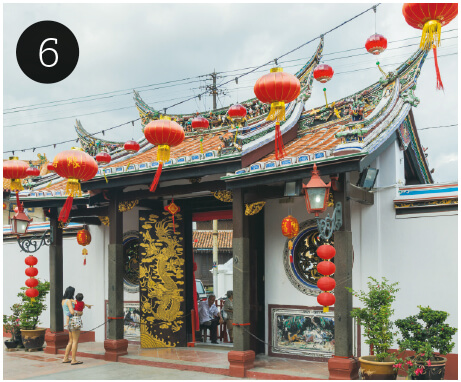 Cheng Hoon Teng Temple.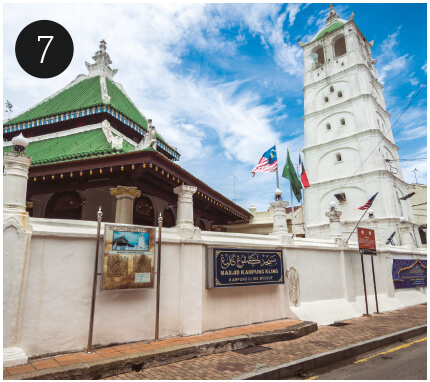 Kampung Kling Mosque.
Click / Tap image to enlarge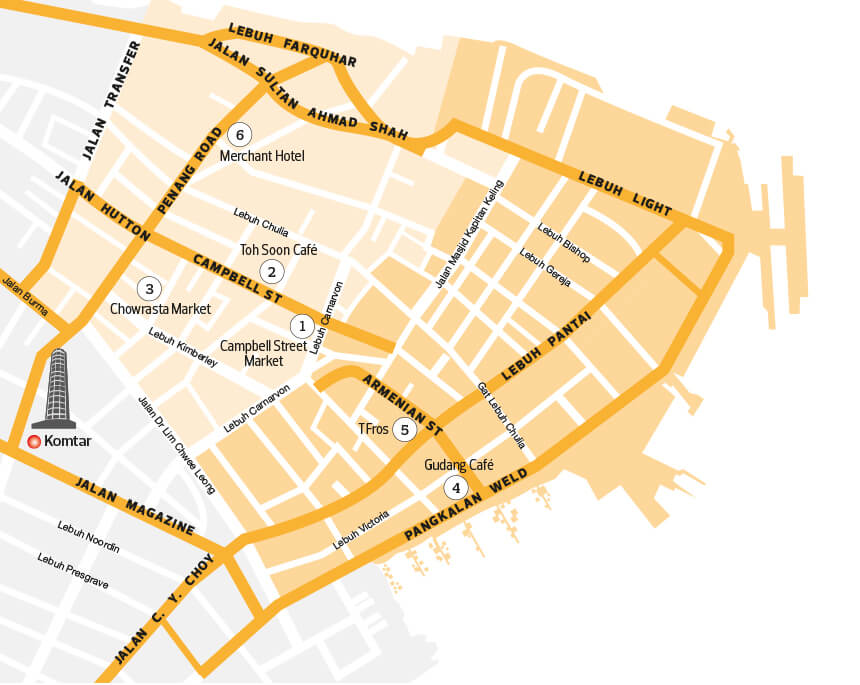 George Town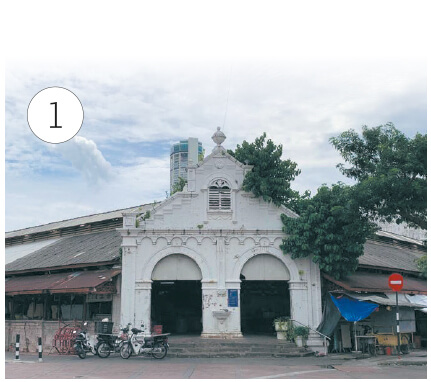 Campbell Street Market.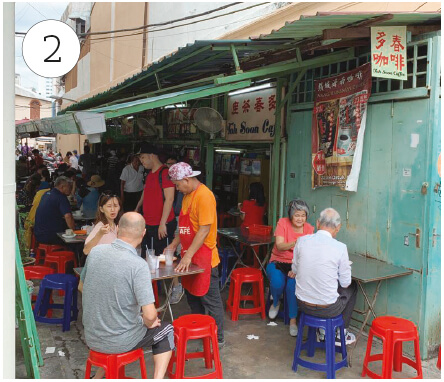 Toh Soon Café is a popular landmark in Campbell Street.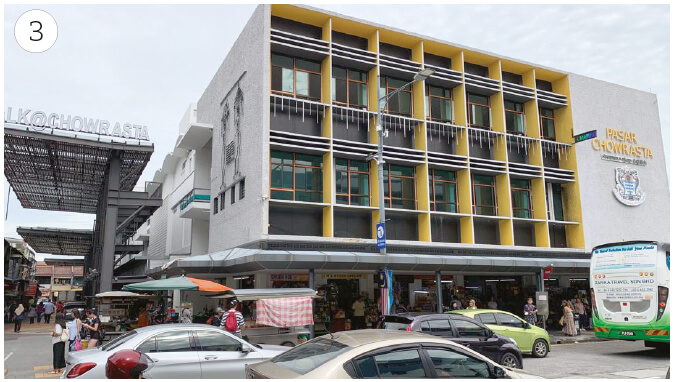 Chowrasta Market.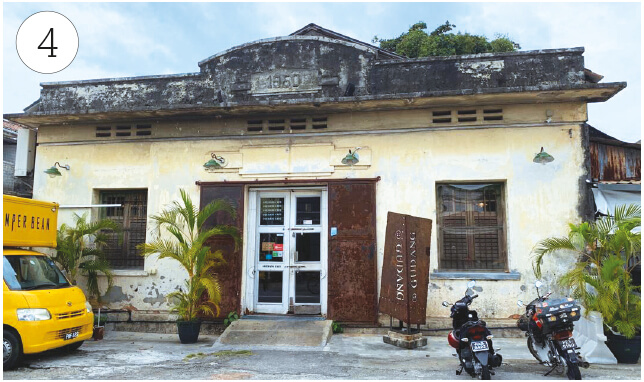 Gudang Café .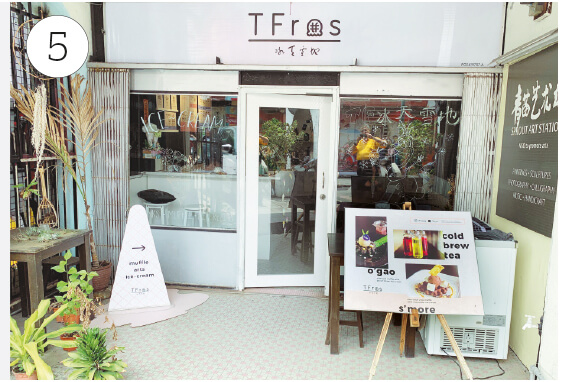 TFros.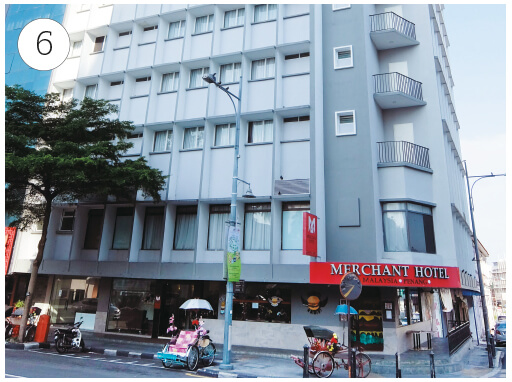 Merchant Hotel is one of the luxury heritage hotels in Penang Road.
Every Aug 31, Malaysians of different races, cultures and religions come together to celebrate Hari Merdeka or Independence Day, a significant event in this country's history. The day also reminds the people of how the country is a cultural melting pot of cultures and unique communities and places.
Not surprisingly, Melaka City and Penang's George Town were made Unesco World Heritage sites in 2008.  We take a trip down memory lane, literally, visiting the streets that have stood the test of time and celebrate their uniqueness before Hari Merdeka.
Melaka City |  A kaleidoscope of cultures
Legend has it that Melaka was named by Parameswara, a Sumatran prince. He was resting under a Melaka tree by a river when he witnessed one of his hunting dogs being defeated by a mouse deer and pushed into the water. Taking this as a good omen, Parameswara decided to build his empire at the spot and named it Melaka after the tree under which he was sitting.
Over the years, Melaka was colonised by the Portuguese, the Dutch and, eventually, the British, whose influence and buildings designs can still be seen around the city. To preserve the structures, the town was declared a Unesco World Heritage site in 2008, with the heritage area, or core zone, covering 38.62ha and the buffer zone covering 134.03ha.
Famous tourist attractions within the core zone include A Famosa, Jonker Street, Little India, Portuguese Settlement, Stadhuys, Christ Church and St Francis Xavier's Church while those in the buffer zone include Kampung Jawa and Maritime Musuem in Jalan Merdeka.
Here are some streets that have much to offer tourists:
Jonker Street or Jalan Hang Jebat
Popular with both local and foreign visitors, Jonker Street is located in the city's historical Chinatown. It starts from across the river at Dutch Square and is lined with heritage houses that date back to the
17th century. Back then, the Baba Nyonya — descendants of Chinese migrants who married local Malay women between the 15th and 17th centuries — lived and conducted their businesses in the area.
The shophouses here host businesses that sell antiques, textiles, handicrafts and souvenirs. The road is closed to traffic every Friday and on weekend nights, it turns into a busy night market.
Besides retail therapy, food lovers can find a variety of items to sample here, including gula melaka cendol, nyonya asam laksa, nyonya chang (glutinous rice dumplings), chicken rice balls, coconut dessert and pineapple sauce satay.
Cheong Ho Leng, who grew up in Melaka, says one of the must-have food items in the area is none other than its signature chicken rice balls, which takes the well-loved Hainanese chicken rice to another level.
"The normal chicken rice is just chicken on a plate of rice but in Melaka, the rice is hand-shaped into balls, giving its texture a twist," she says.
Hoe Kee Chicken Rice — one of the more popular restaurants in Melaka — is always crowded with patrons hankering for its little golf ball-sized rice balls cooked with chicken stock. "The Hainan chicken's juicy and tender meat and smooth skin, that is of a generous portion, offers a unique taste that is different from the others," says Cheong.
For those looking for a cool dessert, there is Jonker 88, a museum café housed in a heritage building. Founded in 1997, it offers homemade nyonya cendol and ice kacang. Two of its signature desserts — durian cendol and eight precious cendol — are drizzled with a good amount of gula melaka and santan, so that they look like big scoops of vanilla ice-cream. "The preparation of these desserts is simple but the taste is simply tantalising," Cheong says.
Heeren Street
Running parallel to Jonker Street, Heeren Street does not attract the same kind of crowds as the former but it has an equally interesting history and architectural charm. Formerly known as Kampung Belanda (Dutch village), the street is also called the Millionaires Row due to the stately residences built by Chinese immigrants who went from rags to riches in their new country.
Many of the houses along Heeren Street appear deceptively small from outside but they extend well beyond the street and open onto broad and spacious spaces inside. The narrow frontage is due to the fact that the building rules at the time required a tax to be paid on the width of the building.
The exterior of these houses was decorated with an ornate façade for the wealthy Baba Nyonya of the 15th to the 17th centuries. To date, several of these houses have been restored to their former glory and turned into beautiful boutique hotels, museums, galleries and cafés.
Upon entering the street, one is transported to the era of Melaka's occupation by the Dutch. You can actually step back in time by entering Number 8, a 2-storey shophouse built in the late-18th century. Renovated by Badan Warisan Malaysia (The Heritage of Malaysia Trust), Number 8 was initially a Dutch-era shophouse and is now a heritage tourist spot and a venue for exhibitions, workshops and corporate events.
The best place to appreciate the heritage of the Peranakan is the Baba Nyonya Heritage Museum. Originally a combination of three terraced lots obtained by the Chan family (second-generation Straits-born Chinese) in 1861, it housed four generations of the Chans before becoming a museum in March 1985.
The museum is still being managed by the family and houses traditional clothes, utensils, bead footwear, ornately decorated furniture and antiques. It opens daily from 10am to 12.30pm, and from 2pm to 4.30pm, and charges a small admission fee.
Further down the street is the Eng Choon Association, a Hokkien clan body for the Chinese immigrants in Melaka from the Eng Choon district of the Fujian province in China. The building has an ornately designed entrance of carved wooden columns with a majestic signboard sitting on top of it.
Harmony Street or Temple Street/Jalan Tokong
To say that Melaka is one of the most historic heritage cities in Malaysia is only telling half the story. The small Harmony Street is where temples and mosques, such as Cheng Hoon Teng Temple (Taoism, Buddhism and Confucianism), Kampung Kling Mosque (Islam), Sri Poyyatha Vinayagar Moorthi Temple (Hinduism) and Xiang Lin Si Temple (Buddhism), are located.
Cheng Hoon Teng Temple is one of the most notable landmarks in the street due to its intricate design and spaciousness. Built in 1645 by members of Chinese Kapitan Lee Wei King and Tay Hong Yang with materials imported from China, this heritage temple was awarded an Unesco award for outstanding architectural restoration in 2003.
Due to a controversy over its burial ground, the walls of the temple are covered with newspaper clippings that tell of Bukit Cina's struggles against the authorities.
Property values
The city's heritage listing has impacted its property values. According to Rahim & Co International Sdn Bhd Melaka manager Mohd Fiqri Rohaizad, the properties in Jonker Street, Heeren Street and Temple Street are mainly 1 and 2-storey pre-war buildings. Some of them have been converted into motels and boutique hotels.
"Although the overall market is stagnant, there is still good demand in these three localities. I think the prices here are better than in the existing retail market," he says.
According to Rahim & Co International data, recent transacted prices of these shophouses with built-ups of 1,000 to 5,000 sq ft averaged RM650 to RM2,000 psf.
"Considering that these [pre-war heritage] buildings are under the National Heritage Act 2005, the owners are not allowed to refurbish them and are required to maintain the buildings' façade from time to time," says Fiqri.
He adds that local by-laws also prohibit the owners from increasing the height of these shophouses by adding extra floors or by any other means.
"Several retailers, such as Watsons, CARiNG Pharmacy and Family Mart, have a presence in the area, so we see potential for economic growth. The combination of traditional and contemporary markets selling different products will draw a big crowd," he points out.
The rental rates for the pre-war shophouses vary from street to street. For example, in Jonker Street, which is a mainly commercial area with 2-storey pre-war buildings, the rent for a shophouse with a land area of 2,000 sq ft is between RM8,000 and RM9,000. But according to CBRE | WTW Advisory and Transaction Services senior adviser
Marion Chua, who grew up in Melaka, the rents depend on the location and the size of the property.
"The rent for a shophouse at one end of the street may differ from that of a similar-sized building at the other end because of the footfall. The middle part may have more visitors, so the rent there will be higher," she explains.
In Heeren Street, or Millionaires Row, many of the residential buildings have been converted into private museums, boutique hotels and restaurants run by the descendants of the Peranakan families. Chua says the buildings on Heeren Street are normally not rented out due to their heritage value and also to conserve their designs.
Harmony Street, meanwhile, catered for the early Chinese migrants who came to Melaka as labourers. It is also a mainly residential area with no rental data.
George Town |  A cultural townscape and home to good food
A captivating fusion of eastern and western influences, Penang's capital city is one of the most impressive and beautiful cities in Malaysia. Visitors to George Town, which is named after King George III, will feel like they are walking down lanes of history. The GeorgeTown World Heritage Site covers 259.42ha, which comprises 109.38ha of core zone and 150.04ha of buffer zone. More than 1,700 heritage buildings are located in the core zone and can be found in some of these streets:
Campbell Street
A one-way street that starts at Penang Road and stretches to the junction of Buckingham Street and Carnarvon Street, it is popular for its prewar shophouses selling bags, watches and clothes.
Among its landmarks are Toh Soon Café and Campbell Street Market. Toh Soon Café is a Chinese coffee shop located in a back lane in Campbell Street that serves an array of bread (Hainan, coffee, marble, wholemeal and chocolate), homemade Hainan coffee and Nasi Lemak.
Its Malaysian-style breakfast, served with soft-boiled eggs and fluffy kaya on charcoal toasted bread, has always been the locals and tourists' favourite. Closed every Sunday, the decades-old café offers foods that are affordably priced.
There is also Campbell Street Market, one of the two markets located in inner George Town. Built in the 20th century, the
Victorian-style market was originally the site of a Malay cemetery. Opened daily in the morning, the wet market boasts a variety of fresh fish, meat, vegetables, rice, coffee and cooking products for the community.
Cheah Soon Yee, who has lived in Penang for 24 years, says the freshly caught seafood usually arrives in the wee hours of the morning. "Therefore, it is best to arrive at the market by 8.30am to 9am for the freshest batch," he says.
Armenian Street
Recognised as one of the few places named after Armenia, the street has gained in popularity over the years for its cultural offerings and street art.
The historic street houses Chinese temples and clan houses, museums, artists' galleries, cafés, shophouses selling antiques and the well-known Children on a Bicycle mural by Lithuanian artist Ernest Zacharevic.
Not many would notice Gudang Café, a hidden gem working out of a 1950s indus-
trial warehouse with high ceilings and fitted with unique wooden furniture.
Its large spaces and laid-back environment are a perfect fit for Japanese cuisine, including ramen, rice and side orders. Cheah says his favourite dish is Omu Ramen, a
Yaki-Soba-inspired stir-fried ramen dish covered with an omelette, along with chicken, onions and mushrooms.
"The ramen is smooth and chewy, which reminds me of my mother's fried noodles back in the good old days," he says. "The main feature of the café is the second longest table in Penang. The 45ft-long Chengal wood table was sourced from an old bungalow in Penang. I think it is an ideal place for private events or gatherings."
Cheah also suggests a relatively new ice-cream parlour — TFros — that is located at just a stone's throw from the Children on a Bicycle street art. The homely café offers homemade ice cream, muffles (waffles with a soft muffin consistency inside a crunchy crust) and cold brew teas.
"One of its signature desserts — O'Gao — is pulut hitam (black glutinous rice) ice cream sprinkled with bits of coconut flakes served atop a charcoal-infused muffle with pulut hitam dressing. I think it is a perfect combination. Another one, which is also my favourite, is the Hojicha muffle. The charcoal muffle is topped with Hojicha ice cream, sweetened red beans, shredded gold apricot and crunchy flakes with gula melaka syrup on the side," he says.
"There are also other ice-cream flavours such as passion fruit and lemon curd, summer nectarine, Hojicha and rose and French vanilla, all of which are well organised in the display freezer for customers to choose from," he adds.
Penang Road
Running from Farquhar Street in the north to Jalan Gurdwara in the south, Penang Road is George Town's thoroughfare. Known as the first road to have been built outside the original town area mapped by the founder of the British colony, Francis Light, the road has served as a retail street, especially in front of the Chowrasta Market that was built in the 1890s.
After the Campbell Street Market, Chowrasta Market is the second community market that sells local delicacies and tidbits such as preserved nutmegs and plums, dodol,
belacan and medicated oils. It was restored in 2017 and today retains most of its traditional characteristics.
There is a wide range of breakfast options at the open-air hawker stalls located off Chowrasta Road, near the intersection with Kuala Kangsar Road. One of its must-try dishes — Penang-style curry noodles — is a combination of Hokkien wheat noodles and thin, white rice noodles in a savoury coconut milk-tinged light soup. The dish is then topped with shrimp, cuttlefish, tofu puffs, fish balls and sambal, to be stirred into the soup.
Moving on, the upper Penang Road, called the Party Street, is the centre of George Town's entertainment area, comprising various
upscale restaurants, karaoke joints, bars, pubs, nightclubs, fashion boutiques and antique shops.
Cheah says the Little Penang Street Market is held every last Sunday of the month. Originally begun as a small community project in 2006, it is one of the cleanest and most organised roadside bazaars.
"There are different stalls selling crafts and food here but the most interesting ones are the cultural shows, live music performances and visual art displays," he adds.
The area also consists of a wide selection of hotels, ranging from cheap guesthouses to luxury heritage hotels. The hotels include Hotel Central, Hotel Continental, Merchant Hotel and Loke Thye Kee Residences.
Property values
According to CBRE | WTW Penang director Peh Seng Yee, the properties within the core zone and buffer zone comprise 2 to 3-storey pre-war shophouses with built-ups of 1,000 to 3,500 sq ft.
Peh says the average price of properties in the area is around RM500 to RM2,000 psf. As for rents, they range from RM1 to RM2 psf per month while for renovated shophouses, they are from RM2 to RM5 psf per month. This, he adds, translates into annual yields of 2.4% to 3%.
"The owners of the pre-war shophouses have to put in the time and effort to preserve the Roman and Greek façades as the process involves a lot of refurbishment and continuing maintenance," he says. "The most challenging part of the process is meeting current fire safety regulations."