This article first appeared in City & Country, The Edge Malaysia Weekly, on October 14, 2019 - October 20, 2019.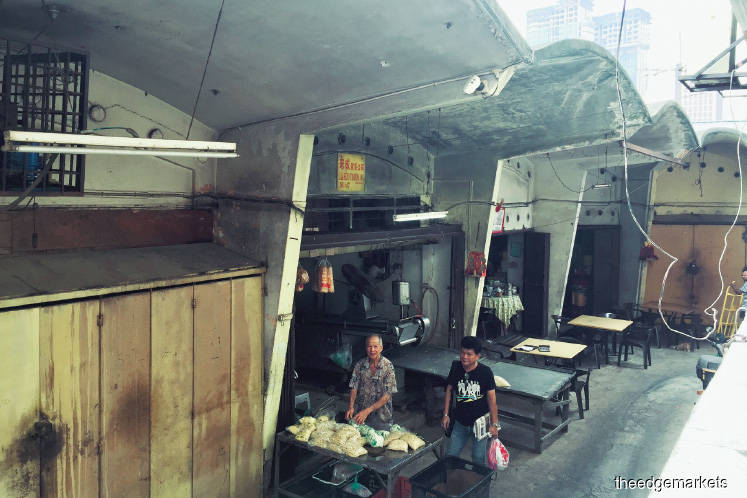 Pasar Raja Bot, built in the 1950s, has distinct arched roofs supported by tapered columns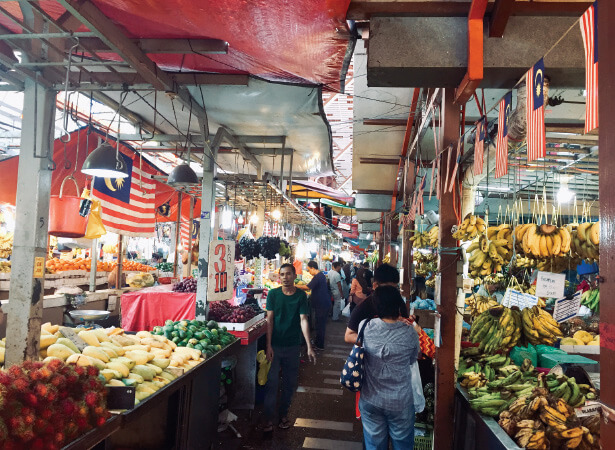 The wet market fronting Jalan Raja Alang bustles daily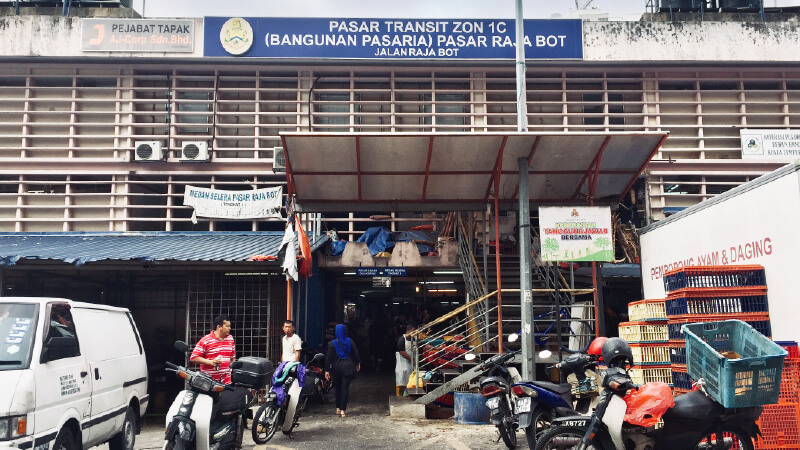 The old market's entrance in Jalan Raja Bot
Pasar Raja Bot, more commonly known as Chow Kit Market, in Chow Kit, Kuala Lumpur, is not for the faint-hearted. As one enters Jalan Raja Alang from Jalan Tuanku Abdul Rahman, you can smell the wet market's strong odour and shoppers carrying bags of purchases crowd the streets.
The market scene bustles with traders plying their wares, trolleys of goods being wheeled to their respective stops and people hustling their way among long rows of stalls decked out in colourful displays of meats, seafood, produce, spices and sundry goods.
Considered to be the largest wet market in KL, Pasar Raja Bot is widely popular among the Malay and Indonesian communities, although it used to be frequented the Chinese community until pork was no longer allowed to be sold here. It is said that one can find the freshest goods here with prices considerably lower than elsewhere, and one can even find a wide array of Indonesian cuisine at the umpteen food stalls covering the stretch outside the marketplace.
After the market aisles under the blue zinc roof hides a series of old shops with distinct arched roofs supported tapered columns. Life here moves at a slower pace than the rush of the wet market. These old shops are what remains of the original market structure built in the 1950s and many of the businesses here are operated second and third-generation traders.
According to architect and director of T R Hamzah & Yeang Sdn Bhd, Datuk Ken Yeang, the shoplots' design was a popular style in the early 1950s. "The shops were likely designed a Public Works Department architect or one of the British architecture firms in the then Malaya," he says.
These old shops cater for a closed community of Chinese traders and their regular customers, many whom still come daily to sip their morning kopi and talk about current affairs at the coffee shops. One can also find shops selling Chinese medicine, kitchen supplies, snacks and knick-knacks. The back lane of the market, which is accessible from Jalan Raja Bot, is famed for its bundle shops and vintage night market.
A number of food stalls in these old shops have been popularised food blogs, social media and TV. One stall sells Hakka nasi lemak and is well known for its zha yuk (fried pork belly), kau yuk (braised pork belly) and pork curry served with steamed santan rice. The stall, founded the proprietor's late grandmother 60 years ago, has been operating in this location for more than 35 years.
Another community favourite is the fish ball noodles stall. Manned an elderly auntie, the stall is popular for its fresh hand-beaten fish balls that are made daily, as well as its homemade chili sauce to be added to the soup.
For breakfast, we tried the well-known Hainanese porridge stall in the food court on the second floor of the adjacent market building. The active 80-year-old proprietor, who lives near the market, cooks each bowl of mixed pork or fish porridge individually upon order with fresh ingredients prepared every morning. So be ready to wait a little as we did for our hearty bowls to arrive.
Wong is another third-generation proprietress who runs a kuih stall. She told us that her grandfather first started trading at the market 60 years ago. The shops and stalls here are rented from DBKL. The rent for her stall is RM33 a month, she said.
After a quick meal, we met Ng, who had earlier been busy weighing and packing yellow noodles outside his quaint noodle factory, Lai Seng Trading Co, but was now taking a break in his chair in front of a tall pile of packaged vermicelli. From the beam above hung packets of golden egg noodles. The 77-year-old said he has been churning out noodles in the market for decades but the days are numbered for the shops.
In its effort to upgrade Pasar Raja Bot, DBKL started work on the new market complex in 2014, 25 years after the market's last upgrade. DBKL aims to complete the
48,000 sq m multi-storey project next year at RM154 million. It will house the market's existing 1,527 traders and will have 800 parking bays.
Ng added wistfully that once the new market is completed, all the stalls will have to be relocated and the old building will be demolished.
Do visit the old market while you still can.