This article first appeared in City & Country, The Edge Malaysia Weekly, on January 20, 2020 - January 26, 2020.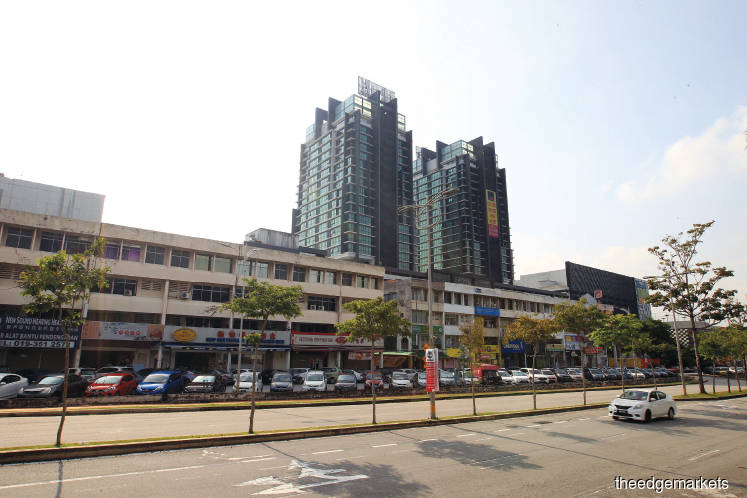 Atria Shopping Gallery and Jalan SS 22/19 shoplots
Photo by Mohd Shahrin Yahya/The Edge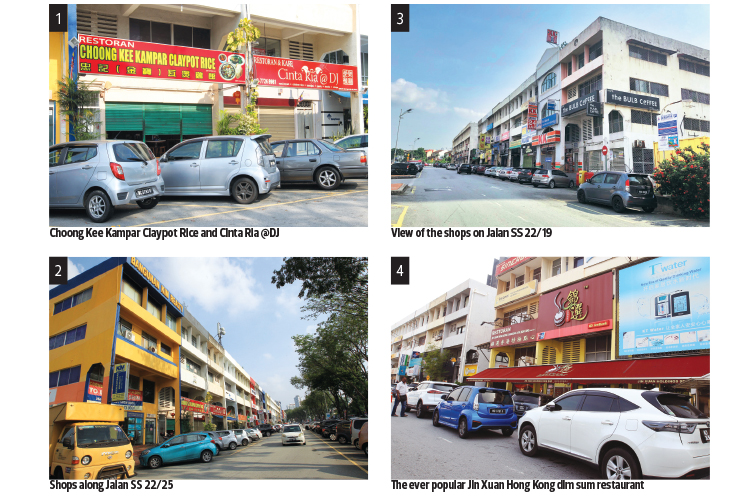 Photo by Mohd Shahrin Yahya/The Edge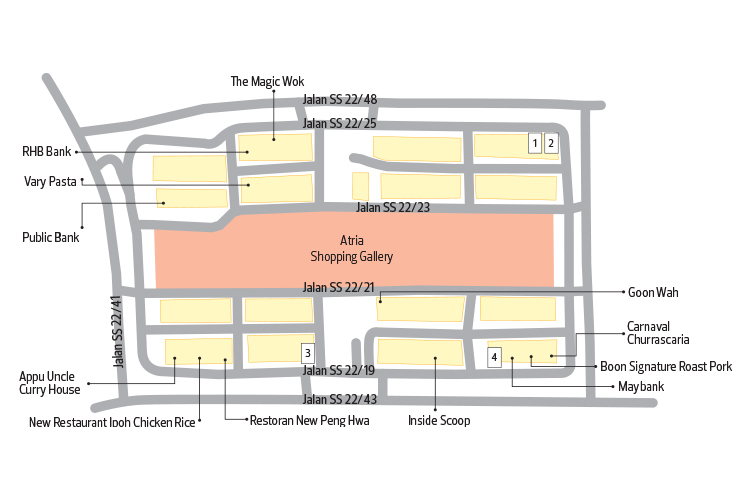 DJ has always been quite a crowded area even way before the new Atria was up. However, many restaurants have changed since. My friends and I used to frequent a Hainanese chicken rice shop just outside Atria. That was a good one. Last I heard, the owner, a very friendly Chinese uncle, gave it up to spend time with his grandchildren," says Mary, 46, who has been living in Damansara Jaya since 1993.
"If you go to the dim sum shop next to Maybank during the weekend, you will see how crazy it can be — people sitting under the tent waiting for their number to be called to get a table. There is also the soya bean van and the fruit rojak uncle — they're almost like an institution, as they've been operating there since forever."
Damansara Jaya's 4-storey shoplots surrounding the iconic Atria are witnesses to all the changes that have taken place in the commercial area since the 1980s, with much of the changes to do with Atria's transformation over the years.
Built in 1982 by the See Hoy Chan Group as an entertainment centre,  Atria was first known as Gardenia Town Centre, with Japanese retailer Kimisawa and French department store Printemps as its first tenants. The 4-storey complex was a popular destination back then, attracting healthy footfalls and traffic on weekends especially.
The mall faced challenges during the global downturn of 1987 and was bought over by the Lion Group, which renamed it Atria Shopping Centre, and its subsidiary Parkson replaced Kimisawa as the anchor tenant. In 2001, Lien Hoe Corp bought the mall.
As Atria's age started to show compared with newer and bigger shopping malls that had started coming up nearby, it faced fierce competition from the likes of 1 Utama, Ikano Power Centre and The Curve and the number of visitors dwindled. Lien Hoe sold the mall to OSK Property Bhd in 2007.
In May 2015, the property reopened as Atria Shopping Gallery, comprising two 16-storey blocks of small office/flexible office (SoFo) atop five levels of retail, bringing to life the lost vibrancy of the area.
Metro Homes Realty Bhd executive director See Kok Loong says the commercial area surrounding the mall — specifically the 4-storey shoplots on Jalan SS 22/19, Jalan SS 22/21, Jalan SS 22/23 and Jalan SS 22/25 — has certainly seen a lot more traffic since the reopening of Atria.
"The area was less visible, as it is in the middle of a residential area, but with Atria's new high-rise blocks, the area now enjoys visibility even from the LDP and Sprint highways," he says.
In addition, Atria now comes with more parking spaces, which is a plus for the commercial centre, as finding street parking on a typical day is nigh impossible, and double-parked vehicles are a regular sight.
The four rows of 4-storey shoplots, also built by the See Hoy Chan Group in the 1980s, are home to F&B outlets, banks, clinics, car workshops, convenience stores, service providers and offices — many of which are long-standing business operators of over 10 years, according to See.
Some of the popular F&B outlets in the area are Choong Kee Kampar Claypot Rice, Cinta Ria @ DJ, Jin Xuan Hong Kong dim sum restaurant, Inside Scoop, Goon Wah Chinese restaurant, Boon Signature Roast Pork, Carnaval Churrascaria Brazilian restaurant, Vary Pasta Western restaurant and Dáo, a new dessert shop.
According to See, shoplots in the two outer rows — Jalan SS 22/25 and Jalan SS 22/19 — command higher values, as they have better visibility and more street parking than those in the two inner rows.
He notes that the 4-storey shoplots were originally priced around RM550,000 each when the economy was booming and property prices thriving. "Shopoffices were a major investment then, as they gave good yields and capital appreciation."
A typical 4-storey shoplot in the area is currently going for around RM3 million and rents are RM10,000 to RM11,000, depending on which row it is in, says See. He adds that the inner rows are lower in value by 10% to 15%.
"The most popular row in the area is Jalan SS 22/19, as it faces the dual-carriage main road of Jalan SS 22/43," he says.
Despite enjoying a steady growth in prices in 2014 and 2015, owing to the completion of the shopping mall, the commercial area saw prices dipping slightly in the last two years because of the property market slowdown and new shopping malls nearby such as The Starling, See says.
Nonetheless, he believes the main commercial area of Damansara Jaya will do well in the long run. "It is still a good buy because of its freehold status, plus there is no new supply of shopoffices in the area," he says.
The landed properties in the area command strong values, as the area is a mature residential neighbourhood, says See. The terraced houses are transacted at an average price of RM1.2  million to RM1.5 million while rents are RM2,000 to RM2,200 a month, he notes.