This article first appeared in City & Country, The Edge Malaysia Weekly, on May 6, 2019 - May 12, 2019.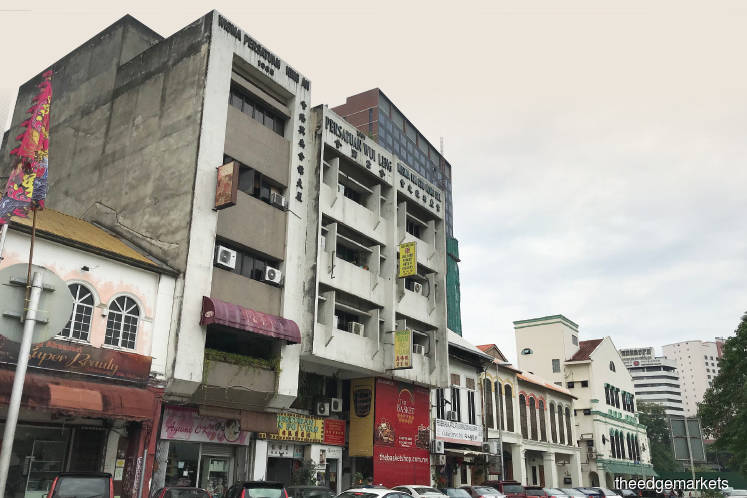 It is surprising to find such a serene and quiet area amid the noise and bustle of the city centre. Jalan Panggung and Jalan Balai Polis are close to the Pasar Seni light rail transit and mass rapid transit interchange station and connected to two busy roads in Kuala Lumpur — Jalan Sultan and Jalan Petaling.
Yet, it feels like these busy thoroughfares are a world away as Jalan Panggung and Jalan Balai Polis seem to have significantly fewer people and less traffic than Jalan Sultan and Jalan Petaling.
According to the book, Kuala Lumpur Street Names: A Guide To Their Meanings And Histories by Mariana Isa and Maganjeet Kaur, Jalan Panggung was formerly known as Theatre Street and it can be traced back to an 1889 map. It is one of the oldest roads in Kuala Lumpur and was close to a Chinese theatre built by one Cheow Yeok. It was renamed Jalan Panggung in the early 1960s. Panggung is a direct translation of "theatre" into Malay.
Jalan Balai Polis was known as Station Street back in the day due to its proximity to the police station in High Street (now Jalan Tun Tan Siew Sin). The street initially connected High Street with Petaling Street (now Jalan Petaling) but it has been shortened and today it connects Jalan Panggung to Jalan Petaling.
Pre-war shophouses — many of which have been refurbished and redeveloped into 3 and 4-storey shopoffices — line the streets and were one of the earliest commercial developments in Kuala Lumpur, says CCO & Associates (KL) Sdn Bhd director Chan Wai Seen.
At the connecting point of Jalan Panggung and Jalan Balai Polis is an old building that used to be a police station. It is now occupied by a restaurant chain called Station Kopitiam.
A little further down Jalan Balai Polis is a Sikh temple. According to the website, Visit KL, Gurdwara Sahib Polis was built by the British colonial authorities in 1898 to cater for the Sikh police officers.
In those days, about half of the police force was Sikh. The blue and white (the colours that represent the police force), 1-storey building has hardly changed since the day it was constructed.
Everyday businesses, such as restaurants, convenience shops, art and culture shops, accessories shops and optical shops occupy the old pre-war shoplots in Jalan Panggung and Jalan Balai Polis.
Chan notes that there are many cultural and traditional products on sale in these streets, as well as in Jalan Sultan.
"These products, together with the other businesses attract crowds, instead of relying on pedestrian flow. These streets also benefit from the spillover pedestrian flow from Jalan Petaling," he says.
Chan shares that his family supplies handmade Chinese flowers made with red cloth to one of the shops in Jalan Panggung. The businesses occupying the shops, especially the concentration of cultural wholesale businesses, defines the location and character of the streets, he says.
"I think it is worthwhile to retain such traditional values in this location, even as the place is being redeveloped. In many instances, the original value of a place is lost when redevelopment takes place," he adds.
Past transaction records provided by Chan show that 2-storey pre-war shops were sold at RM3 million to RM4.2 million in 2014, while the asking rental for the shops' ground floor ranges from RM12,000 to RM15,000 per month.
Behind the rows of shoplots in Jalan Panggung is a small lane known as Lorong Panggung. It can be accessed via Jalan Panggung and Jalan Balai Polis. This quiet lane is easily missed, but hidden along this lorong are some street art and makeshift food stalls that sell some of Malaysia's all-time favourites, such as nasi lemak and chee cheong fun.
Samantha, a young working adult who used to study in that area, remembers the chee cheong fun stall very well as she visited it frequently when she was studying at the Advance Tertiary College in Jalan Petaling.
"During the weekdays, I see a lot of students and working people in the area going to that lorong for food as it is quite cheap. One roll of chee cheong fun is 60 sen to 70 sen and after adding fish balls and other things, it is less than RM5. I think the chee cheong fun is among the best I have ever tasted," she says.
She adds that an uncle sets up a Hokkien mee stall on the same spot in the evening and it is usually open until late into the night.
"The lorong is a local spot to go for simple comfort food," she says.
The prospects for the area, says Chan, are good due to the unique location and rich cultural value. "But it is imperative to ensure that the right products are introduced in the area and its surroundings."
He believes the completion of Four Points by Sheraton and PNB118 will create further development impetus in the area.