This article first appeared in City & Country, The Edge Malaysia Weekly, on March 8, 2021 - March 14, 2021.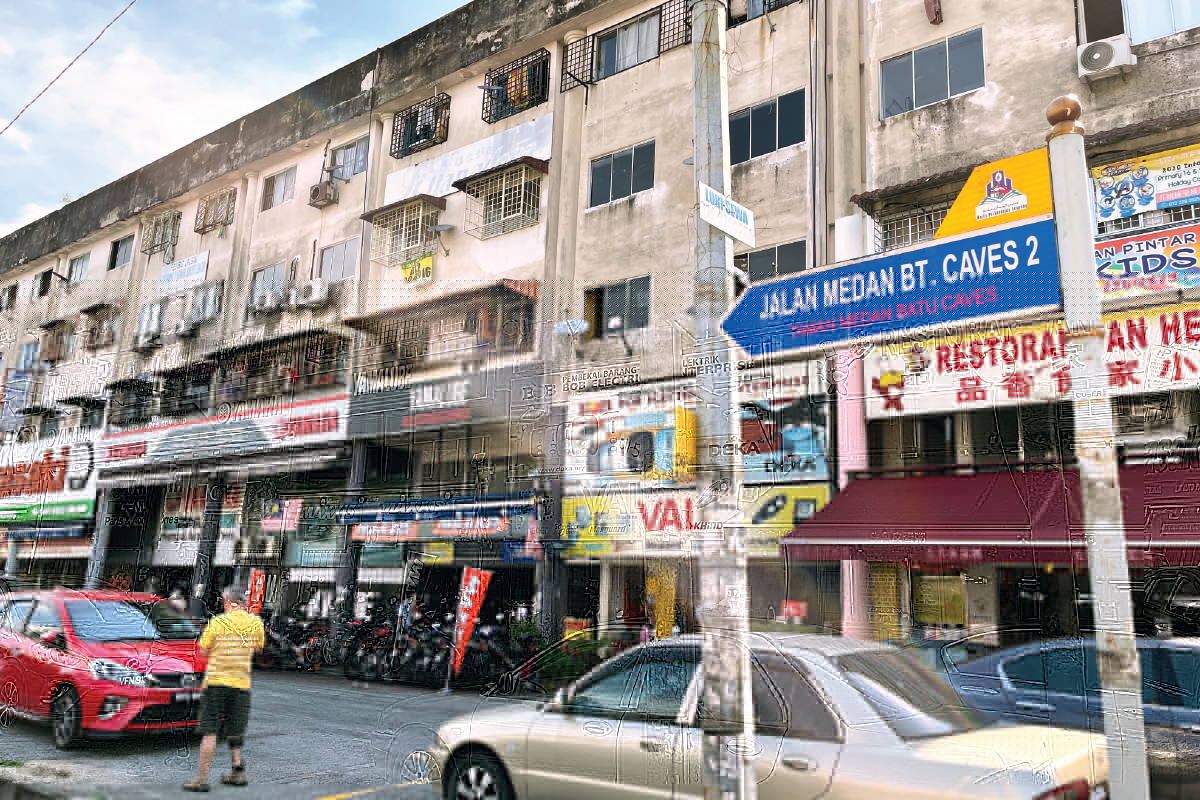 Medan Batu Caves in Gombak, Selangor, developed by Dolomite Corp Bhd in 1990, comprises a mix of residential and commercial developments.  Surrounding amenities include SJK (C) Kheow Bin, Klinik Famili, Klinik Reddy, KIP Hotel, Times Inn Hotel, Bank Simpanan Nasional and Public Bank. 
The Batu Caves KTM Station is only 1km away and the area is easily accessible via Jalan Batu Caves, Middle Ring Road 2 and Duta-Ulu Kelang Expressway.
One of the main streets in Medan Batu Caves is Jalan Medan Batu Caves 2, which is lined with mainly 4½-storey shop apartments. In the immediate vicinity of Medan Batu Caves are 1-storey detached houses, 2-storey terraced houses, high-rise apartments and a Chinese primary school.
 PPC International Sdn Bhd managing director Datuk Siders Sittampalam says there have not been any property transactions in Jalan Medan Batu Caves 2 lately. 
"The only recent transaction involved a shop unit with a built-up of 2,196 sq ft in neighbouring Jalan Medan Batu Caves 1, which was sold at RM900,000 in 2018. Another unit was transacted at RM1.1 million in 2019. The monthly rent is RM4,300 per month, giving a yield of 4.69% per annum.
"As for the nearby residential properties, recent transactions show that the 2-storey terraced houses with built-ups ranging from 1,387 to 1,587 sq ft were sold at RM620,000 to RM650,000, or RM390 to RM468 psf. Due to the lack of transaction data, it is hard to work out the rental yield for the terraced houses," he explains.
"The condominiums and apartments with built-ups of 816 to 1,249 sq ft were transacted in the region of RM225,000 to RM360,000, or RM275 to RM380 psf, in 2018 and 2019. The monthly rent is RM1,000 to RM1,300, giving yields of 3.6% to 4.4% a year."
One of the main problems in the area is a lack of parking space. "It is always hard to find a parking space in Jalan Medan Batu Caves 2, especially during lunch hour. This is because lots of people queue for a table at Restoran Pan Heong," says Ian, who regularly dines at the restaurant.
The corner shop is always packed.  Its speciality is Sang Har Wat Tan Hor (flat rice noodles with fresh water prawns in thick egg gravy).  The sweetness of the succulent prawns is enhanced by rice wine.
Another popular dish is Kao Yoke Mee Hoon (vermicelli with stewed pork). "The flavourful stewed pork, which has the right ratio of fat and lean meat, complements the mee hoon ...  it melts in the mouth," says Ian.
Other dishes include sang yu (snake head fish) and century egg porridge, fried chicken wings and lor mee (a Hokkien noodle dish served in a thick, starchy gravy).
Upcoming residential developments in the area include Residensi Laman Sari by Best Silver Development Sdn Bhd and 99 Residence by JL99 Group. Residensi Laman Sari is expected to be completed in 2022 and 99 Residence in 2023.
Siders notes that Medan Batu Caves is largely an early-phase residential development comprising landed properties, with commercial components to cater for the immediate population. 
Because the area consists mostly of low-density developments, apart from its proximity to the Kuala Lumpur city centre, "property values are expected to appreciate and remain stable in the current pandemic," he adds.