This article first appeared in City & Country, The Edge Malaysia Weekly, on March 22, 2021 - March 28, 2021.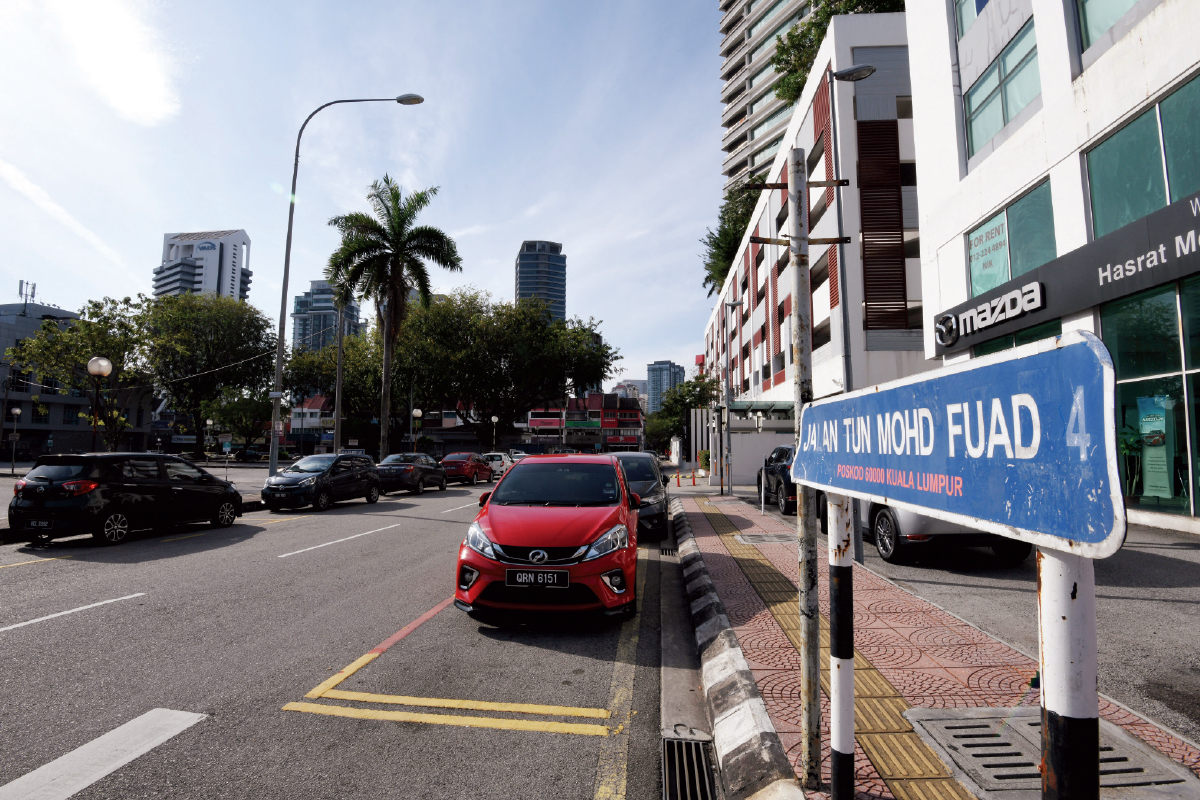 Those familiar with Taman Tun Dr Ismail (TTDI) would know that most, if not all, of its streets are named after prominent people. City & Country has covered some of them, such as Jalan Datuk Sulaiman and the Zaaba area.
This article will take a look at the Jalan Tun Mohd Fuad area, which comprises Jalan Tun Mohd Fuad, Jalan Tun Mohd Fuad 1, Jalan Tun Mohd Fuad 2, Jalan Tun Mohd Fuad 3 and Jalan Tun Mohd Fuad 4.
The map shows that these streets form a square where the main landmarks are located. These include Bangunan AHP, which houses tenants such as Maybank Islamic and Optimax Eye Specialist Centre; and the two adjacent open-air car parks.
Other shops that bear the Jalan Tun Mohd Fuad address include McDonald's TTDI, Yong Len Restaurant, 'Q' Bistro, Aunty Manju's Home of Banana Leaf, Fami­lyMart and The Coffee Bean & Tea Leaf.
Nawawi Tie Leung Sdn Bhd managing director Eddy Wong reminisces that, before the pandemic, there was a pasar malam that operated from 2pm on Sundays and was popular not only with TTDI residents but also those from nearby suburbs.
"The Taman Tun Dr Ismail Fire and Rescue Station is located at the corner of Jalan Damansara and Jalan Tun Mohd Fuad, and the TTDI wet market is located a little farther south; both are major landmarks in TTDI," he says.
Jalan Tun Mohd Fuad is named after Tun Mohammad Fuad Stephens (1920 to 1976), the first chief minister of Sabah. Born of mixed parentage to a Kadazan-British father and a Japanese-British mother, he was named Donald Aloysius Marmaduke Stephens. He changed his name upon his conversion to Islam.
He played a major role in bringing Sabah into the Federation of Malaya, before becoming its chief minister upon the formation of Malaysia on Sept 16, 1963. He died in 1976 in a plane crash that also claimed the lives of his son and nine others.
As with most commercial parts of TTDI, it can be difficult to find street parking in the Jalan Tun Mohd Fuad area. During the pre-pandemic days, drivers would double park their cars to run errands. The open-air car parks are also almost full most of the time.
The only development with residential properties in the area is the 2.3-acre Sinaran TTDI, at the junction of Jalan Tun Mohd Fuad 3 and Jalan Tun Mohd Fuad 4. Developed by UDA Holdings Bhd, it was reported that this project offers 249 units in a 30-storey condominium block and six blocks of five-storey strata shopoffices.
The sizes of the condominium units range from more than 1,128 sq ft for the 2-bedroom units to 5,156 sq ft for 5+1-bedroom penthouses. The units were priced from RM387,000 to RM1.5 million during the launch in 2006. According to a listing on EdgeProp.my, a 1,680 sq ft unit is going for RM1.3 million. 
In 2011, the strata shopoffices were sold by tender, with reserved prices from RM8.1 million to RM8.6 million per block and net floor areas from 9,346 to 9,534 sq ft.
Construction of the project was delayed because of a rise in the price of materials, but it finally commenced in April 2009 and the project was completed in 2011, a year later than scheduled.
Wong notes that the Jalan Tun Mohd Fuad area is a vibrant commercial hub serving the southern part of TTDI. The shops offer a wide variety of services and dining options as well as clinics, pharmacies and convenience stores. A Hero supermarket is located a stone's throw away. 
He says TTDI is a well-established, mature, upper-middle-class suburb, and the commercial activities there are well supported by the local population and those living in the neighbouring suburbs. Values of the shopoffices have remained stable, as seen in transacted prices over the past several years.
Wong believes neighbourhood shops that serve the community well will still have a role to play despite the threat of competition from malls and the shift to online shopping and e-commerce.
"The convenience of meeting friends over a cup of coffee in the neighbourhood Starbucks without the need to go to a mall and deal with the hassle of traffic and parking will continue to have its appeal. Commercial activities will continue, however, to evolve and there will be a gradual shift towards lifestyle offerings and more service-centric businesses," he says.
"Prices have held steady in the past several years despite a challenging property market. In fact, there was one shop [in the Jalan Tun Mohd Fuad area] that was resold a year later for more than 10% of its initial transacted price."
Shopoffices in the area have been transacted in the range of RM2,136 to RM2,696 psf in the past seven years. The rent for ground-floor shops range from RM8,000 to RM10,000, depending on frontage, and for offices,  between RM1,800 and RM3,000, depending on whether they are on the first or second floor as well as their condition. The yields are 3.5% to 4%."