This article first appeared in City & Country, The Edge Malaysia Weekly, on September 21, 2020 - September 27, 2020.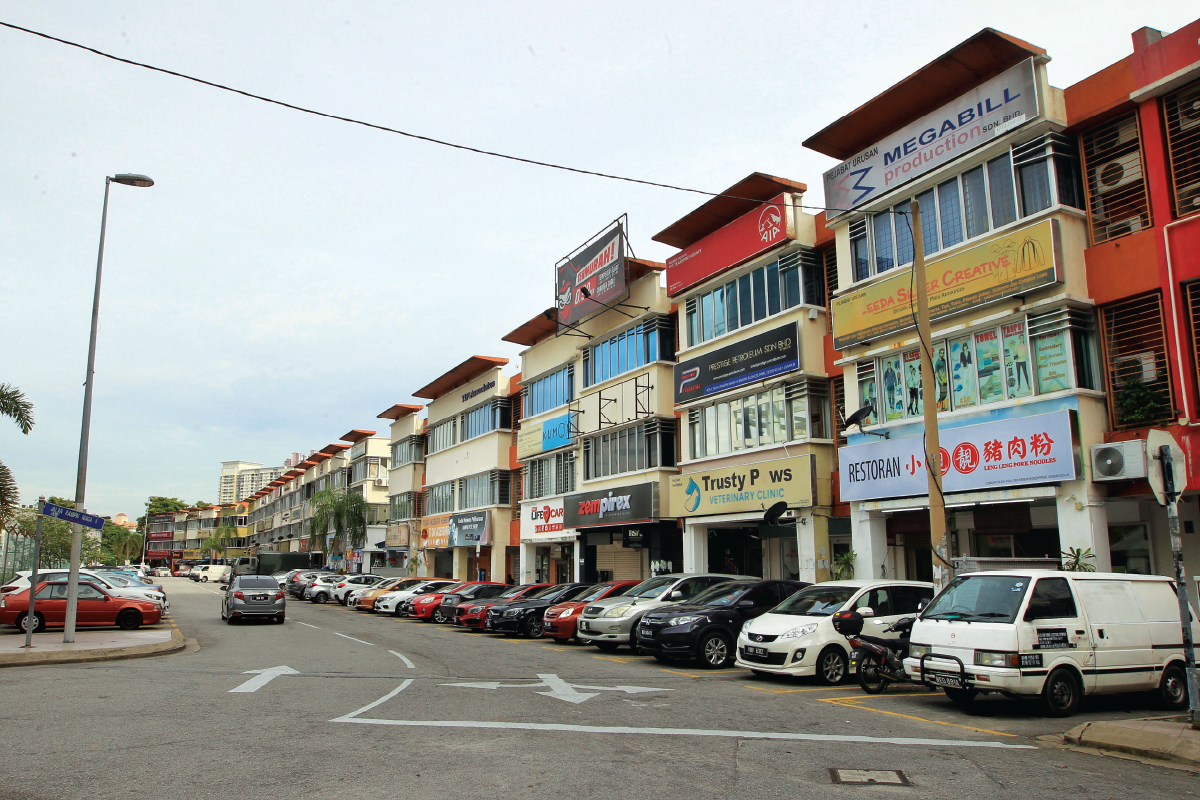 Rampai Business Park is a commercial area in Taman Sri Rampai, Setapak. Taman Sri Rampai is one of Kuala Lumpur's earliest suburbs and located within Wangsa Maju. The leasehold shopoffices in Rampai Business Park were completed by CRSC Group in 2010, according to PPC International Sdn Bhd managing director Datuk Siders Sittampalam.
The commercial area caters for the population of Sri Rampai and surrounding neighbourhoods such as Wangsa Maju, Setapak, Setapak Jaya, Setiawangsa, Taman Melawati, Taman Melati and Titiwangsa.
The area is well connected to three major highways — Ampang-Kuala Lumpur Elevated Highway, Middle Ring Road 2 and Duta-Ulu Kelang Expressway — and is only a 20-minute drive from the Kuala Lumpur city centre.
According to Siders, Jalan Rampai Niaga 2 and Jalan Rampai Niaga 4 in Rampai Business Park comprise a mixture of 2- and 3-storey shopoffices, the ground floors of which are occupied by restaurants, veterinary clinics, convenience stores, hardware shops, bookstores and laundry shops, while the upper floors are used as offices or accommodation for workers. The outlets include Restoran Tan Kitchen, Restoran Xing Yee Fatt Seafood, Canton Kitchen, Lei Wong Steam Fish Restaurant, Hasani Books & Stationery, Easy Peasy Laundry, ST Car Accessories, The Life Care, Trusty Paws Veterinary Clinic, Valoobuy, Yokohama Bateri and Tayaria.
Data from PPC International shows that a 3-storey intermediate shoplot in Jalan Rampai Niaga 2 with a built-up of 4,972 sq ft was sold at RM1.8 million in 2014. A similar unit was sold at RM2.45 million in 2018. The monthly rent for the units is RM7,300, which translates into a yield of 3.16% per annum.
"A 3-storey corner shoplot in Jalan Rampai Niaga 4 with a built-up of 8,032 sq ft was sold at RM900,000 in 2010 and another unit was transacted at RM3.5 million last year. The monthly rent for the units is RM11,000, giving a yield of 3.77% per annum," says Siders.
"Meanwhile, the current asking price for the 2 and 3-storey shopoffices in neighbouring Jalan Rampai Niaga and Jalan Rampai Niaga 5 with built-ups of 2,800 to 5,280 sq ft is around RM1.6 million to RM3.2 million. Rental rates are from RM6,000 to RM6,500 per month, yielding 2.44% to 4.88% per annum."
As for the residential properties nearby, the high rises with built-ups of 600 to 1,249 sq ft were transacted in the region of RM250,000 to RM630,000 in 2019 and this year. The landed properties with built-ups of 1,040 and 2,950 sq ft were sold at RM470,000 and RM1.7 million respectively last year. "The monthly rent ranges from RM900 to RM3,500, which translates into a yield of 2.47% to 4.62% per annum," says Siders.
In terms of food options, Canton Kitchen is a crowd favourite. The restaurant offers a variety of Chinese dishes such as bean curd with minced pork and long beans topping, stuffed tofu with broth, clay pot sesame kampung chicken, stir-fried crispy pork, steamed river prawn, fried cuttlefish and three-flavour steamed egg. It also sells fresh vegetables that are brought in from Bukit Tinggi, as well as local titbits.
Another place that seafood lovers must not miss is Restoran Xing Yee Fatt Seafood. It is only a two-minute walk from Canton Kitchen and is open for lunch and dinner. "I personally love their fried squid with salted egg yolk and cheesy butter prawn, which goes well with white rice. The dishes are affordably priced and by lunch time, the restaurant is always packed," says Tommy, who dines regularly at the restaurant. Other popular dishes include butter cream fillet with rice, thousand island pork ribs with rice, steamed lala with ginger and mihun with deep-fried squid rings.
The upcoming residential projects in the vicinity include Residensi Rampai II (308 units) by CRSC Property Sdn Bhd, Sinaran (206 units) by Binastra Land Sdn Bhd and PV18 Residence (852 units) by Platinum Victory Sdn Bhd. Residensi Rampai II and PV18 Residence are expected to be completed in 2021 and Sinaran in 2022.
The outlook for Rampai Business Park appears positive, says Siders. "The commercial area is well established with a good catchment and occupancy and, as such, it has the potential for capital growth and yields in the long term."