This article first appeared in City & Country, The Edge Malaysia Weekly, on May 4, 2020 - May 10, 2020.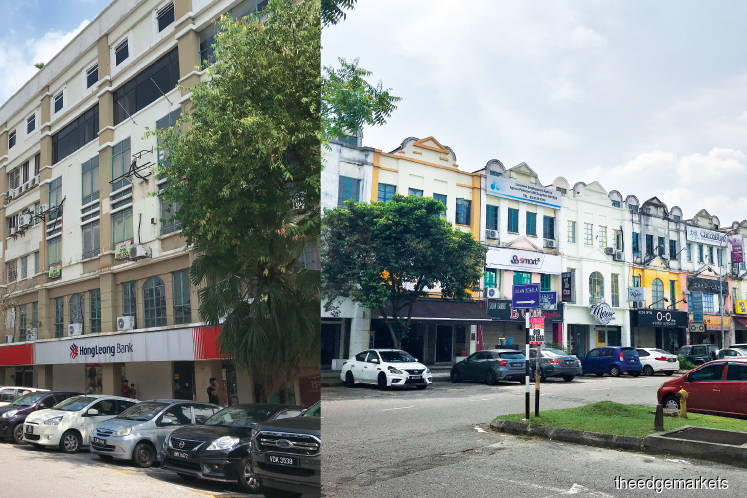 Street scenes of Jalan Anggerik Vanilla N 31/N (left) and Jalan Anggerik Vanilla M 31/M (right)
Photo by Pictures By Ethel Khoo/The Edge
Click / Tap image to enlarge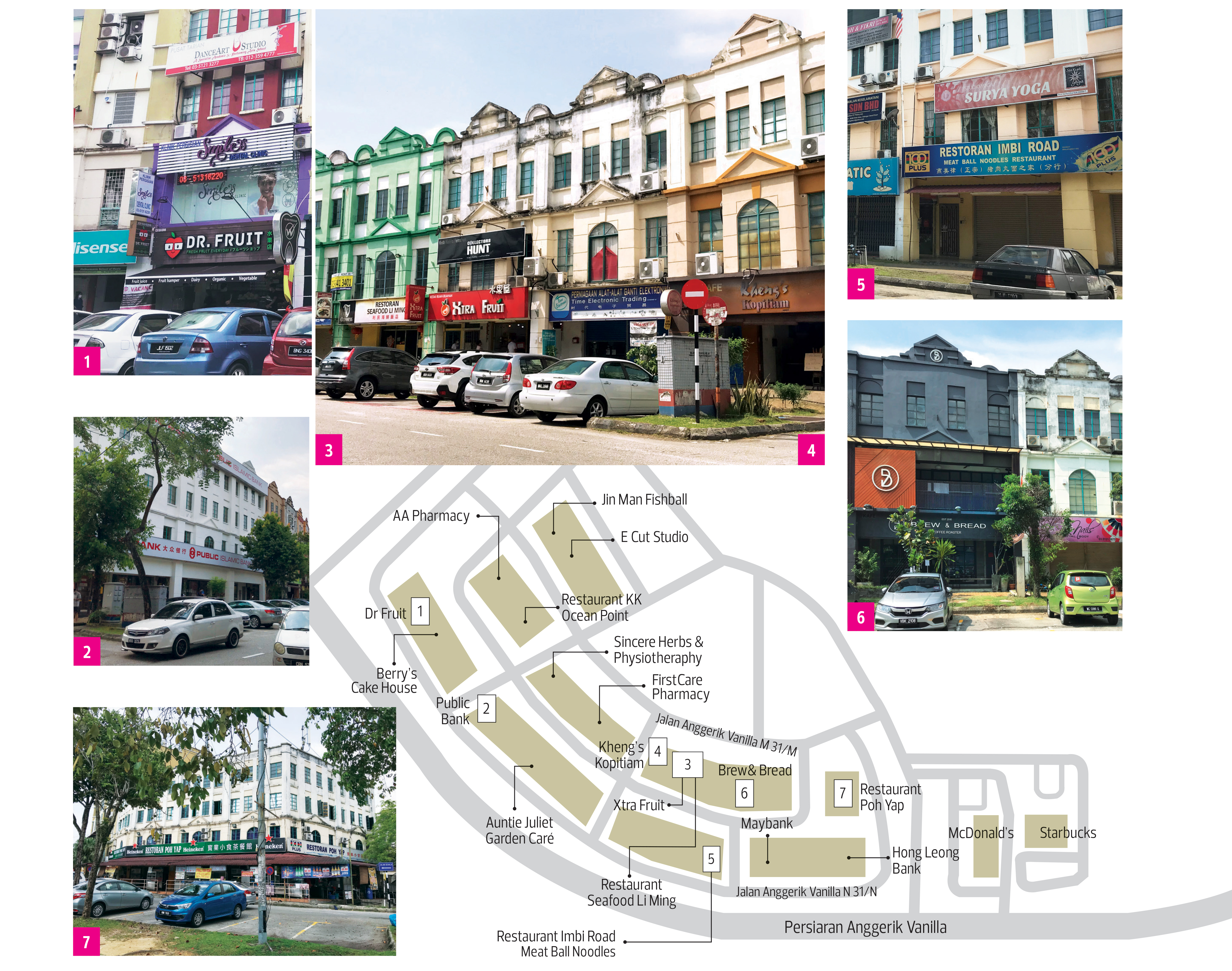 Photo by Pictures By Ethel Khoo/The Edge
Ask anyone who lives in or frequently visits Kota Kemuning and they will probably tell you that among the busiest and most congested areas there are the shoplots near McDonald's and Starbucks. 
This is part of Kota Kemuning's town centre.  We will focus on the shoplots along Jalan Anggerik Vanilla M 31/M and Jalan Anggerik Vanilla N 31/N.
Metro Homes Realty Bhd executive director See Kok Loong says the shoplots along these two streets were the earliest to be built and are the most prominent in the township.
The streets are just a short distance from Kota Kemuning's main roundabout. Jalan Anggerik Vanilla N 31/N is also visible from the main road, Persiaran Anggerik Vanilla.
Along Jalan Anggerik Vanilla N 31/N, there are three banks — Hong Leong Bank, Maybank and Public Bank. The banks, especially Hong Leong Bank and Maybank, which are quite close together, contribute to the traffic congestion.
Hong Leong Bank is close to a junction where cars turn in from the main road. Because of the limited parking spaces, many people who want to make quick withdrawals at the bank park illegally on the roadside.
The one-way, two-lane road narrows into a single lane and results in traffic congestion. Sometimes, the jam stretches all the way to the main road, affecting traffic flow to the main roundabout and worsening the overall traffic situation.
Big crowds are a sign of thriving businesses. A variety of businesses can be found here, including F&B outlets serving delicious food.
Restaurant Imbi Road Meatball Noodles, Auntie Juliet Garden Café, Kheng's Kopitiam, Restaurant Seafood Li Ming, Restaurant Poh Yap and Brew & Bread are among the popular food outlets that have been operating here for a long time.
Koo Xiao Xuan is a regular customer of Kheng's Kopitiam and visits the restaurant with her parents during the weekends.
"My favourite food there is the kaya and butter toast and mee hoon Siam. They never skimp on the ingredients and everything is served fresh," she says.
Other businesses in the area include shops that deal with lighting, furniture, fruits and vegetables, and health and beauty, and pharmacies, clinics and bakeries.
"It's very convenient as there are many shops there. I usually go there for a bite to eat. Then I will get some fresh fruits from Dr Fruit or Xtra Fruit. The guavas sold in Xtra Fruit are huge and my family really enjoys them," Koo says.
"The only downside is the traffic and lack of parking. I usually park farther away to avoid the jam. If these two problems can be solved, I think everyone will be very happy."
According to Metro Homes' See, the launch price for the shoplots was around RM500,000. 
Transaction records show that a shoplot with a built-up of 6,445 sq ft along Jalan Ang­gerik Vanilla M 31/M was sold for RM2.2 million last year. Another unit on Jalan Anggerik Vanilla N 31/N with a built-up of 6,911 sq ft sold for RM4.4 million in 2017.
Rents for ground floor shoplots along Jalan Anggerik Vanilla M 31/M are RM5,000 to RM6,000 while those along Jalan Anggerik Vanilla N 31/N are RM6,000 to RM7,000. "Rents are higher for the shoplots along Jalan Anggerik Vanilla N 31/N because of the road frontage," See explains.
The prospects for the area are good, he says. He believes that the property here is a reasonable long-term investment and may be on a par with that in the commercial areas in Taman Tun Dr Ismail, Damansara or SS2, Petaling Jaya.