This article first appeared in City & Country, The Edge Malaysia Weekly, on June 21, 2021 - June 27, 2021.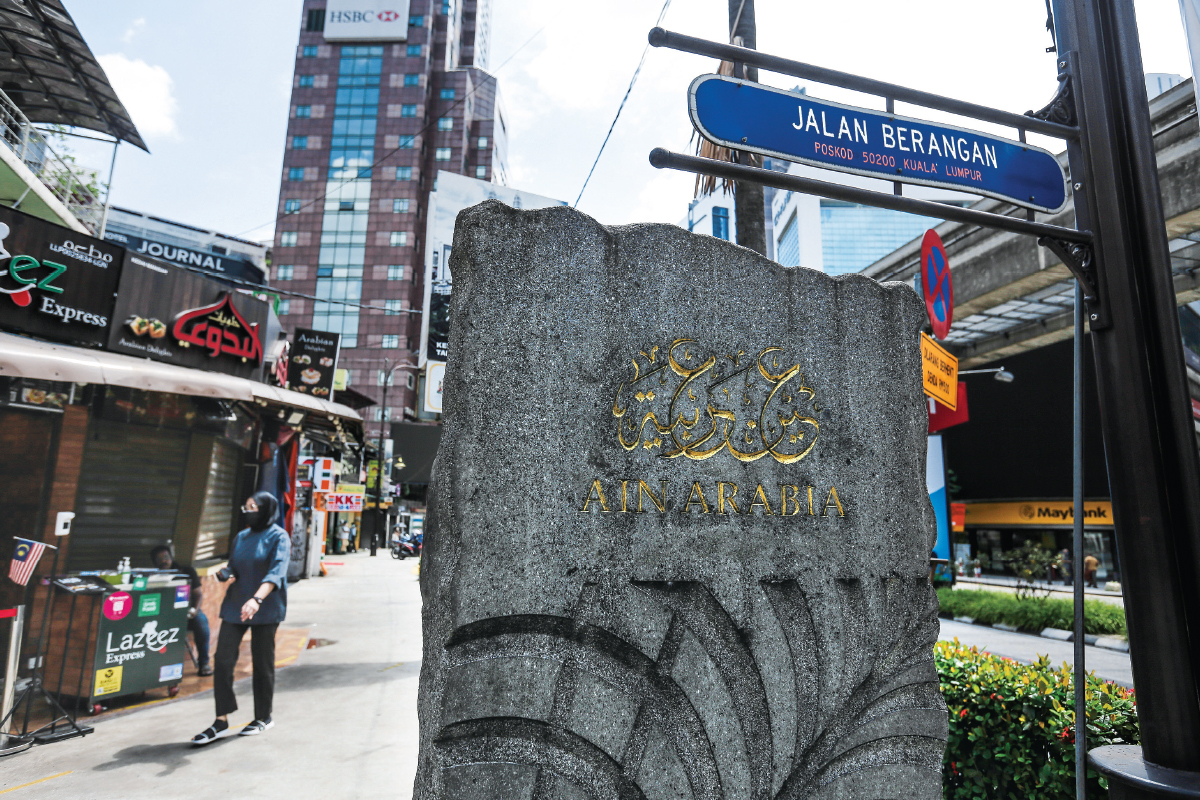 Jalan Berangan in Kuala Lumpur connects Jalan Sultan Ismail and Lorong Ceylon.  Traffic enters the one-way street — which intersects with Jalan Beremi, Jalan Bedara and Jalan Nagasari  — from Jalan Sultan Ismail before   reaching Lorong Ceylon at the other end.
Upon entering Jalan Berangan, one can see an arch with the words "Ain Arabia", which means "Eye of Arabia". It refers to a landmark here — a park with an Arab theme at the junction of Jalan Beremi.
The tourist attraction was launched by Kuala Lumpur City Hall (DBKL) in 2005, in view of the growing number of Arab tourists in Malaysia. Jalan Berangan is also fondly known as Arab Street.
Zerin Properties managing director and CEO Previndran Singhe notes that the establishment of Arab Street saw the setting up of more Arab-themed entertainment outlets  and restaurants there.
Jalan Berangan is named after the chestnut tree, or pokok berangan. There are several boutique hotels in the area, including Izumi Hotel Bukit Bintang, Ramada Suites by Wyndham KLCC and MOV Hotel. Located next to Izumi Hotel is the former Hotel Fortuna, which has been demolished to make way for a new development called IBN Bukit Bintang. Landowner  KKH Pavilion Development Sdn Bhd and developer IBN Corp Ltd intend to build a 68-storey residential-cum-hotel building on the site.
Previndran notes that Jalan Berangan was originally a residential area established five decades ago, offerring properties such as terraced houses. Subsequently,  other property types such as flats and 3-storey shophouses sprouted up.
He observes that, over the years, Jalan Berangan has transformed into a vibrant and bustling street, following the change of land use and zoning from residential to commercial in the Draft Kuala Lumpur Structure Plan 2020 (DKLSP 2020), which was launched in 2008 by DBKL.
"The DKLSP 2020 identified Jalan Berangan as a low-cost dilapidated housing area in a prime city centre location with potential for redevelopment into high-density and high-quality residential projects. Jalan Berangan is also part of the Dedicated Entertainment Zones, which include Jalan Tun Razak, Jalan Bukit Bintang, Changkat Bukit Bintang, Jalan Nagasari and Jalan Doraisamy," he tells City & Country.
"The change in planning guidelines and Jalan Berangan's proximity to Jalan Bukit Bintang have attracted restaurants and lodgings as well as entertainment establishments to the street. It is now a popular destination for locals and tourists alike as more residential properties are being converted for commercial usage."
According to him, the number of sale transactions in the area has been limited, based on available data. There were two transactions last year — both involving flats that measure 1,569 sq ft each. One was transacted at RM330,000 and the other,  RM400,000.
As for the rental market, the properties are mostly 3-storey shophouses suitable for lodgings, restaurants and/or entertainment outlets. The monthly rent varies, depending on the property type. The asking rent for an intermediate ground-floor shop (350 sq ft) is RM3,500 per month, while that for a property with two adjoining, intermediate units (7,500 sq ft) is RM30,000 per month.
"Jalan Berangan is a potential hotspot, driven by several factors: the land scarcity in the city centre, its location, designation as an entertainment zone as well as its proximity to the Bukit Bintang MRT/monorail interchange station. The existing dilapidated housing in this prime location presents opportunities for redevelopment. We anticipate more high-density developments, with the IBN Bukit Bintang development (on the fromer Hotel Fortuna site) being a key catalyst," Previndran says.