This article first appeared in City & Country, The Edge Malaysia Weekly, on February 8, 2021 - February 14, 2021.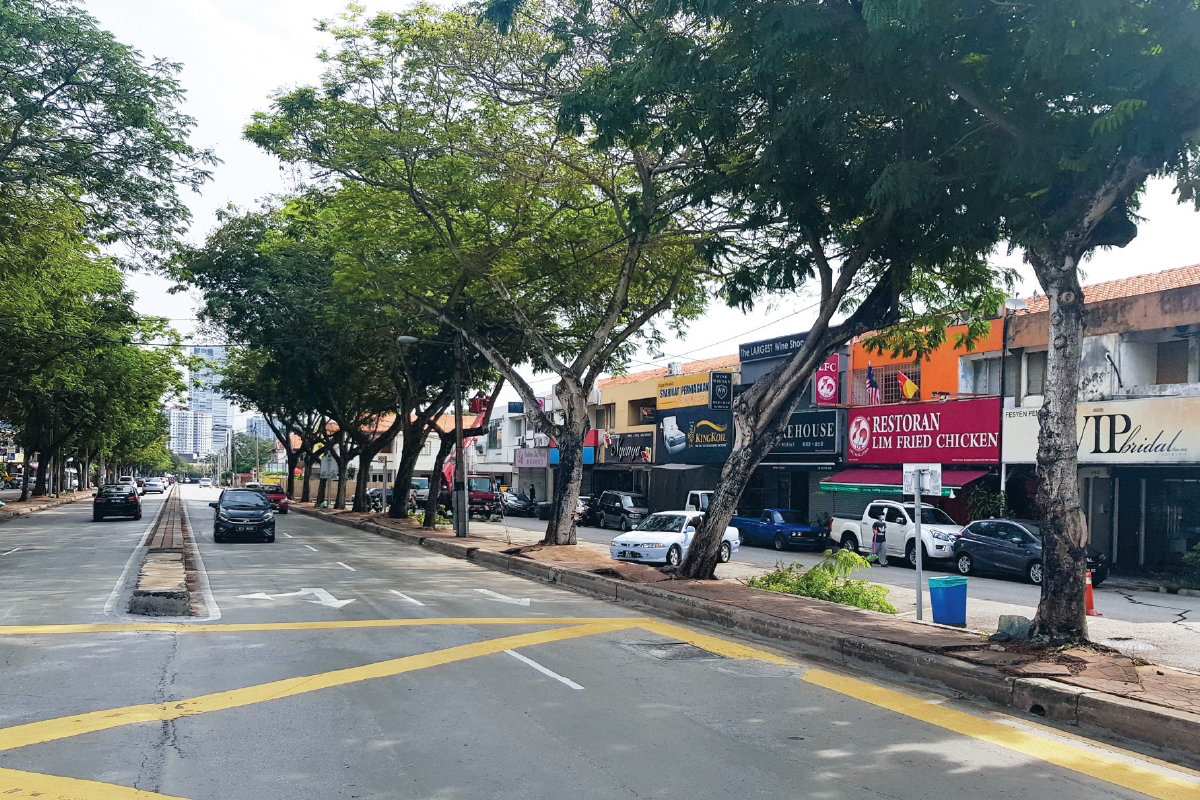 At a restaurant famed for its chicken rice, the thick and comforting bowl of barley ginkgo dessert at the end of the meal was an even nicer surprise. Prosperity Bowl is among the generous selection of dining options found in this commercial area straddling Jalan SS2/24 in Petaling Jaya, which comprises two back-to-back rows of shops on one side and another individual row on the other side of the dual carriageway.
These were originally planned as neighbourhood shops, as they are next to residential areas and were one of the earliest commercial properties built in SS2, says Savills Malaysia managing director Datuk Paul Khong.
He explains that development in SS2 started in Jalan SS2/1 near the Taman Bahagia LRT station and moved progressively towards the Jalan SS2/100 side. "So, this commercial section on Jalan SS2/24 came in the early days, even before SS2's main commercial centre [which is bounded by Jalan SS2/55, Jalan SS2/60, Jalan SS2/66 and Jalan SS2/75] nearby was built."
The unassuming rows of shops on parallel roads Jalan SS2/24 and Jalan SS2/30 offer a delectable range of restaurants specialising in local cuisine, such as Prosperity Bowl, Nyonya, Teow Chew Meng, Lim Fried Chicken, Hoi Peng Seafood, Tang Pin Kitchen, Soon Hing Duck-licious & Dim Sum, BibiChik, Village Chicken Restaurant, Aunty Melon SS2 and Yu Yi Seafood.
Also among the F&B offerings are Organic Express, The Lobsterman, SoloMen Café, Domino's Pizza, US Pizza and Divine Fusion Restaurant & Bar.
F&B aside, many established businesses in the area involve home furnishing and appliances, such as ESH Electrical and Superbright Store, Overlander 4x4, Chuan Ang Tyre and Battery, and Bavarian Auto.
Other businesses that serve the immediate neighbourhoods include hair and nail salons, photo and print shops, an Asian grocer, organic food store, a vet, bank, tea shop, wine shop, locksmith, reflexologist and electrical shop.
ESH is one of the most well-recognised vendors in this area. The electrical products provider, which occupies multiple shops on the ground floor, including a corner unit fronting Jalan SS2/24, started its business in the area in the 1980s, and this outlet is its head office.
"Many of the restaurants and tenants here have been around for a long time and have become permanent fixtures through the years. These shops enjoy good road frontage, and many businesses here have grown and thrived in this vibrant locality," Khong says.
"The ESH corner is still very popular in SS2. The old mini buses used to stop here for decades and, even today, the Rapid buses still pass by and stop directly in front [of ESH] for passengers to alight."
In terms of value, Khong says units fronting Jalan SS2/24 have recorded prices of about RM2.5 million from 2017 to 2019 from a low of RM2.25 million in 2015. "There haven't been many transactions in the last five years."
At the rear end of Jalan SS2/30, the latest transaction in 2019 came in at RM2.13 million, the same as one deal in 2013, he adds.
Most of the standard intermediate units here have a land area of 1,500 to 1,600 sq ft and a built-up that doubles the size of their area, excluding the front walkway.
"In general, the 2-storey shops here [average] RM2.5 million for those facing the main road and 15% lower at RM2.13 million for the [ones on Jalan SS2/30]," Khong says.
Khong notes that capital values have been rather flat over the last five years. "According to the sales records of the Valuation and Property Services Department (JPPH), units with main road frontage saw an increment of about 10% over the last five years and those facing the opposite direction have remained unchanged.
"As they are neighbourhood units, prices are expected to stay at these transacted rates at least for the present recessionary times unless auctions were to come through in the next few months, depressing the transacted prices," he says, adding that these shops should remain fairly robust, as they are well tenanted.
"This neighbourhood is already well established and almost fully built without too many big parcels available for development except for an open car park plot at the heart of the SS2 commercial centre and possibly some other smaller sites in Jalan SS2/72 near the former SStwo Mall."
Meanwhile, houses in the area were transacted at RM850,000 to RM1.1 million, depending on renovation done, building condition, land size, which varies between 1,540 and 1,915 sq ft, and built-up areas, which range from 1,400 to 2,270 sq ft. "Most of the houses here are quite old, whereas the newer ones are located towards Jalan SS2/100 onwards," says Khong.
Two-storey terraced properties in Jalan SS2/46, with a land area of 1,540 sq ft and built-up of 1,500 sq ft, were sold at between RM830,000 and RM940,000 from 2017 to 2019.
For houses along Jalan SS2/30 and Jalan SS2/32, with similar built-ups but a slightly smaller land area of 1,500 sq ft, a limited number of sales was recorded, at prices ranging from RM900,000 to RM1 million.