This article first appeared in City & Country, The Edge Malaysia Weekly, on December 9, 2019 - December 15, 2019.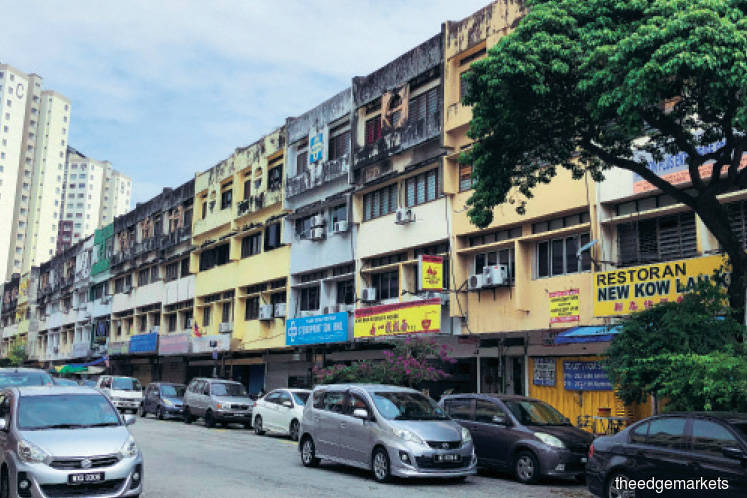 Parking spaces in Jalan Jejaka are limited during peak hours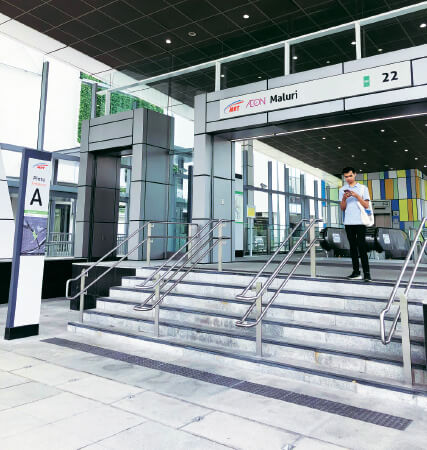 The Maluri MRT station in Jalan Cheras
Bordering Titiwangsa and Cheras in eastern Kuala Lumpur, Maluri — commonly known by locals as Taman Maluri — is most notable for being home to Jusco's oldest store (now rebranded as AEON Taman Maluri Shopping Centre) in Malaysia, which was opened on Oct 30, 1989.
Although parking spaces in Jalan Jejaka are limited during peak hours, many locals often make a beeline for the street as it is a food haven.
While strolling along the street last week, I dropped by Thin Heong to grab some of my favourite dried meat, or rougan in Chinese. The salty-and-sweet dried meat sheets are popular in Singapore and Malaysia where they are traditionally enjoyed during Chinese New Year.
Chung Weng Choong, who often hangs out in the area, says the rougan in Malaysia is grilled over charcoal instead of air-dried, which imparts a smokier flavour to the meat. "It is also sweeter than its mainland China counterparts, with many different variations developed to suit local tastes."
If you are looking for a seafood restaurant, Soon Kee Seafood Noodle, located opposite Thin Heong, is your best choice. Its signature dish is mee hoon served with pomfret or red grouper, available in dry and soup versions. "Although the dish is a bit pricey, the noodles are springy and smooth and go well with the soup, which is palatable and pleasing. The restaurant also serves oysters, prawns, sliced fish, tofu, fish balls and fish cakes," says Chung.
Another must-try is Restoran Deli Lotus in Jalan Jejaka 7, which is only a minute's walk from Soon Kee Seafood Noodle. This restaurant offers handmade noodles served in soup, called pan mee or "banmian" in Chinese. A favourite of mine is the hand-pulled pan mee soup, as the repeated stretching of the dough provides the noodles with a chewier texture compared with ordinary pan mee.
The properties in Jalan Jejaka comprise 4-storey shopoffices, a leasehold condominium called Amaya Maluri and Hotel Maluri, says Eddy Wong, managing director of Nawawi Tie Leung Real Estate Consultants Sdn Bhd. "However, there are not many transactions [in the area] due to reduced demand in a sluggish market," he reveals.
"The 4-storey shopoffices, with built-ups of 1,765 to 2,196 sq ft each, are priced at RM1.8 million to RM3.02 million, or RM1,020 to RM1,375 psf, with yields of 3.5% to 4.5% per annum," says Wong. "In terms of the monthly rent, the ground floor is RM4,000 per month. The higher the unit, the lower the rent, with units on the second to fourth floors being rented out at RM1,800 to RM2,000 per month."
According to Nawawi Tie Leung's research data, a few intermediate shopoffices were sold at RM1.8 million to RM2.4 million each while a corner unit was sold for RM3 million in December last year. "The price of shopoffices can vary substantially depending on the built-ups and frontage," says Wong.
Units at Amaya Maluri have built-ups of 700 to 1,100 sq ft each and can fetch RM550 to RM600 psf, with yields of 4% to 4.5% per annum. Rental rates for the condominiums range from RM2 to RM2.50 psf.
Upcoming residential projects in the vicinity include Lavile KL by Orando Holdings Sdn Bhd and M Vertica by Mah Sing Group Bhd, both due for completion in 2021.
Wong says the future of the area appears bright with the existence of the aforesaid projects and the nearby Maluri MRT station in Jalan Cheras, opposite AEON Taman Maluri Shopping Centre.
Jalan Jejaka is easily accessible via Jalan Cochrane, Jalan Perkasa and the Middle Ring Road 2. Nearby amenities include YPC International College, Sunway Velocity, IKEA Cheras and MyTOWN Shopping Centre.
"The area, being one of the housing estates closest to Kuala Lumpur's Golden Triangle, will continue to be popular due to its location, accessibility and public amenities," says Wong.