This article first appeared in City & Country, The Edge Malaysia Weekly, on September 23, 2019 - September 29, 2019.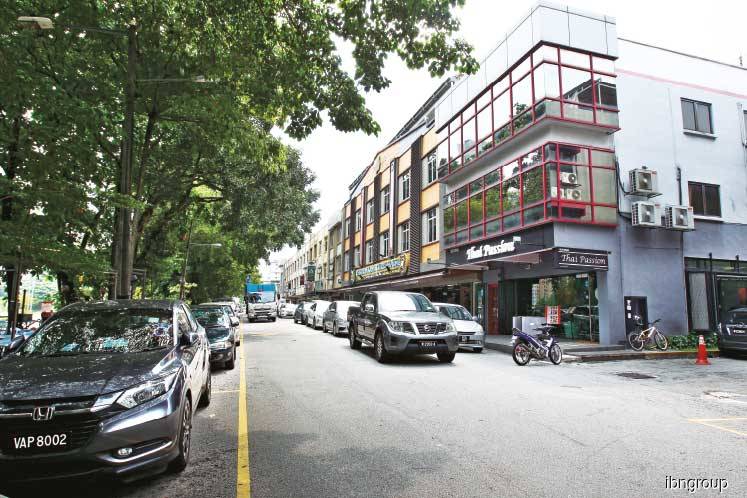 Most of us know of Section 17 in Petaling Jaya, but if you were to mention Jalan 17/45, you might get a few raised eyebrows. That was my reaction too, until I discovered this hidden gem.
Rather quiet on weekday mornings, the street and the surrounding area are lined mainly by residential houses. Most people would miss it if not for the row of 3-storey shophouses developed in the late 1960s.
Over the years, the street has gained popularity as a food haven. In the afternoon and on the weekends, the street comes alive as foodies head for the many restaurants and cafes there.
Notable eateries along the street include Strangers at 47, JEQ in the House, Kanna Curry House, Tipsy Boar, Omulab, AROI Mak Mak Thai Restaurant, Kampung Dining, Thai Passion and Organic Leaf.
Jane is a big fan of Kampung Dining, which she discovered while surfing the internet for Nyonya food. "My favourite is their Starfruits Assam Fish. The other main ingredients are barramundi fillets, long beans, ladies fingers and brinjal. I love the sweet and sour taste, and the spiciness is just the right level for me. It is one of their specials and I was addicted after the first time I had it," she says.
The owners of Kampung Dining are Alicia Lim and Derson Tan, who also run Alison Soup House in Taman Tun Dr Ismail. Their food mantras are "quality local produce", "made-from-scratch sauces" and "strictly no MSG".
"Their food philosophy is one of the reasons why I go back there. It's not easy to find restaurants that make healthy food without MSG. I know this because I don't feel thirsty after I eat there," Jane says.
Apart from the eateries, the shophouses house various businesses, including an acupotomy treatment centre, air-conditioner service centre, a printer and a tiles and sanitary wares supplier.
One downside of the area is the lack of parking space. The street is usually congested with cars and the parking problem sometimes spills over into the surrounding roads.
However, that has not deterred the crowds from thronging there for the food.
Just a stone's throw away is the SStwo Mall, which was shuttered some years ago. The property has since been bought by the DK Group of Companies and is slated for redevelopment.
Laurelcap Sdn Bhd executive director Stanley Toh says the prospects of the street and the surrounding area are bright with the impending redevelopment of SStwo Mall and the extension of Jalan Harapan.
Data provided by Laurelcap show that shophouses there were transacted for RM2.3 million to RM2.5 million this year. A ground floor unit can be rented out for RM3.50 to RM3.80 psf per month and those on the first and second floors, RM1.10 to RM1.50 psf.
Terraced houses were transacted at RM650,000 to RM750,000 while rents ranged from RM2,300 to RM3,500 per month.
Semi-detached houses were going for RM1.8 million to RM2.8 million and fetched rents of RM5,000 to RM7,000 per month.
For bungalows, transacted prices were RM2.3 million to RM3.8 million, with rents of RM7,000 to RM15,000 per month.
Apartments in the area are priced at RM145,000 to RM210,000, and rented out for RM1.50 to RM2.30 psf per month.