This article first appeared in City & Country, The Edge Malaysia Weekly, on December 31, 2018 - January 06, 2019.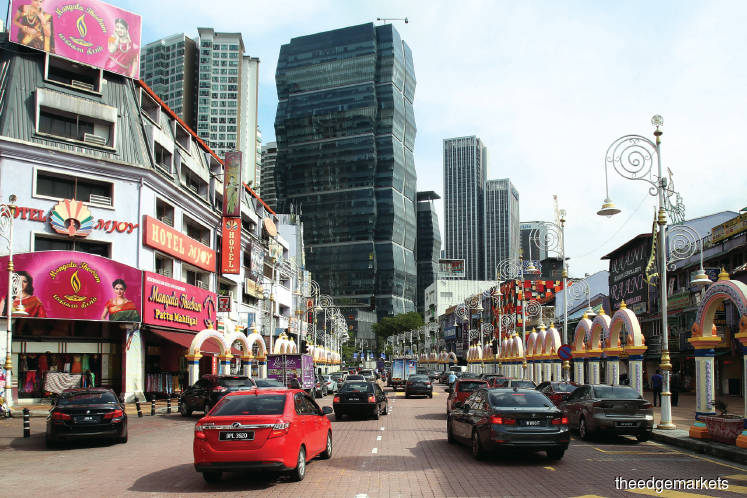 One of the earliest roads in Kuala Lumpur, Jalan Tun Sambanthan stretches almost 3km from KL Sentral/Brickfields in the south to the Kuala Lumpur KTM station in the north.
Formerly known as Brickfields Road or Jalan Brickfields, the thoroughfare runs through what was once a coconut plantation. As it was located 15 miles from the village of Damansara, it was also known as Batu Lima Belas or 15th Mile.
In 1881, a fire and subsequently a flood destroyed Kuala Lumpur's wood and attap structures. As the British administration at the time wanted the new buildings to be constructed of brick and tile, a brick industry was set up in what then became known as Brickfields.
Jalan Brickfields was later renamed to honour former labour minister Tun V Thirunyana Sambanthan, who was the fifth president of MIC, from 1955 to 1973. Even though the street name has been changed, the neighbourhood is still generally known as Brickfields.
As it is the country's official Little India, various Indian-inspired structures can be seen in the area, such as a colourful 10m-high fountain at the junction of Jalan Rakyat and Jalan Tun Sambanthan as well as white street lamps and creamy-yellow arches along the street.
The old and the new
The northern part of Jalan Tun Sambanthan — flanked by railway tracks and the Klang River — is narrow, making it difficult for property developments. Thus, the southern part is seeing all the development with low-rise shops on one side and transport hub KL Sentral on the other.
JLL Malaysia country head Y Y Lau notes that the development around Jalan Tun Sambanthan is well integrated with the skyscrapers of KL Sentral and the rows of shops opposite.
KL Sentral has added premium buildings, such as Menara 1 Sentrum, NuTower, Nu Sentral Shopping Centre, Menara Shell and Ascott Sentral Kuala Lumpur, to the street, she adds.
The latest offering is serviced apartment project Sentral Suites, which is located diagonally across from Menara Shell. With a gross development value of RM1.6 billion, Sentral Suites sits on 4.75 acres.
The development consists of 1,434 apartments in three 43-storey towers as well as 41 retail units. The apartments have built-ups of 650 to 1,166 sq ft and are priced at RM728,800 or RM1,200 psf onwards. Launched in May 2017, some 70% of the units have been taken up.
JLL Malaysia's office is in Menara 1 Sentrum in Jalan Tun Sambanthan and, according to Lau, the location is attractive to talent and convenient to clients.
Conveniences
KL Sentral may be a transport hub but its location and cachet is a boost to JLL's image and its corporate concept, notes Lau. The nearby amenities are also convenient for the company to hold meetings and events.
"KL Sentral is one of the hot spots where many events and meetings take place, given the presence of government bodies, such as InvestKL and the Malaysian Investment Development Authority, as well as giant multinational corporations such as Google, Agoda and Facebook.
"The mall provides virtually all the necessary facilities and amenities — eateries, banks, telecoms operators and clinics. Many banks are located in Brickfields, and the post office is at just a stone's throw," she says.
According to Lau, the shops in Brickfields are dominated by restaurants offering Indian cuisine, budget hotels and convenience stores that cater for the residents as well as travellers using the transport hub. She says the shops are priced between RM600 and RM700 psf with those in especially good micro-locations commanding about double that.
As for offices, NuTower 1 was acquired by the Malaysian Communications and Multimedia Commission in 2015 for RM283 million and CIMB completed its acquisition of Menara CIMB in the same year for RM646 million.
In 2016, a notable transaction was Shell disposing of its building to MRCB-Quill REIT for RM640 million while in the following year, Aloft KL was sold by Aseana Properties Ltd for RM418 million.
"Rents for en-bloc offices in the area are RM6 to RM9 psf. We have seen a steady climb in rental rates there in the last five years with the compound annual growth rate hovering at 3%. The central location continues to attract tenants as various amenities are within walking distance," Lau explains.
Moving forward, she believes the urbanisation of Brickfields will slow down as the area has already matured.
"The office buildings will likely continue to see healthy occupancy and rental rates with KL Sentral as its main attraction. Other amenities and commercial conveniences will also continue to attract people to work there," she adds.