This article first appeared in City & Country, The Edge Malaysia Weekly, on May 10, 2021 - May 16, 2021.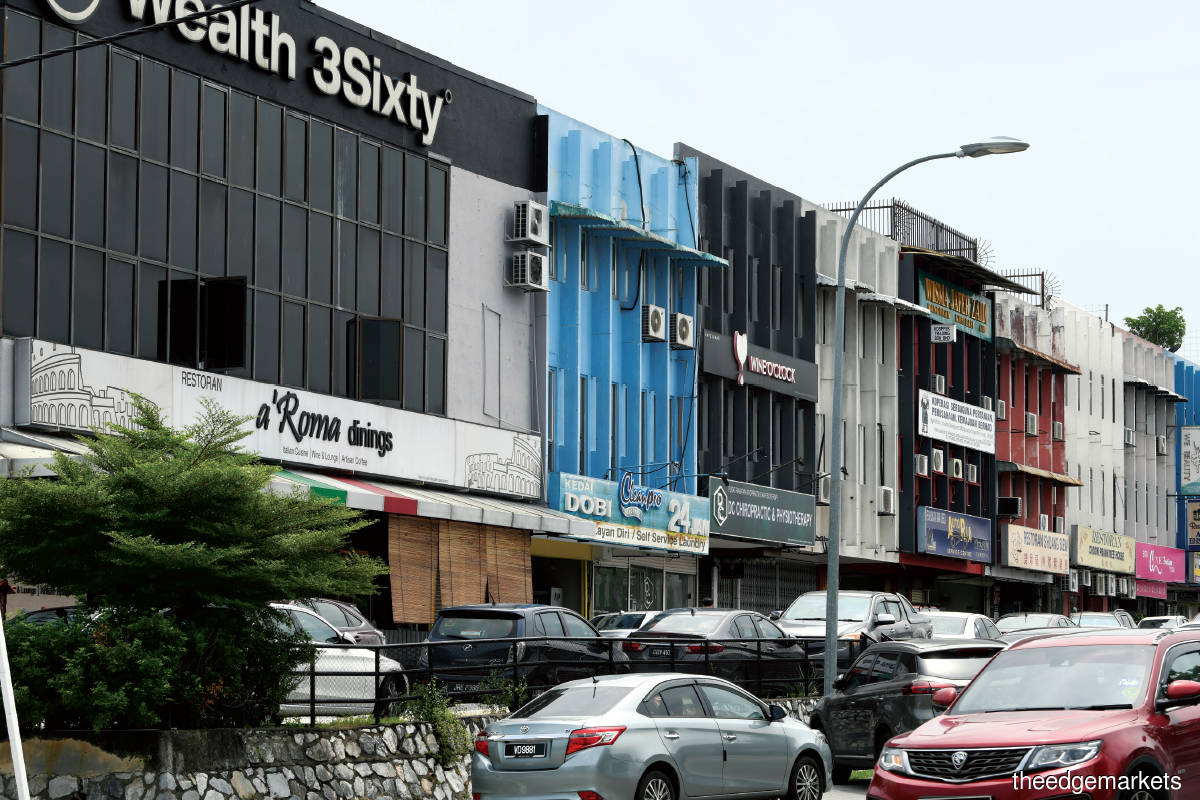 The 3-storey shopoffices along Jalan 20/14 as well as in Jalan 20/16a, which runs parallel to it in Taman Paramount, Petaling Jaya, are well known for their restaurants. Firm favourites include O&S with its local hawker fare, Chef Loh XO Fried Fish Head Noodles, Al-Ehsan's nasi lemak ayam goreng, Shuang Siew's chicken rice, Choon Prawn Mee House, a'Roma Dinings' Italian fare, Chinese restaurants Luck Kee Seafood and Gold Dragon City, Yong Tau Foo Khong Kee and dim sum restaurant Key Way.
"Gold Dragon City is a traditional Chinese restaurant that serves banquet-style dishes while Luck Kee Seafood is a no-frills alternative to the former that is very popular among the locals," says Eddy Wong, managing director of Nawawi Tie Leung Real Estate Consultants Sdn Bhd.
"Around the corner is the more upmarket a'Roma Dinings, which serves Italian cuisine and boasts a wide range of freshly made pasta and a respectable wine list, while the popular O&S kopitiam offers awesome Penang hawker fare," he continues.
The restaurants here offer a wide variety of dining options at various price points, catering for a broad segment of the population, says Wong.
Apart from the food outlets, these two rows of shops are also home to electrical and auto parts shops, reflexology centres and other service providers, as well as offices. The EU Institute School of Accountancy & Business Studies is located in Jalan 20/16a.
Wong says  Taman Paramount or Paramount Garden was developed by Teo Soo Cheng of See Hoy Chan Group in the 1960s. "It was his first property development. He subsequently went on to develop Taman Bahagia, Damansara Jaya, Damansara Utama and Damansara Uptown in Petaling Jaya."
Very few transactions of the shopoffices along these two streets have been recorded, Wong notes. "There was an intermediate 3-storey shopoffice in Jalan 20/16a that was sold for RM3.2 million in 2017. It has a land area of about 1,755 sq ft and built-up of about 4,800 sq ft."
There have also not been many rental transactions. Wong notes that an upper floor office space measuring 2,775 sq ft was rented for RM2,500 per month. "As a general guide, similar shopoffices in Petaling Jaya command rentals of between RM3 and RM5 psf for the ground floor unit, depending on their frontage and location."
As for the residential properties in the immediate surroundings, he says they mainly comprise 1- and 2-storey terraced houses and detached houses. "The 1-storey terraced houses are selling at RM600,000 to slightly above RM700,000, while the 2-storey terraced houses are priced between RM700,000 and RM900,000.
"Due to the age of the houses, prices vary substantially depending on their condition and the state of the renovation," he explains.
A 1,875 sq ft 2-storey terraced house in Jalan 20/7 was transacted at RM730,000 last year, while two similar units were transacted at RM808,000 and RM870,000 in November and April 2019 respectively,  Wong notes.  Another 1,540 sq ft 2-storey terraced house in Jalan 20/5 was sold for RM920,000 in May 2019.
He says five 1-storey terraced houses in the area changed hands last year. A 1,600 sq ft unit in Jalan 20/15 was transacted at RM650,000; two units with built-ups of 1,750 sq ft each in Jalan 20/3 and Jalan 20/5 were transacted at RM720,000 and RM550,000 respectively; and two units measuring 1,875 sq ft and 2,023 sq ft in Jalan 20/2 were sold for RM695,000 and RM720,000 respectively.