This article first appeared in City & Country, The Edge Malaysia Weekly, on February 3, 2020 - February 09, 2020.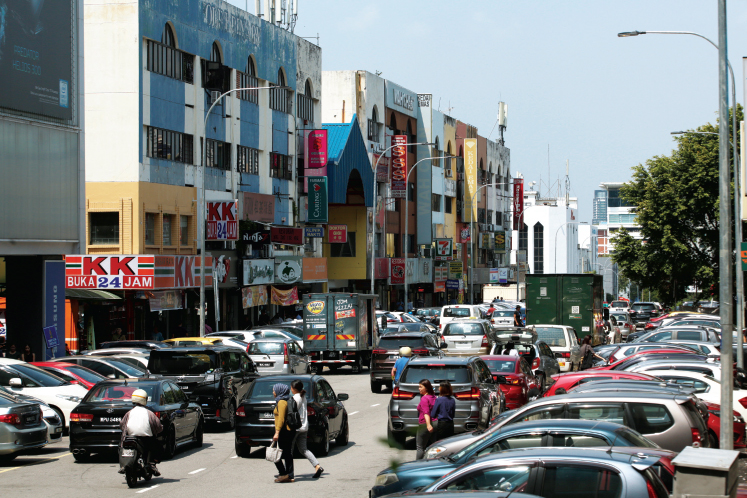 Jalan 14/20 is busy most of the time and parking can be a problem
Photo by Sam Fong/The Edge
Click / Tap image to enlarge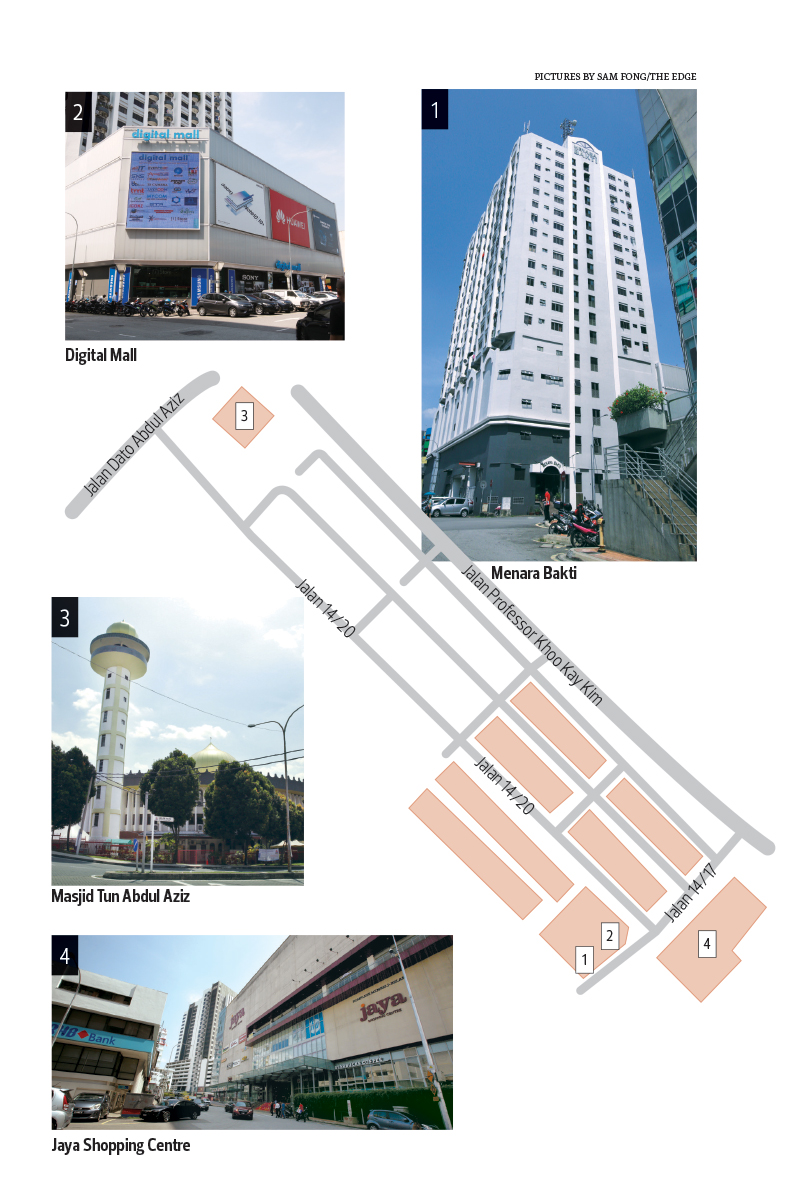 Pictures By Sam Fong/The Edge
Jaya Supermarket was quite the icon way back in the 1990s when I was still in school. I remember my friends and I would hang out there to meet people, especially on Fridays. It wasn't really about the shops inside — it was the location. We would then frequent either Délifrance or the well-known Cable Car restaurant in Jaya Supermarket or the McDonald's across the road. The old Jaya Supermarket also had a games centre on the upper level. Good memories there," recalls 43-year-old James, a local resident.
Jalan 14/20 is one of the major commercial streets in Petaling Jaya, Selangor. One of its landmarks is the Digital Mall, which is known as the smaller version of Plaza Low Yat and is popular with techies and console fans. Menara Bakti, an apartment block, sits atop the mall.
The street mainly has 2-storey landed homes and 3 and 4-storey shoplots, which house various chain stores, such as 7-Eleven, 99 Speedmart, FamilyMart, Domino's Pizza, Caring Pharmacy, The Baker's Cottage, HealthLand and KFC, as well as stationery shops, mini markets, coffee shops, optical shops, eateries, dental clinics, wellness centres and clinics. The office building of delivery service operator J&T Express, Bangunan FAB (the headquarters of the Federal Academy of Ballet) and Masjid Tun Abdul Aziz are also located there.
In the vicinity of Jalan 14/20 are various major buildings such as Jaya Shopping Centre (sitting on the site previously occupied by Jaya Supermarket, which was demolished to make way for the shopping centre), mixed-use development PJ 33 and Multimedia Super Corridor-status office buildings Plaza33 and Symphony Square.
With its amenities, it is no surprise that the street is frequented by many of the residents nearby for food, services and groceries.
I often go to Jalan 14/20 for food and groceries. Apart from the shoplots, there are food carts and stalls that operate there. They occupy parking bays and sell drinks, fried snacks and fruits.
Jalan 14/20 is busy most of the time, especially in the afternoon and on weekends when parking can be a problem. It is usually congested then as many people double-park. Other roads in the area face the same problem.
The lack of parking space is so serious that I have heard of homeowners in Jalan 14/20 renting out their porches to those who work nearby.
The traffic congestion eases once the businesses in the street close for the day. 
Metro Homes Realty Bhd executive director See Kok Loong says the street does not see many transactions, with only one shoplot or terraced house transacted a year.
Data provided by Metro Homes shows that shopoffices there are going for between RM3.3 million and RM3.5 million. These are the 3-storey shopoffices, each with a land size of 1,870 sq ft and built-up of 5,200 sq ft.
The terraced houses, with a land size of 1,650 sq ft and built-up of 1,300 sq ft each, are going for RM750,000 to RM770,000.
In 2014, it was reported that more than 600 house owners in Petaling Jaya were given the opportunity to convert their residential land to limited commercial status. They included homeowners in Jalan 14/20, but 100% consensus was required for approval.
"[The prospects of] limited commercial [status] are not that great in this area because of the lack of frontage to main roads … unlike those in SS2 and Jalan Gasing. Terraced houses here also have limited commercial potential because of the space and parking issues," says See.
"In the 1980s and early 1990s, Jaya Supermarket (now Jaya Shopping Centre) was at its peak and the shops there were in high demand. However, the situation has changed and it is just one of many commercial areas in Petaling Jaya. The prospects here are average because Section 14 is past its prime, as more commercial areas and shopping malls are now available [in the vicinity]."