This article first appeared in City & Country, The Edge Malaysia Weekly, on October 7, 2019 - October 13, 2019.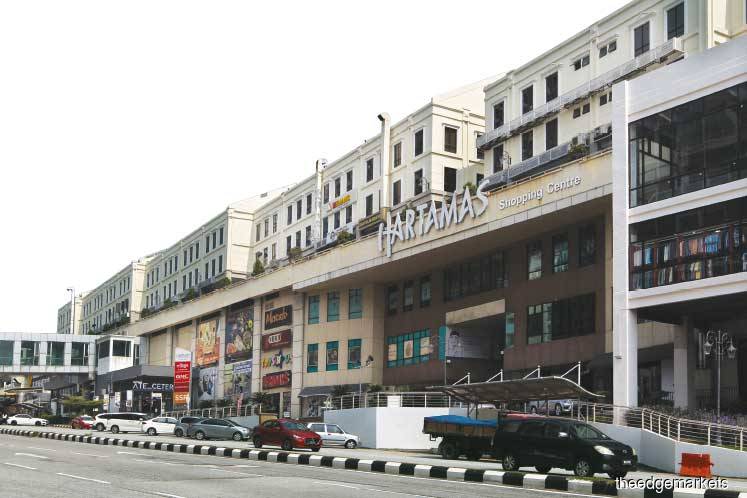 Located across the Sprint Expressway from Desa Sri Hartamas is Sri Hartamas, a vibrant area in Kuala Lumpur that caters for both Malaysians and expatriates alike. Developed in the 1980s, Sri Hartamas is mainly a residential area with a large expatriate community while Desa Sri Hartamas, which is located next to Mont'Kiara, was developed in the 1990s and is mainly a commercial area with vibrant lifestyle shops and restaurants. Sri Hartamas and Desa Sri Hartamas are collectively referred to as Hartamas.
Sri Hartamas is located close to the Kuala Lumpur city centre and amenities such as the Garden International School, Mont'Kiara International School, Lycée Français Kuala Lumpur (a French international school), TPC Kuala Lumpur, Bukit Kiara Equestrian & Country Resort and Hartamas Shopping Centre.
A perfect brunch spot in the area is Tray Café, tucked away behind Starbucks and TGI Fridays at Plaza Damas in Jalan Sri Hartamas 1. The charming café offers a variety of food, from mains to desserts and coffee. Everything is made fresh using quality ingredients, which explains the prices.
One of its must-have desserts is the Yogurt Panna Cotta, which comes with freshly cut fruits and homemade granola. It is a refreshing treat for a hot day.
Meanwhile, in the quiet street of Jalan Sri Hartamas 7 is The Prep Room. The cosy café has a hand-drawn menu, which offers western-thai-local fusion dishes (from breakfast to dinner) and a small selection of desserts such as banana cake and chocolate brownie.
Although its selection of dishes is not extensive, it is enough to satisfy one's cravings. The café's signature dish, Budoshu — juicy fried chicken topped with a European-style tomato cream sauce, with Japanese rice steeped in butterfly pea flowers on the side — is simply delicious.
Other food and beverage outlets in Jalan Sri Hartamas 7 and 8 are Aunty Nat, Chef Diary, Isaki Japanese Restaurant, Namaste India, Restoran Jie Mee and La Juiceria Cold-Pressed Detox Bar.
According to Landserve Sdn Bhd managing director Chen King Hoaw, the 3-storey townhouses, 3-storey detached houses, 2-storey terraced houses and condominiums (Sunway Palazzio, Puncak Prima and Menara Hartamas) in Sri Hartamas have built-ups of 958 to 4,187 sq ft.
"These residential properties are priced from RM470,000 to RM3.4 million each, or RM327 to RM926 psf," he says.
"For the commercial segment, the 4-storey shopoffices, shoplots, office lots and serviced apartments (Plaza Damas, Plaza Damas 3, Windsor Tower and Waldorf Tower) have built-ups of 409 to 5,944 sq ft and are priced from RM220,000 to RM3.75 million each, or RM440 to RM1,128 psf."
Both Chen and See Kok Loong, director of Metro Homes Sdn Bhd, believe that property prices in Sri Hartamas are fairly stable.
Based on the data provided by Landserve, units at Sunway Palazzio had recorded a price increase of 37% over the last five years — from RM2.16 million in 2014 to RM2.96 million in 2018 — while the price of 2-storey terraced houses increased by 29.6%, from RM1.35 million to RM1.75 million, over the same period.
"As for the office lots with built-ups of 1,101 sq ft each in Plaza Damas, the price had increased by 50.4% over five years to 2018, while the price of shoplots with built-ups of 1,087 sq ft each in the same complex only increased by 25.1% during the same period," says Chen.
"In terms of monthly rent, those of residential properties range from RM1.60 to RM3.60 psf, or RM1,700 to RM15,000 per month, with gross returns of 3.4% to 7.5% per annum. For units in the commercial segment, rents range from RM2.20 to RM4.14 psf, or RM1,050 to RM6,000 per month, giving gross returns of 1.9% to 14.3%," he adds.
Sri Hartamas is located close to the intersection of four major expressways — New Klang Valley Expressway (NKVE), North-South Expressway (PLUS), Sprint Expressway and Duta Ulu-Kelang Expressway (DUKE) — all of which provide easy accessibility to downtown Kuala Lumpur, Petaling Jaya, the surrounding suburbs and other major towns in the country.
Notable completed residential projects in the area include Kenny Heights Estate (49 units) by DutaLand Bhd and Dorsett Residences Sri Hartamas (707 units) by Malaysia Land Properties Sdn Bhd.
D'Immersione by DK-MY Properties Sdn Bhd is a mixed-use development that is expected to be completed by 2023.
"Given the current market situation, the demand for properties in Sri Hartamas will remain stable. When the market improves, the future outlook of this area is expected to be positive in the middle to long term," says Chen.