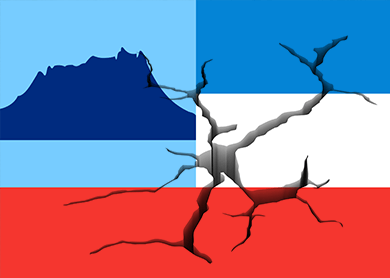 (June 5): Some climbers stranded on Mount Kinabalu following a 6.0 Richter earthquake this morning have started an arduous descent down the mountain on a damaged trail.
State Tourism, Culture and Environment Minister Datuk Seri Masidi Manjun tweeted this evening that 137 stranded climbers have begun to "slowly and cautiously" make their way down form the summit area to Laban Rata with the assistance of 32 guides.
He corrected his earlier report that that 160 people were stranded at the mountain's peak.
Masidi also said that villagers in the area nearby have joined rescue teams to try and reach the victims.
"First batch of 85-member rescue team have reached Laban Rata. More to join in batches. Have to track cautiously due to damaged trail," he tweeted.
He had also tweeted earlier that the track between the summit and Laban Rata, where the rest house before the summit ascent is usually launched, is impassable due to a rockfall.
Masidi also noted the difficulty of air rescue operations because of the weather.
"Track impassable & helis can't land due to bad weather & rescuers trying to reach them," he said, in reference to military helicopters that were earlier despatched to rescue people on the mountain.
He also said there have been no confirmed deaths on the mountain, although there have been reports about one climber, a doctor, telling the media that he had taken the pulse of a fallen climber and found that she was dead.
It is not clear how long rescue operations, now being launched on foot from the base of the mountain, will continue as night falls.
Masidi tweeted a reply to a reporter who asked what time operations would stop tonight: "We will proceed as far as we can go".
Those stranded would have been exposed to the elements for 12 hours now, since the quake hit at 7.15am. Climbers stranded near the summit will be at risk of freeing temperatures and strong winds with night descending.
Sabah police earlier said 29 people had reached safety and were at Kundasang, with three of them suffering injuries sustained in a rockfall during the earthquake.
Masidi said that while rescue work was the priority, teams would also be sending food, drinks and warm clothing to those still up on the mountain. – The Malaysian Insider