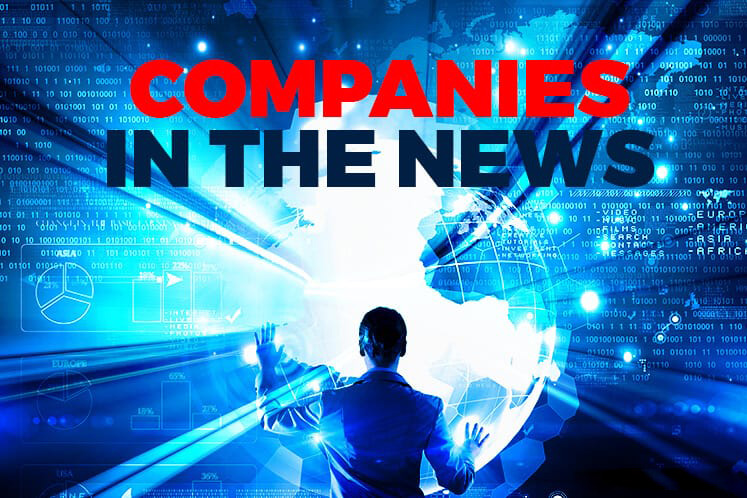 KUALA LUMPUR (Nov 9): Based on corporate announcements and news flow today, stocks in focus on Monday (Nov 12) may include Straits Inter Logistics Bhd, Pintaras Jaya Bhd, Sapura Energy Bhd, Caely Holdings Bhd, Marco Holdings Bhd, Symphony Life Bhd, Eastern & Oriental Bhd and OSK Ventures International Bhd
Straits Inter Logistics Bhd is acquiring a 38% stake in Hong Kong bunker trader Banle Energy International Ltd for RM15 million via issuance of new shares at 23.5 sen apiece.
Straits has signed a Heads of Agreement with Banle to explore potential business cooperation and/or collaboration opportunities to further expand their oil bunkering business geographically.
Pintaras Jaya Bhd has bagged an RM45 million contract from China Construction (South Pacific) Development Co Pte Ltd to undertake piling works for a proposed eight-storey industrial factory in Singapore.
The contract was clinched via its Singapore-based wholly-owned subsidiary Pintary International Pte Ltd, which has received a letter of award from China Construction (South Pacific) Development Co.
Work commenced on Nov 1, with a completion period of six months.
Sapura Energy Bhd has sealed a deal to divest half of its wholly-owned exploration and production (E&P) unit Sapura Upstream Sdn Bhd to Austrian oil and gas (O&G) outfit OMV Aktiengesellschaft (OMV) for US$540 million, of which part of the proceeds will be used to repay its debt.
Sapura and OMV inked a joint venture (JV) agreement for the strategic partnership today, as a follow-up to a Heads of Agreement (HoA) signed between the two parties on Sept 12.
A wholly-owned subsidiary of Caely Holdings Bhd has proposed to acquire three parcels of freehold land in Penang for RM30.93 million for a residential and commercial project which would position the Group as an upcoming property developer in Penang.
The three parcels of land measure about 21,106.89 sq m in total.
Marco Holdings Bhd is acquiring a 40.39% stake in Time Galerie (M) Sdn Bhd for RM26.66 million cash in line with its strategy of diversifying into other related businesses with growth prospects.
Symphony Life Bhd's proposed one-for-one rights issue to raise up to RM146.09 million was undersubscribed by 9.46%.
The rights shares and additional Warrants B are expected to be listed and quoted on the Main Market of Bursa Malaysia on Nov 15.
Eastern & Oriental Bhd has posted a 4% drop in net profit to RM18.83 million in the second quarter ended Sept 30 on lower revenue, higher finance costs, and shared losses from a joint venture.
Earnings per share fell slightly to 1.44 sen from 1.49 sen in the same quarter last year. For the first half, net profit was nearly a fifth less at RM32.95 million, while revenue was 3% higher at RM379.38 million.
Private equity firm OSK Ventures International Bhd (OSKVI) has emerged as a significant shareholder in a newly merged entity known as SESAMi-Capital Match that provides fully-integrated supply chain financing solution to corporates.
The company is a merger between SESAMi Holding — the largest e-procurement platform in Singapore, and Capital Match Holdings — the leading invoice financing platform present in Singapore and Hong Kong.
SESAMi and Capital Match announced their equity merger on Nov 7. However, OSK did not disclose its shareholding in SESAMi-Capital Match.