This article first appeared in The Edge Malaysia Weekly, on December 31, 2018 - January 06, 2019.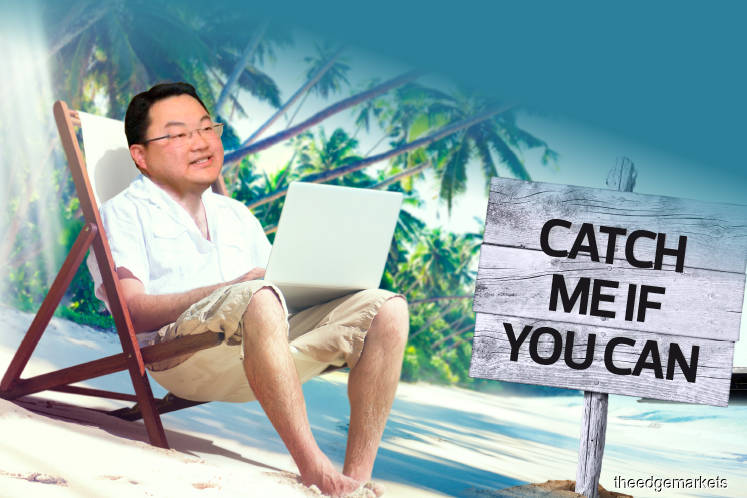 THERE was a time Low Taek Jho — the businessman better known as Jho Low — could breathe easy, even as numerous countries began chasing the 1Malaysia Development Bhd (1MDB) money trail over the past several years. While a number of authorities wanted him taken in, Malaysian authorities did not and were more interested in covering up the scandal. But that changed this year.
The shock fall of the 61-year-old Barisan Nasional administration following the 14th general election in May means that Low is no longer well-connected to the right side of the political aisle. The hunt is on for the person seen as the ringleader who masterminded the entire scandal, as well as the person who allegedly took most of the embezzled money.
Reports quoting insiders close to the goings-on behind the 1MDB scenes paint Low as the only man with a clear picture of the whole saga. This knowledge makes him the most important witness and suspect in the 1MDB case. Yet, his exact whereabouts remain a mystery.
In early May, The Wall Street Journal reported that Low was holed up with his family at a Marriot Hotel in Macau, and had barely evaded arrest that month.
While it is not publicly known where Low has fled to, the government believes he is hiding in China, fuelling speculation that he may become a bargaining chip in high-stakes regional diplomacy.
In October, Prime Minister Tun Dr Mahathir Mohamad even floated the idea that Low still has informants within the current government. "[Tun] Daim [Zainuddin] says somebody is informing him [Jho Low]. One time, he was in Hong Kong and when we reached Hong Kong, he had flown away already."
Mahathir also said Malaysia is now turning to "private efforts" to bring back Low.
Interestingly, it was not until early November that the Chinese ambassador informed Finance Minister Lim Guan Eng  that  no one with Low's name had entered or left the country.  That said, it is unclear if he is travelling under a different identity. His Malaysian passport was cancelled in July while his St Kitts & Nevis passport was revoked in June, reports later said.
Notwithstanding the mystery of his whereabouts, Malaysian authorities filed criminal charges in absentia against Low in August for money-laundering to the tune of US$262 million in August, alongside his father. There were more charges by early December.
Over in the US, the Department of Justice has also pressed charges against Low and two former Goldman Sachs bankers, who allegedly facilitated the embezzlement from 1MDB.
One of the ex-bankers, Tim Leissner, pleaded guilty. In response to the US charges, Low's representatives say he maintains his innocence. The US courts have issued warrants for Low's arrest.
At the time of writing, checks online show that Low is not yet on Interpol's red alert list of wanted persons despite an application by the Malaysian police. Inspector-General of Police Tan Sri Mohamad Fuzi Harun said in September that the delay was likely due to internal Interpol protocols.
While physically lying low amid a global manhunt, Low is not slowing down his activities. He has been actively combating the allegations against him and trying to work out deals in his favour. He even offered to drop his claim to over US$1 billion in assets if the Malaysian government would grant him immunity from prosecution. However, the offer was rejected, according to Mahathir. Later reports suggest that Low is still pursuing some sort of immunity deal.
On the public perception front, Low continues to issue statements from time to time using various public relations agencies, which had also set up a website to promote his point of view on the 1MDB saga.
In particular, Low's representatives swiftly responded to seizures of his assets allegedly bought with stolen 1MDB funds, such as the superyacht Equanimity — which the Malaysian government seized and is trying to sell, a process Low lambasted as "illegal".
The New York Times reported in mid-November that, based on filings in the US alone, the legal team representing Low had spent over US$1.1 million in about seven months to bolster his reputation.
That said, the pressure on Low would continue to grow. In late November, ousted prime minister Datuk Seri Najib Razak admitted that Low had cheated Malaysia, a stark contrast to his previous insistence that Low had nothing to do with 1MDB's affairs.
With more charges set to come his way, the stakes are growing for Low to stay one step ahead of the authorities seeking his arrest. In mid-December, his representatives reiterated that he would not allow himself to stand trial in Malaysia.
"As has been stated previously, Low will not submit to any jurisdiction where guilt has been predetermined by politics and there is no independent legal process," his representatives said.
In the new year, will Low finally be captured and brought to justice?
Save by subscribing to us for your print and/or digital copy.
P/S: The Edge is also available on Apple's AppStore and Androids' Google Play.