This article first appeared in The Edge Malaysia Weekly, on December 25, 2017 - December 31, 2017.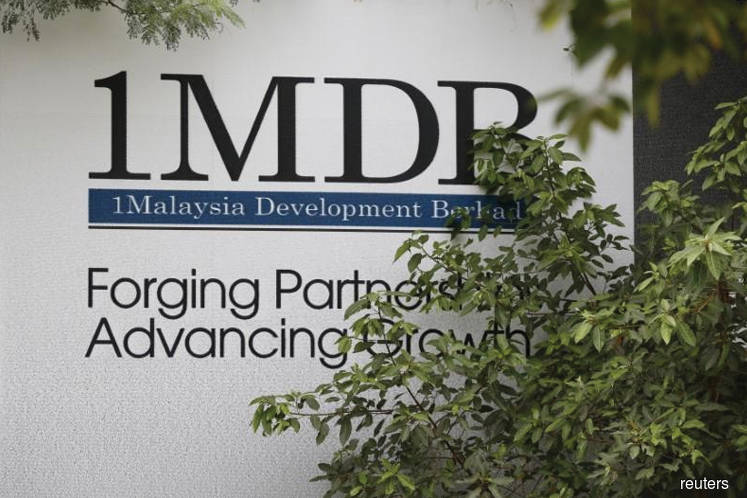 AFTER a busy 2016 that saw the 1Malaysia Development Bhd (1MDB) scandal enter the global consciousness, with investigations spanning 10 jurisdictions, things have quietened down somewhat as actions and events that began that year achieved conclusion.
Recall that the US Department of Justice caused a stir in July last year after it announced a civil suit seeking over US$1 billion in assets allegedly bought with "stolen" 1MDB funds in what is the largest such action yet by the department.
Then, the value swelled to nearly US$2 billion, but the department later came to a settlement with Red Granite Pictures on the matter.
The fallout over 1MDB's fund flows in Singapore continued this year with more individuals charged and convicted, taking on a more procedural nature compared to the explosive revelations seen in 2016.
In Malaysia, however, newsflow mainly centred on the post-scandal efforts to settle 1MDB's commitments and make good use of its assets, particularly land, which have been transferred to the Minister of Finance Inc.
As the year progressed, some suits relating to 1MDB in local courts were struck out, potentially setting the tone for a quieter 2018 on the 1MDB front as attention turns to the looming 14th general election. 
January
Jan 5 — 1MDB says it has appointed Parker Randall as its auditor, almost a year after its previous auditor, Deloitte, quit in February last year. Parker Randall is the firm's fourth auditor since its inception in 2009.
Jan 5 — Swiss national Jens Sturzenegger, who headed Switzerland's Falcon Private Bank AG's branch in Singapore, becomes the fifth individual to be charged amid investigations into 1MDB's money flows in Singapore. He faces 16 charges.
Jan 11 — Sturzenegger is sentenced to 28 weeks in prison and fined S$128,000 by a Singaporean court after he pleaded guilty to six offences in relation to 1MDB's money trail in the republic.
Jan 11 — The Kuala Lumpur High Court grants leave for Selangor Menteri Besar Datuk Seri Azmin Ali to proceed with his judicial review seeking declassification of the auditor-general's report on 1MDB.
Jan 16 — Petaling Jaya Utara MP Tony Pua files suit against the prime minister, alleging misfeasance in public office involving 1MDB funds.
February
Feb 2 — The Swiss Financial Market Supervisory Authority fines Coutts & Co, a unit of Royal Bank of Scotland Group, CHF6.5 million for breaches linked to 1MDB transactions.
Feb 3 — Reports say the Swiss attorney-general's office has said the prime minister is not among individuals accused of wrongdoing in its probe into alleged corruption involving 1MDB.
Feb 6 — A private jet belonging to businessman Low Taek Jho or Jho Low is reportedly grounded at Singapore's Seletar airport. The jet was among Low's assets listed in the US Department of Justice's civil forfeiture court filing in July 2016 that sought to recover over US$1 billion in assets linked to misappropriated 1MDB funds.
Feb 14 — Prime Minister Datuk Seri Najib Razak files an application to strike out Pua's suit on grounds that he is not a civil servant and that the suit is an abuse of process.
Feb 16 — Reports surface that the prime minister's stepson, Riza Aziz, whose Red Granite Pictures financed The Wolf of Wall Street film, had filed court papers to contest the US Department of Justice's attempt to seize US$1 billion in assets linked to misappropriated 1MDB funds.
 
March 
March 8 — Najib, in a written parliamentary reply, says former 1MDB executives Casey Tang Keng Chee and Jasmine Loo Ai Swan are no longer on Bank Negara Malaysia's watch list as investigations had concluded and enforcement action against 1MDB had been taken.
March 14 — The Monetary Authority of Singapore announces a 10-year ban on Tim Leissner, former Goldman Sachs senior banker linked to 1MDB dealings, effective March 14, 2017.
March 13 — The trial of former BSI wealth planner Yeo Jiawei for 1MDB-linked money laundering, originally scheduled for April, is postponed following a pre-trial conference. He is serving a 30-month jail sentence after being convicted in December 2016 of witness tampering.
March 16 — Second Finance Minister Datuk Seri Johari Abdul Ghani reiterates that the federal government will not take over 1MDB's remaining debt, which will be serviced by 1MDB's operating cash flow, in response to Pua's claims that the government has rescued 1MDB by assuming RM3.2 billion in debt.
March 21 — The Wall Street Journal reports that US authorities are planning to file criminal charges against Low over the 1MDB scandal, citing unidentified sources. The potential timing was not reported.
March 29 — The prime minister tells Parliament that 1MDB has cleared RM3 billion in borrowings in the preceding two years, including credit and loan facilities from Affin Bank, EXIM Bank and the Malaysian government, and no longer has outstanding loans or short-term debt.
March 31 — Najib files a defamation suit against Pua, claiming that he uttered slanderous remarks on 1MDB at a political fundraiser in November 2016.
March 31 — 1MDB completes the transfer of ownership of TRX City Sdn Bhd and Bandar Malaysia Sdn Bhd to the Ministry of Finance, following the recommendations of the Public Accounts Committee.
April
April 12 — Inspector-General of Police Tan Sri Khalid Abu Bakar says the police have completed their investigation into 1MDB and have handed over the investigation papers to the Attorney-General's Chambers.
April 24 — Abu Dhabi's International Petroleum Investment Company (IPIC) announces that all parties in its arbitration proceedings with 1MDB have reached an agreement that will see the Malaysian government and 1MDB assume responsibility for two 1MDB bonds that IPIC guaranteed. IPIC will also receive US$602.7 million by end-July and another US$602.7 million by end-December.
April 28 — The High Court strikes out a suit by former prime minister Tun Dr Mahathir Mohamad and two others against Najib that alleged misfeasance in public office relating to 1MDB funds.
May
May 3 — 1MDB's deal to sell a 60% stake in the Bandar Malaysia project for RM7.41 billion falls through as the buyer "failed to meet payment obligations". The buyer — a consortium comprising Iskandar Waterfront Holdings, led by tycoon Tan Sri Lim Kang Hoo, and China Railway Engineering Corp — disputed the assertion.
May 8 — Reports claim that 1MDB president Arul Kanda Kandasamy is removed from the boards of TRX City Sdn Bhd and Bandar Malaysia Sdn Bhd following the scrapping of the land deal. Arul tells The Edge that the removal was "expected", given the ownership transfer that was completed in March.
May 9 — The Straits Times reports that China's Dalian Wanda Group Co Ltd is in talks with the Malaysian government for the lead role in the Bandar Malaysia development, citing unidentified sources.
May 11 — The settlement agreed to by all parties in the 1MDB-IPIC dispute involving US$3.5 billion in bonds becomes unconditional following a consent award on May 9 by the London International Arbitration Court.
May 15 — Attorney-General Tan Sri Mohamed Apandi Ali says the Malaysian Anti-Corruption Commission (MACC) has a month to complete its investigations into fund flows related to former 1MDB subsidiary SRC International.
May 16 — Court documents filed in the US indicate that the Department of Justice and Red Granite Pictures are discussing a settlement in the former's pursuit of US$1 billion in assets linked to "stolen" 1MDB funds.
May 17 — Finance Ministry secretary-general Tan Sri Dr Mohd Irwan Serigar Abdullah is made chairman of TRX City and Bandar Malaysia — both formerly owned by 1MDB and now controlled by the Ministry of Finance.
May 17 — Irwan confirms that TRX City will request proposals up to June 30, 2017, for Bandar Malaysia and that a master developer will be named by July 14, 2017.
May 24 — Former Maybank Kim Eng remisier Kelvin Ang Wee Keng pleads guilty in a Singaporean court to bribery charges linked to 1MDB fund transfers. He is fined S$9,000, three times the bribe amount.
May 29 — The Monetary Authority of Singapore announces fines against Credit Suisse and United Overseas Bank totalling S$1.6 million for breaking anti-money laundering rules in relation to 1MDB transactions.
June
June 7 — US authorities allege via a suit that misappropriated 1MDB funds were used to partly finance the US$2.2 billion acquisition of Houston-based Coastal Energy by Jho Low in 2014.
June 15 — The US Department of Justice files court papers in the Los Angeles district court, seeking to recover an additional US$540 million in assets linked to misappropriated 1MDB money, raising total claims to US$1.7 billion. The assets include a Picasso painting given to actor Leonardo DiCaprio and rights to two Hollywood films.
June 22 — Luxembourg authorities fine the local arm of Swiss private bank Edmond de Rothschild nearly €9 million for its role in managing 1MDB-related money transfers as it was deemed to have failed to take proper safeguards against money laundering.
June 30 — The Wall Street Journal reports that United Arab Emirates Ambassador to the US Yousef Al Otaiba had received US$66 million allegedly misappropriated from 1MDB, citing court documents it viewed.
July
July 12 — Yeo is sentenced to another 4½ years' jail after he pleaded guilty to money laundering and cheating charges linked to money misappropriation from 1MDB.
July 13 — Low issues a statement denouncing allegations by Singaporean authorities against him as "politically motivated", citing past statements by Malaysian authorities that "there has been no evidence of any misappropriation of 1MDB funds".
July 18 — British MP Ann Clwyd launches an early-day motion to debate 1MDB in the House of Commons. The motion proposes to express alarm over the misappropriation of funds and to call on the UK government to investigate allegations that the misappropriated funds were used to buy assets in the UK.
July 24 — The federal opposition demands a debate on 1MDB in Parliament after questions on 1MDB and other related matters were rejected.
July 27 — Dewan Rakyat Speaker Tan Sri Pandikar Amin Mulia denies claims that 1MDB matters are barred from discussion in the House, saying any issue could be raised so long as the standing orders are not contravened.
August
Aug 1 — IPIC says it is giving 1MDB five additional days to make a US$602.7 million payment as per a previously agreed settlement after the latter missed the July 31 deadline.
Aug 3 — Najib tells Parliament that the missed payment by 1MDB is a "technical matter and not a question of not being able to pay back".
Aug 8 — IPIC extends the US$602.7 million payment deadline to Aug 31, provided at least US$310 million is paid by Aug 12. The balance will be due with interest.
Aug 11 — 1MDB remits US$350 million as the first tranche of payment to IPIC for the US$602.7 million that was originally due by July 31.
Aug 24 — The federal government announces that Najib has accepted US President Donald Trump's invitation for talks in the White House in September.
Aug 30 — 1MDB pays the remaining amount due out of the original US$602.7 million obligation to IPIC, which separately acknowledged receipt of the transfer.
Aug 30 — The Appeals Court, affirming a High Court ruling on April 28, dismisses an appeal by Dr Mahathir and two others to revive their suit against the prime minister alleging misfeasance in public office relating to 1MDB.
September
Sept 5 — The US Federal Bureau of Investigation files a request with a Los Angeles court to keep the identities of its witnesses secret, saying some of them living "in certain foreign countries" fear for their safety.
Sept 7 – Najib's wife, Datin Seri Rosmah Mansor, and 1MDB apply to strike out a suit by former Umno leader Datuk Seri Khairuddin Abu Hassan, which sought an order for Rosmah and Low to return jewellery worth US$27.3 million to 1MDB.
Sept 12 — Najib visits Trump at the White House, discussing trade and investment, but 1MDB was not mentioned by Trump amid ongoing US Department of Justice suits.
Sept 14 — A US court grants a request by the US Department of Justice for a stay on its civil forfeiture suits chasing assets allegedly acquired using misappropriated 1MDB funds.
Sept 16 — US authorities and Red Granite Pictures, co-founded by Riza, announce a settlement to resolve a civil suit by the former seeking to seize assets allegedly bought with misappropriated 1MDB money.
Sept 20 — Inspector-General of Police Tan Sri Mohamad Fuzi Harun says the police have concluded their investigations into 1MDB and no longer need to probe further unless instructed by the Cabinet or the Public Accounts Committee.
October
Oct 3 — Wall Street's self-regulator, the Financial Industry Regulatory Authority, announces a ban on former senior Goldman Sachs banker Tim Leissner from the US securities industry for failing to cooperate in its investigations into alleged money laundering linked to 1MDB. Leissner agreed to the ban under a settlement without admission or denial of findings.
Oct 13 — The High Court strikes out Pua's suit against Najib, ruling that the latter is not a public officer and, thus, does not hold public office and that Pua does not have locus standi (standing to bring about legal action).
Oct 22 — Deputy Prime Minister Datuk Seri Ahmad Zahid Hamidi says the federal government had previously asked for Interpol assistance in locating Jho Low for questioning over his role in the 1MDB scandal, but adds that there is "no case to be convicted".
Oct 24 — Najib claims that 1MDB funds had resolved issues relating to "lopsided power agreements" created in Dr Mahathir's time by being "the lowest bidder" in its power purchase agreements. The prime minister claims this resulted in RM200 billion in savings over 20 years.
Oct 30 — Minister in the Prime Minister's Department Datuk Seri Azalina Othman Said discloses that Apandi had, on Oct 24, ordered further investigations into 1MDB as evidence was lacking in unspecified areas.
November
Nov 1 — The Monetary Authority of Singapore says it is planning a lifetime ban on Yeo. The central bank also issues six-year prohibition orders effective Oct 30 against Ang and Lee Chee Waiy, former head of research at NRA Capital.
Nov 3 — Bloomberg reports that Singaporean authorities have expanded anti-money laundering investigations to examining Goldman Sachs' role in the 1MDB-related money flows, citing unidentified sources.
Nov 6 — Minister in the Prime Minister's Department Datuk Paul Low tells Parliament that MACC is not investigating 1MDB as other authorities such as Bank Negara Malaysia and the police have already done so.
Nov 6 — A new document leak, dubbed the Paradise Papers, indicates that Low had explored potential refuge in the Cayman Islands and the British Virgin Islands to prevent potential extradition to Malaysia amid the 1MDB scandal.
Nov 19 — Goldman Sachs successfully gets a court dismissal of a US$510 million suit brought against it by a private equity firm, alleging that the bank shortchanged it to curry favour with the Malaysian prime minister.
Nov 23 — The High Court strikes out a suit by former law minister Datuk Zaid Ibrahim against the prime minister, which had sought an order for the prime minister to pay the government RM42 million over an alleged breach of duty when a RM42 million sum went into the prime minister's bank account. The suit was filed last year.
December
Dec 4 — US Attorney-General Jeff Sessions labelled the 1MDB scandal "kleptocracy at its worst" at a Washington global forum on asset recovery, according to a transcript of his speech posted on the US Department of Justice's website.
Dec 19 — The Monetary Authority of Singapore announces a permanent ban on Yeo from financial services and advisory activities over the latter's 1MDB-linked breaches.
Dec 21 — Arul Kanda is set to extend his term as 1MDB president and CEO beyond Dec 31.
Dec 21 — The Swiss Financial Market Supervisory Authority reprimands the Swiss subsidiary of US bank JP Morgan after finding "serious shortcomings" in its 1MDB-related dealings and transactions.
 
Save by subscribing to us for your print and/or digital copy.
P/S: The Edge is also available on Apple's AppStore and Androids' Google Play.