This article first appeared in The Edge Malaysia Weekly, on June 4, 2018 - June 10, 2018.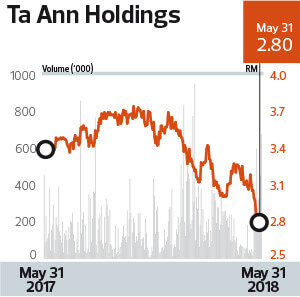 BAD luck and ongoing timber woes are sapping the cash reserves of Ta Ann Holdings Bhd, which paid nearly RM171 million for 30.4% of Sarawak Plantation Bhd (SPLB) earlier this year.
In the first quarter ended March 31, 2018, Ta Ann's cash and cash equivalents fell from RM272.86 million to RM179.85 million, equivalent to 37.2% of its current liabilities.
The 0.37 cash ratio is the company's lowest on a quarterly basis since 2012, according to data compiled by Bloomberg. Its cash and cash equivalents had fallen on a q-o-q basis in four of the last five quarters.
Ta Ann's cash balance was last seen below RM200 million at end-2012. In contrast, its total current liabilities amounted to RM483.82 million as at March 31, of which RM355.55 million were short-term borrowings.
According to Ta Ann's 1QFY2018 financial statement, its operating cash flow was hit by a double whammy — its timber division remained loss-making for the third consecutive quarter and plantation earnings dropped 78% y-o-y.
The plantation segment, in particular, was hit by a combination of low fresh fruit bunches (FFB) output due to weather changes and low average selling prices (ASPs) for crude palm oil (CPO).
In the quarter, the company's net profit fell 88.4% y-o-y to RM4.23 million as revenue fell 29.7% to RM214.86 million. It declared a 5 sen interim dividend payable on June 29.Notably, net cash generated from operating activities fell 92.2% y-o-y to RM4.17 million.
In the same quarter, Ta Ann also completed the acquisition of the 30.4% stake in SPLB for RM170.97 million cash to emerge as the single largest shareholder.
It was a related-party deal as the stake was sold by Cermat Ceria Sdn Bhd, a company controlled by Ta Ann's executive chairman, Datuk Amar Abdul Hamed Sepawi. Note that Abdul Hamed is also SPLB's executive chairman.
In the quarter ended March 31, Ta Ann recorded a RM170.97 million cash payment to acquire SPLB and it also raised RM85.38 million in new borrowings to fund the acquisition.
To recap, when Ta Ann announced the proposed acquisition on Jan 11, it said that the deal fits into its expansion plans in Sarawak as it would provide access to SPLB's future production.
However, some analysts noted that the investment would take a while to yield returns due to SPLB's underperforming estates while added finance costs to acquire the stake could offset the extra income recognition. SPLB has a land bank of 48,086ha in Sarawak, 34,837ha (72.45%) of which are planted. Its palm oil age profile is relatively young with 50% prime mature and 41% immature and young mature.
It owns and operates two palm oil mills with a total operating capacity of 150 tonnes per hour.
Cash flow pressure
If the operating cash flow weakness in the first quarter persists, Ta Ann's cash reserves could dwindle further given its short-term liabilities, among others.
That said, a company official who declined to be named says conditions have been improving in the second quarter thus far and the company expects to play catch-up throughout the rest of the year.
"It rained heavily in end-January and throughout February ... almost everyone in the industry in Sarawak is facing the same problems — weather issues, rising cost of production and so on," the official says.
To be fair, the RM170.97 million cash acquisition and the RM85.38 million financing raised are one-off occurrences. However, its free cash flow — a measure of available cash net of capital expenditure requirements — was in negative territory in 1QFY2018 for the first time since 2012, according to Bloomberg data.
According to its cash flow statement, in 1QFY2018, Ta Ann spent RM6.37 million on plantation development and RM7.21 million to acquire property, plant and equipment. The company also paid a combined RM9.08 million in financing-related payments and dividends to non-controlling interests.
Ta Ann's 1QFY2018 earnings surprised analysts on the downside, with its core net profit only making up 4% of full-year consensus estimates, Kenanga Research said on May 25.
Its main earnings driver, the plantation business, was hit by wet weather that exacerbated a typically weak quarter while its timber segment remained a drag on earnings.
The plantation segment was "weighed down by (lower sales volumes of) CPO (-13% y-o-y) and FFB (-11% y-o-y) due to wet weather in Sarawak that led to higher production cost", says Kenanga Research. "This was further dampened by weakened CPO prices at RM2,383 per metric tonne (-19% y-o-y)."
The company's ASP could remain under pressure in 2QFY2018 as CPO prices for April and May have been trending downwards compared with the first three months of the year, according to data from the Malaysian Palm Oil Board.
The plantation segment accounted for over 64% of total turnover and nearly all net profit in FY2017. The segment recorded a RM9.59 million pre-tax profit in 1QFY2018, down 78.3% y-o-y as revenue slipped 28%.
Following the results announcement, MIDF Amanah Investment Bank downgraded Ta Ann to a "sell". Affin Hwang Capital downgraded the stock to "hold", cutting its target price from RM4.25 to RM2.82.
The other seven research houses tracking the stock maintained their calls. At the time of writing, there were three "buy" ratings, five "hold" and one "sell".
'Cash flow to improve'
Last Thursday, Ta Ann closed at RM2.80 per share, down approximately 23.5% year to date. In comparison, analyst target prices range from RM2.35 to RM3.60 with a consensus target price of RM2.99.
In an email response to The Edge, Affin Hwang said its steep target price cut reflects a lower earnings forecast. It also applied a 30% discount to Ta Ann compared with similar mid-sized planters.
"We believe the environment will continue to be challenging for the timber side. Hence, we downgrade Ta Ann to a 'hold' rating," Affin Hwang said.
In 1QFY2018, Ta Ann's timber segment posted a pre-tax loss of RM7.17 million compared with a quarterly pre-tax profit of RM13 million the year before.
Maybank Research noted on May 25 that this is the segment's third consecutive sequential loss since the Sarawak government slashed the export log quota from 30% to 20% on July 1, 2017.
Effective from the same date, hill timber charges were raised from 80 sen to RM50 per cubic metre, the first revision in three decades.
For the full year, Affin Hwang expects the timber segment to remain in the red due to higher production costs and lower log output. "For it to break even (or turn profitable), we believe plywood prices need to be higher significantly to offset the decline in sales volume," Affin Hwang tells The Edge.
That said, Affin Hwang expects Ta Ann to see a higher CPO output for the full year despite the 1QFY2018 stumble. It expects the company to book an ASP range of RM2,500 to RM2,600 per metric tonne.
While lower than the FY2017 ASP of RM2,741 per metric tonne, that forecast remains higher than in 1QFY2018.
"We do expect cash flow to improve as the plantation division's profit is expected to improve," says Affin Hwang.
Save by subscribing to us for your print and/or digital copy.
P/S: The Edge is also available on Apple's AppStore and Androids' Google Play.