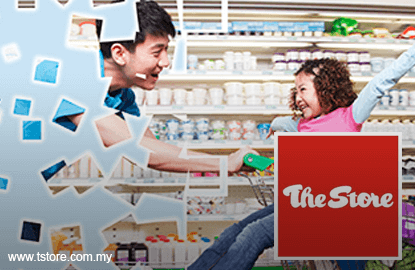 KUALA LUMPUR (Nov 2): The Store Corp Bhd saw a substantial stake crossed off market for a second consecutive day.
According to Bloomberg data, The Store saw a total of 3.33 million shares or 4.87% equity stake worth RM10.67 million or RM3.20 per share traded off market today.
The transactions, done in two blocks, comprised 1.43 million shares and 1.9 million shares respectively. The stock was untraded today.
The transacted price was at a 25 sen or 8.5% premium to its latest closing price of RM2.95 yesterday.
Yesterday, the department store operator saw a total of 6.18 million shares or 9.01% equity stake worth RM19.77 million traded off market — also at RM3.20 apiece.
The transactions were done in six blocks, ranging from 162,200 shares a block to 3.03 million shares a block, according to Bloomberg data.
The parties involved in today's and yesterday's transactions remain unknown.
According to its Annual Report 2016, as at Jan 29 this year, Equatorial Century Sdn Bhd was the single largest shareholder in the company with 14.9 million shares or 21.75% stake.
It was followed by Berjaya Corp Bhd's 3.91 million shares or 5.71% stake.
Megastar Ventures Sdn Bhd had a 4.99% stake, Surplus-Ed Capital Sdn Bhd 4.98% and Perspektif Bakti Sdn Bhd 4.91%.