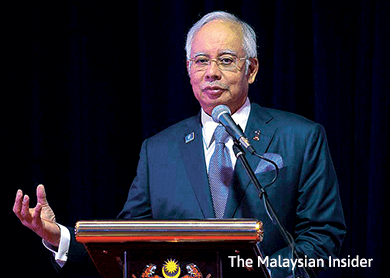 KUALA LUMPUR (Feb 12): Prime Minister Datuk Seri Najib Razak urged the opposition to stop "twisting" facts about Tabung Haji, saying that their attempt to spread hate among the people would only hurt Muslim depositors.
Writing on his blog today, Najib said the "irresponsible statements" had caused depositors to lose out on dividends as well as the chance to perform their pilgrimage at a subsidised rate with Tabung Haji.
"There are some who have kept their savings with Tabung Haji for so long, who have reached their twilight years, but because they fell for the twisted statements, they lost their opportunity to perform their pilgrimage. Isn't that such a waste and a pity?
"I understand that some quarters are intent on playing politics by toying with and triggering the people's hate, yet I urge all to stop this.
"Do not make the spread of evil politics become part of our culture. Do not allow people to suffer losses, like in this case, where Muslims almost lost their income and chance to carry out their religious responsibility," said Najib.
He said the statements on Tabung Haji were inaccurate and not based on research.
The prime minister added that the spread of those statements had created discord and distrust of Islamic welfare and financial institutions.
"Every time I visit Saudi Arabia, they often praise Malaysia's excellent hajj management and the Malaysian pilgrims' discipline in performing their worship.
"Isn't it such a loss and pity if all our hard work, good relations and acknowledgement as well as the benefits we have received to perform this worship go to waste due to irresponsible statements spread by politicians and social media users?"
Tabung Haji recently announced an annual dividend of 5% for its depositors for 2015, amid the controversy over its dwindling reserves.
For 2014, it had paid out a dividend of 6.25% and a special bonus of 2%.
But opposition Parti Amanah Negara's Datuk Mujahid Yusof Rawa has urged the fund to reveal the source for its dividend and bonus for the year 2015.
PKR's Rafizi Ramli has said that based on his own analysis, Tabung Haji's reserve levels were expected to remain in the negative for the 2015 financial year.