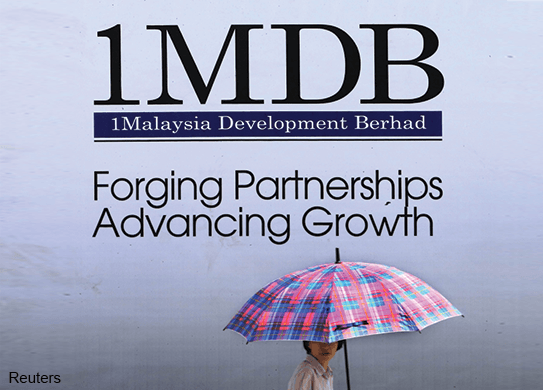 KUALA LUMPUR (June 4): State fund 1Malaysia Development Berhad's (1MDB) "half-baked" disclosure of its RM42 billion debts has only raised more suspicion and questions instead of putting to rest all speculations about its controversial dealings, one of its strongest critics has said.
DAP lawmaker Tony Pua also noted that the summary of 1MDB's expenditures revealed by the troubled company yesterday contained nothing new.
"It certainly does not 'clear any confusion', but instead it encourages even more suspicion and speculation as to why 1MDB is so unreasonably evasive," the Petaling Jaya Utara lawmaker said in a statement late last night.
"None of the figures are new as we have already derived as much from the March 2014 financial statements. As such, none of the above explains the criticism heaped on 1MDB to date."
Pua, who is also DAP national publicity secretary, was referring to a statement released by 1MDB yesterday, which provided a breakdown of its expenditure and explained what the RM42 billion was spent on.
Its president and group executive director, Arul Kanda Kandasamy, said there had been much speculation over the RM42 billion debt, particularly the RM27 billion which was alleged to be lost or missing.
"We provide a summary of what the RM42 billion debt has been used for, information that is fully disclosed in 1MDB's audited and publicly available accounts from March 31, 2010 to March 31, 2014.
"We trust this clarification will help to clear any confusion on this matter," Arul said.
According to charts enclosed with Arul Kanda's statement, RM18 billion was spent on the purchase of independent power producers (IPP) while RM15.4 billion was invested in funds such as Brazen Sky and Aabar Investments.
After taking away RM5.8 billion in financial expenditure and RM1.7 billion in land costs, 1MDB is left with RM900 million in cash surplus.
Pua, in his statement, said that his question was the RM6.1 billion invested in Brazen Sky, money that was in Cayman Islands until the beginning of this year.
"Why is it that despite Arul Kanda announcing all of Brazen Sky's investments have been 'redeemed', there's still no cash at all in BSI Bank Singapore? This is despite Arul Kanda assuring us in February that the cash is sitting safely in the bank."
Arul Kanda had stated on January 13 that 1MDB had redeemed in full the US$2.318 billion invested in a Caymans-registered fund, and repeated this statement in an interview with Singapore Business Times published on February 7.
Prime Minister Datuk Seri Najib Razak had said in March that some US$1.103 billion had been "redeemed" from Brazen Sky's alleged offshore fund in the Cayman Islands and was now being "kept in US currency" at BSI Bank Limited in Singapore.
But in a parliamentary written reply last month to "amend" his earlier answer, Najib said the investment redeemed by 1MDB were assets in US dollars for the purpose of balancing its liabilities which were also in US dollars.
Second Finance Minister Datuk Seri Ahmad Husni Hanadzlah subsequently said that only "units" were kept in the BSI Bank account, but could not adequately explain what form these units were. He only said they were backed by sovereign wealth funds.
Pua said yesterday he had also repeatedly asked about the RM5.1 billion invested by 1MDB Global Investment Limited but said Najib, who is also finance minister, refused to reveal any information about it.
"What's more, we were fully aware that 1MDB has RM5.1 billion 'deposited' with Aabar Investment," he said.
"However, our question was why did 1MDB agree to such onerous 'loan-shark' terms to secure a US$3.5 billion guarantee from Abu Dhabi's International Petroleum Investment Corporation (IPIC)?  Why borrow and get to use only 60% of the funds?"
Pua added that 1MDB had used an exorbitant amount – RM5.8 billion – for financial expenditure, with a breakdown of RM4.5 billion for cost of finance and working capital, RM900 million for foreign exchange cost and RM400 million for taxes, indicated that its investment strategy was an "absolute disaster".
"Is Arul Kanda trying to tell us that 1MDB took additional loans to pay interest to its loans and its taxes?  Is he confirming that the returns from whatever assets purchased with the earlier loans couldn't even cover interest and tax expenses, such that 1MDB had to borrow an additional RM5.8 billion to pay for them?
"Does that not imply that the whole 1MDB investment strategy is an absolute disaster and the management is at best, completely incompetent or at worst, involved in fraud and embezzlement?"
He said that Arul Kanda's disclosure about 1MDB's staggering debts had not revealed anything that was not already known, adding that the company had failed to answer its critics.
"Worse, his disclosure raised even more questions for 1MDB.
"We call upon Arul Kanda to stop being coy with the truth and start answering the questions in full.  1MDB cannot regain any trust or confidence from Malaysians by just giving half-baked answers and pretend it has managed to quash all doubts and criticism."
Criticism has been mounting over the Finance Ministry's wholly owned investment vehicle, established in 2009, which has chalked up debts of up to RM42 billion, backed by Putrajaya.
The auditor-general is currently going through 1MDB's books, with a preliminary report expected to be submitted to Parliament in June, while the Public Accounts Committee (PAC) started its investigation into the company on May 19.
However, Arul Kanda and former 1MDB CEO Datuk Shahrol Azral Ibrahim Halmi had skipped PAC proceedings on May 26, despite being summoned to give their testimonies, as they were overseas for work.
Husni, in an interview broadcast last night, said Arul had a prior appointment to secure a US$1 billion deal to help the company meet its debt deadline.
Pua in Twitter war with Rahman Dahlan
Following that, Pua and Umno minister Datuk Abdul Rahman Dahlan engaged in a war of words over Twitter, with the former pointing out that PAC had given Arul a 20-day notice before the proceedings.
@tonypua Dulu masa saya dlm PAC dengan YB (2008-2013) ada juga saksi-saksi yang minta tangguh hadir PAC. No problem. Kita bagi tarikh lain," Rahman replied to Pua's statement.
(When I was in PAC with you [2008-2013], there were witnesses who also asked to postpone their appearance before PAC. No problem. We gave them another date.)
However, Pua lashed back, reminding the urban wellbeing, housing and local government minister that he had previously defended 1MDB while he was still with the bipartisan committee.
Rahman replied, saying that 1MDB merely had a "cash-flow" problem but its assets could balance its debts.
"Tapi Yb pura2 tak nampak," he said. (But you are pretending not to see.)
Pua said: "@mpkotabelud Tapi RM13.4bn aset Level 3. Menteri yg sengaja tak nak nama. Kalau dah car mananya TUNAI utk selesai masalah cashflow?"
(But RM13.4 billion is level 3 assets. The minister does not want to reveal what it is. Where is the cash to solve the cash-flow problem?)
To this, Rahman ticked off Pua for "asking the same questions repeatedly" but Pua shot back, saying that he had asked again and again because "the answers were not right".
"@tonypua YB, you have next week to ask more questions in parliament. Dipersilakan. No problem," Rahman said. – The Malaysian Insider