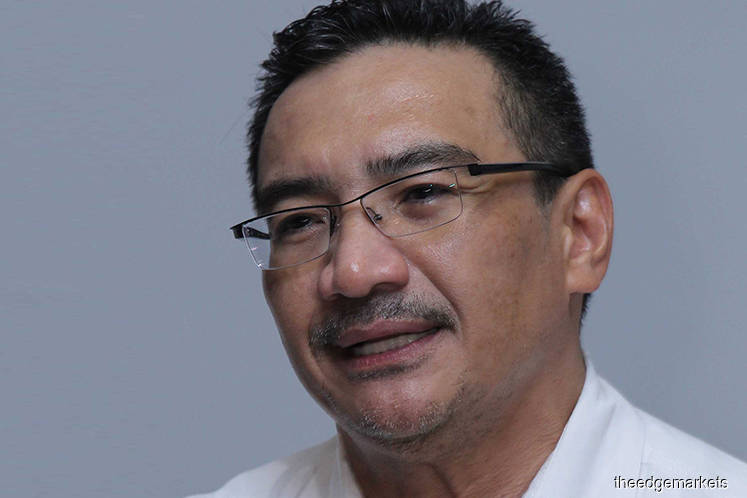 KUALA LUMPUR (Oct 16): Datuk Seri Hishammuddin Hussein [BN-Sembrong] urges Pakatan Harapan (PH) to stop blaming others for the internal issues within the ruling coalition.
Hishammuddin said it is ridiculous for PH to allege that he is campaigning for a government without DAP and Parti Amanah Negara (Amanah).
"That is ridiculous. I was accused of campaigning [to form] a new government by excluding DAP and Amanah. I saw Mat Sabu just now. I asked him, what was the campaign? The general election is not happening tomorrow. So I don't understand, and it was an official statement by the parties.
"What I observed through these sequences of events, what they signalled is all is not well within PH. If they are strong, they won't be targeting Sembrong. Of all people, I don't have any position, unless they think I am really influential," he told reporters at the Parliament lobby today.
While Hishammuddin does not expect this sort of allegation to stop anytime soon, he said such conduct only signals that PH is suffering "internal issues".
"The allegation will not stop, but it signalled that things are not well for them, they have to [set] their house in order, don't try and blame others. We will not allow BN, Umno, or Sembrong to be the scapegoat for their own internal issues," he said.
In a joint statement yesterday, PH member parties alleged that Hishammuddin and his fellow members have been campaigning for the idea of a government without the participation of DAP and Amanah.
The statement came after PKR president Datuk Seri Anwar Ibrahim [PH-Port Dickson] reportedly inferred in Parliament earlier yesterday that Hishammuddin, a former Umno vice president and member of parliament (MP) of Sembrong, was working on a plan and had advised MPs not to fear threats of prosecution against them.
However, Hishammuddin today said he is incapable of blocking Anwar from ascending to the Prime Minister (PM) position.
"The statement made by Datuk Seri Anwar Ibrahim yesterday, as if I am blocking him from becoming the PM, but who am I to hinder him from being PM," he asked.
"Secondly, our party is the opposition. We have no influence on the PM's position, so why is he focusing on us BN and Umno? I don't even hold [a] position in our own party, I can't even influence our party to hinder Anwar from being PM," he told reporters at the Parliament lobby today.
Hishammuddin, formerly defence minister under the BN administration, questioned the need for Anwar to secure support from BN MPs to become PM.
"I suppose if he wants to be PM, he has to secure support from BN, and if he needs support from us, I want to question whether this is because he is not confident of getting the support from his own coalition? He doesn't need our support. He has support from his own MPs in his party.
"So this issue shows that Datuk Seri Anwar Ibrahim sees everything [that] happened in this world has got something to do with whether he become PM or not. There are so many other works to be done than to target me personally," he said.
See also: Don't use back road to form government, Anthony Loke tells BN