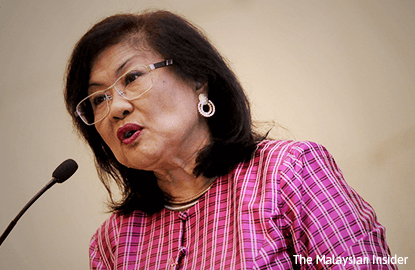 (Dec 1): Former Umno minister Tan Sri Rafidah Aziz has urged leaders to drop their narrow, individual interests and focus instead on serving the people and country.
Malaysia was being held back by nagging issues, perceived political uncertainties, and leaders more interested in their own political survival, she said in a Facebook post.
"It is time that we go back to the politics of development – galvanising the stakeholders to do what needs to be done that can benefit people and the Nation.
"Politics that look beyond the narrow, individual interests.
"The nation must continue to be governed responsibly and well … so that confidence levels can be raised, and credibility returns, to enable Malaysia to move forward towards a developed nation status."
She said the country had all the ingredients to continue to attract the right kind of investments into the key economic sectors that could spur growth.
But Malaysians seemed almost to be in a state of limbo, as they focused on the political bickering and unfolding drama, she added.
She said the government machinery should not be distracted from providing public services, especially in facilitating business to compete domestically and across borders.
She added that the private sector must focus on optimising all the opportunities available to expand and diversify business, and put aside matters extraneous to their operations.
"The country can only move forward successfully if all the stakeholders carry out their functions, and assume their responsibilities, as expected by the people."
Rafidah said the past year had been tumultuous and full of distractions for those governing the country, but added that the issues plaguing the government must be resolved.
Failure to so quickly would only compound prevailing concerns, doubts and uncertainties, she said. – The Malaysian Insider