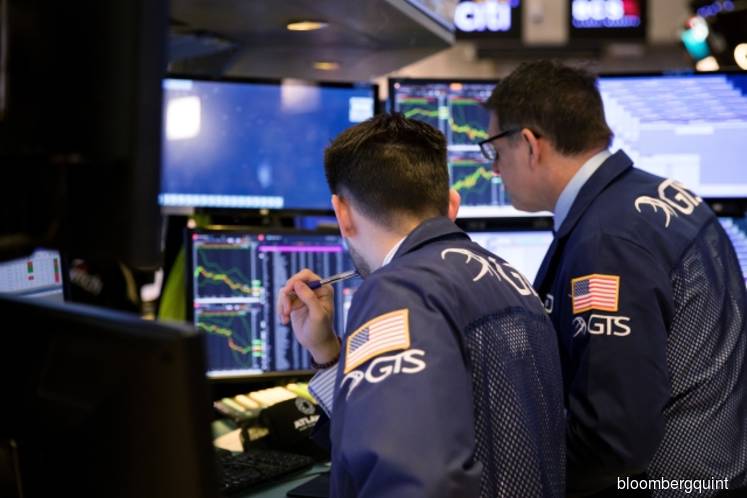 NEW YORK (May 17): U.S. stocks fluctuated with Treasuries as investors assessed a flurry of trade-related headlines that whipsawed financial markets. The dollar rose.
The S&P 500 swung between losses and gains after the Trump administration was said to prepare to lift steel and aluminum tariffs on Canada and Mexico, easing trade tension on a second front even as the spat with China intensifies. Earlier, the president delayed by 180 days any levies on car imports from Japan or Europe. But overnight, stocks traded lower after China signaled a harder stance on negotiations.
Ten-year Treasury yields pared a drop to trade little changed, while the dollar rose to around year highs. Oil gained above US$63 a barrel.
Financial markets remained on edge Friday after two weeks of flaring trade tensions around the globe. President Donald Trump's delay of car tariffs eased concern the administration would foment unrest on a second front, while removing tariffs on metal imports from neighbors is seen as vital to Congressional approval of the renegotiated Nafta deal. Tensions with China remained elevated, after the Communist Party's mouthpiece accused the U.S. of playing "tricks to disrupt the atmosphere," heightening speculation talks have stalled.
"What's happening in market is there's this push and pull idea of what's happening with the trade war with China. That's obviously what's on everyone's minds," said Chris Zaccarelli, chief investment officer for Independent Advisor Alliance. "For the most part, people are betting that an agreement will be made. That's why I think you keep seeing markets rally back from drops on otherwise negative headlines and end up positive."
Meanwhile, iron ore rose to the highest level in almost five years. The pound weakened as U.K. Prime Minister Theresa May agreed to set a timeline to quit and Labour leader Jeremy Corbyn walked out of cross-party Brexit talks. MSCI's gauge of emerging-market stocks fell to its lowest since January. Bitcoin slumped as much as 14%, before paring losses as this month's surge for cryptocurrencies was tested.
Here are the main market moves:
Stocks
The S&P 500 Index was little changed as of 11:39 a.m. New York time. The Stoxx Europe 600 Index dipped 0.3%. The MSCI All-Country World Index declined 0.1%. The U.K.'s FTSE 100 Index was little changed.
Currencies
The Bloomberg Dollar Spot Index climbed 0.2% to the highest in more than 21 weeks. The euro rose 0.1% to US$1.1160. The British pound dipped 0.5% to US$1.2734. The Japanese yen fell 0.1% to 109.95 per dollar.
Bonds
The yield on 10-year Treasuries rose less than one basis point to 2.40%. Germany's 10-year yield decreased three basis points to -0.12%, the lowest in more than two years. Britain's 10-year yield declined six basis points to 1.013%, the lowest in more than six weeks on the biggest decrease in eight weeks.
Commodities
West Texas Intermediate crude climbed 0.9% to US$63.47 a barrel. Gold fell 0.7% to US$1,276.70 an ounce.