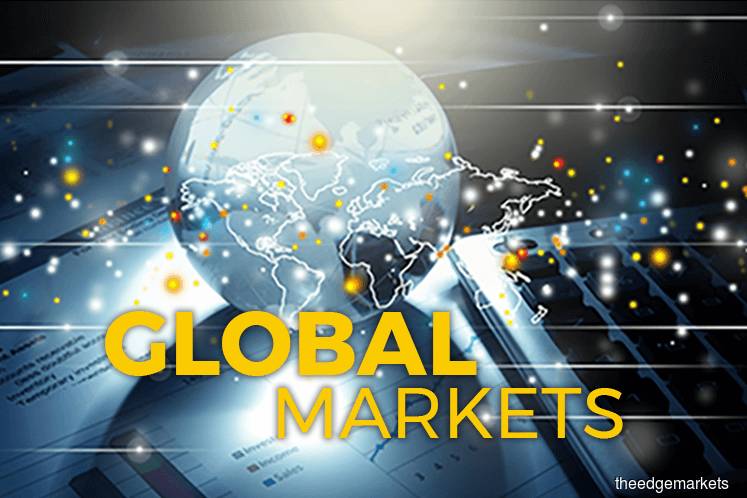 MADRID (March 11): European stocks gained alongside U.S. index futures as worries appeared to ebb about the slowdown in global growth. Emerging-market shares advanced, while the dollar and Treasuries held steady.
Gains in U.K. shares and European technology companies led the Stoxx Europe 600 higher, as futures on the S&P 500, Dow and Nasdaq all climbed. Equities rose from Tokyo to Beijing, where the Chinese government said it would cut value-added taxes, reinforcing expectations for an eventual pick-up in the second-largest economy and helping push the Australian and New Zealand currencies higher.
The pound strengthened at the end of a week made volatile by critical votes on Brexit in Parliament. Prime Minister Theresa May won the endorsement of British politicians to seek a Brexit delay.
Global stocks look set to end the week on a solid footing as investors turn their attention to a packed calendar in the days ahead. Central banks in the U.S., the U.K. and Brazil will all announce policy decisions, while European Union leaders meet for discussions likely to be dominated by Britain's request to extend its withdrawal timescale. Boeing shares may remain active as the plane maker's lawsuit risks soared around the 737 Max groundings.
Elsewhere, gold's advance pushed its 40-day volatility to the highest this year. West Texas crude steadied near US$59 a barrel before a weekend meeting, where the world's top exporters will discuss whether to extend supply cuts.
And these are the main moves in markets:
Stocks
The Stoxx Europe 600 Index rose 0.3% as of 10:27 a.m. London time. Futures on the S&P 500 Index climbed 0.3% to the highest in more than four months. The U.K.'s FTSE 100 Index rose 0.5% and the largest advance in more than a week. The MSCI Asia Pacific Index jumped 0.7%. The MSCI Emerging Market Index gained 0.6% to the highest in more than a week.
Currencies
The Bloomberg Dollar Spot Index fell 0.1%. The euro rose 0.2% to US$1.1324. The British pound increased 0.2% to US$1.327. The Australian dollar rose 0.2% to 0.708 per dollar. New Zealand's dollar rose 0.4% to US$0.6848.
Bonds
The yield on 10-year Treasuries dipped less than one basis point to 2.63%. Britain's 10-year yield rose less than one basis point to 1.227%, the highest in more than a week.
Commodities
West Texas Intermediate crude climbed 0.2% to US$58.71 a barrel, reaching the highest in more than four months on its fifth consecutive advance. Iron ore decreased 0.3% to US$84.60 per metric ton. Gold increased 0.5% to US$1,302.68 an ounce.