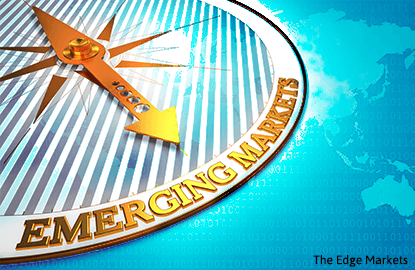 LONDON (Jan 19): Emerging market stocks fell on Thursday and currencies struggled to make much headway after US Federal Reserve chair Janet Yellen said interest rates should rise steadily, boosting the US dollar.
In a Wednesday speech Yellen said it made sense to raise rates given that the US economy was close to full employment. She added that she expected the key benchmark short-term rate to rise "a few times a year" through to 2019, putting it near the long-term sustainable rate of 3%.
The US dollar, which had been grinding lower in recent sessions, firmed 0.2% against a basket of currencies and US Treasury yields rose, dampening investor appetite for emerging market assets.
"Essentially the big part is how much they will actually hike this year — instead of two (rate rises) it could be three now," said Simon Quijano-Evans, emerging markets strategist at Legal & General Investment Management.
"It does indicate that US dollar strength seems to be staying in place, whether that is being driven by the reflation story in the US or resulting from a more hawkish Fed, does not really matter."
With emerging market borrowers set to face higher costs, the average yield spread over US Treasuries on the JP Morgan EMBI Global Diversified rose 1 basis point to 322 basis points.
The benchmark emerging equities index fell 0.3%, with the big Asian manufacturing markets suffering some of the biggest falls. Chinese mainland stocks fell 0.4%, Hong Kong shares fell 0.2% and Taiwan stocks fell 0.26%.
Investors are wary of the big Asian exporters ahead of Donald Trump's inauguration as US president given his threats to impose punitive tariffs on imports.
"The message is very clear; it will be a big challenge for global trade," said Quijano-Evans, highlighting China, Korea, Malaysia, Taiwan and Mexico as some of the countries he would be watching closely.
On Thursday the Chinese government said any trade disputes could be resolved through talks, whilst a Chinese newspaper warned US business could be targets for retaliation in any trade war.
But China's yuan was amongst the weakest currency performers, softening 0.4%. Short-term funding costs also shot up to their highest in nearly 10 years on fears that liquidity was tightening sharply heading into the long Lunar New Year holidays at the end of the month.
Chinese authorities are widely believed to have been involved in a sharp spike in offshore yuan funding costs earlier this month to keep the currency from breaching the psychologically import 7 to the US dollar level. But it is still at more than eight-year lows.
Mexico's peso was trading flat after falling nearly 2% on Wednesday when Trump's choice for commerce secretary said that renegotiating NAFTA would likely be the incoming administration's first priority.
The Turkish lira also steadied after weakening almost 1% against the US dollar on Wednesday, with the central bank opening a $300 million forex depot auction aimed at shoring up the currency.
Speaking in Davos, Turkey's deputy prime minister Mehmet Simsek reiterated that the central bank would do what was "necessary" on interest rates, although he added that nothing was more critical than central bank credibility.
A presidential aide also said interest rates were "on the table" as an option to combat falls in the lira.
Investors say a sharp rate rise at the central bank's meeting next week is necessary to put a floor under the lira.
Russia's rouble slipped 1.1% against the US dollar after First Deputy Prime Minister Igor Shuvalov said authorities could buy foreign currency at current oil prices.
Traders took the comments as evidence that authorities were considering resuming forex market interventions to halt recent gains in the rouble.
Russian US dollar-denominated stocks also fell 1.6% to the lowest level since end-December.
The Polish zloty and the Hungarian forint were down around 0.2% against the euro ahead of today's European Central Bank meeting at which it is expected to keep its current monetary policy in place.
Ivory Coast's sovereign US dollar bonds fell around 1 US cent to three-week lows after heavy gunfire was heard overnight in the second port city of San Pedro.