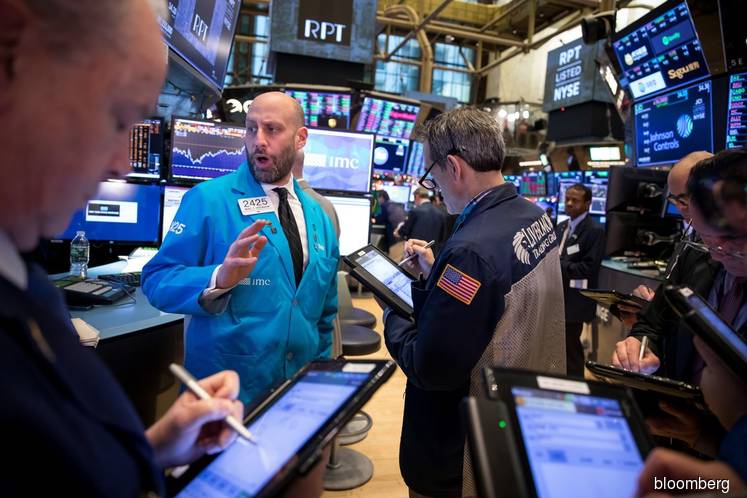 NEW YORK (June 18): U.S. stocks climbed on hopes that President Donald Trump will de-escalate his trade war with China, adding to gains sparked by the ECB's signal that it is ready to cut interest rates, if warranted. Treasuries rose.
The S&P 500 trimmed gains that topped 1.4% at its height as markets digested news that the Trump administration explored demoting Federal Reserve Chairman Jerome Powell in February. Stocks had jumped within 1% of its all-time high, after Trump tweeted earlier he will meet with Chinese President Xi Jinping at the Group of 20 summit next week.
Trade tensions have weighed on stocks, since Trump escalated his trade war in early May.
The S&P 500 has risen within 1% of its all-time highs
"Up until now, the markets have been quite skeptical that a Trump, Xi meeting would happen," said Rob Haworth, senior investment strategist at U.S. Bank Wealth Management in Seattle. "This pivot to an attempt to get a deal done is certainly a lot of what's driving the market now."
Mario Draghi said that the European Central Bank is ready with stimulus if needed, adding to expectations for easier monetary policies. Central banks in Australia, Russia, India and Chile have recently loosened policy. The Reserve Bank of Australia said Tuesday that further easing is more likely than not.
The Fed is widely expected to strike a more dovish tone with its decision at the end of it's two-day meeting Wednesday. The yield on the benchmark 10-year Treasury approached 2% before the notes pared gains. German 10-year yields tumbled further below zero.
Elsewhere, the yen briefly weakened after a magnitude 6.8 earthquake struck off the northwest coast of Japan, triggering a tsunami advisory. Bitcoin steadied after a four-day 17% surge.
Here are some key events coming up:
The Federal Reserve, Bank of Japan and Bank of England all set monetary policy, along with central banks in Norway, Brazil, Taiwan and Indonesia.
The Fed meeting begins Tuesday with a decision and press conference the next day. Officials are expected to debate a rate cut to shelter the U.S. economy, in part, from the fallout caused by escalating trade disputes.
In the U.K. Tuesday there will be a second ballot on the leadership contest to choose Theresa May's successor as leader of the country's ruling party.
Final May CPI data for Britain are due on Wednesday.
U.K. retail sales are set for release on Thursday.
These are the main moves in markets:
Stocks
The S&P 500 Index rose 1.1% as of 12:45 p.m. New York time, while the Nasdaq Composite Index gained 1.5% and the Dow Jones Industrial Average increased 1.3%.
The Stoxx Europe 600 jumped 1.7%.
The MSCI Emerging Market Index rose 1.5%.
The MSCI Asia Pacific Index gained 0.6%, the first increase in five trading sessions.
Currencies
The Bloomberg Dollar Spot Index fell less than 0.1%.
The euro eased 0.3% to US$1.1190, while the yen strengthened 0.1% to 108.43 per dollar.
The British pound rose less than 0.1% to US$1.2545.
The MSCI Emerging Markets Currency Index rose 0.6%, the first increase in five trading sessions.
Bonds
The yield on 10-year Treasuries dropped 4 basis points to 2.05%.
Germany's 10-year yield fell 8 basis points to negative 0.32%.
Commodities
West Texas Intermediate gained 3.9% to US$53.96 a barrel.
Gold rose 0.6% to US$1,347 an ounce.
The Bloomberg Commodity Index rose 0.9%.