This article first appeared in The Edge Financial Daily, on March 11, 2020.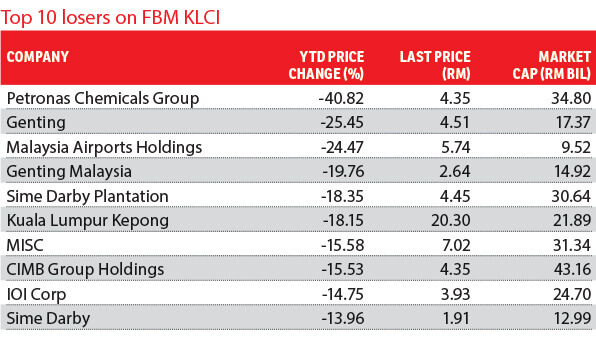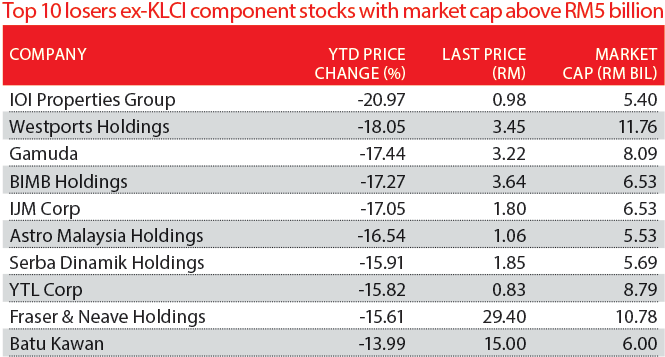 Click / Tap image to enlarge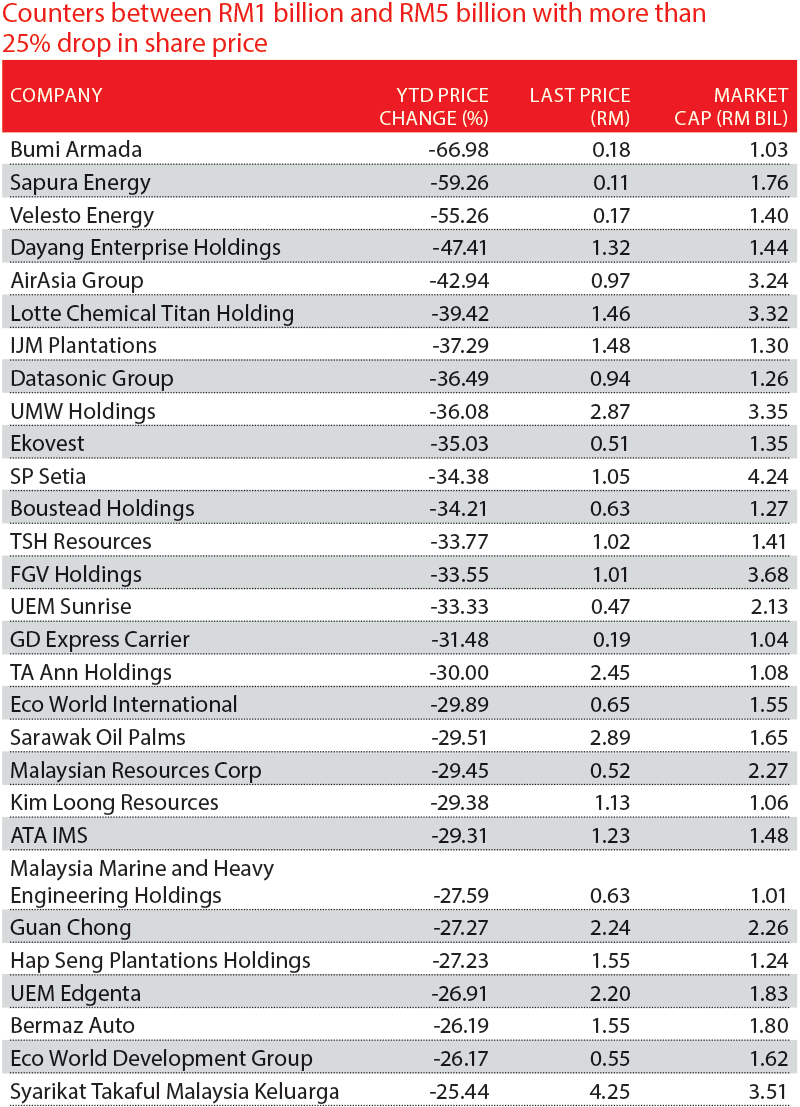 Click / Tap image to enlarge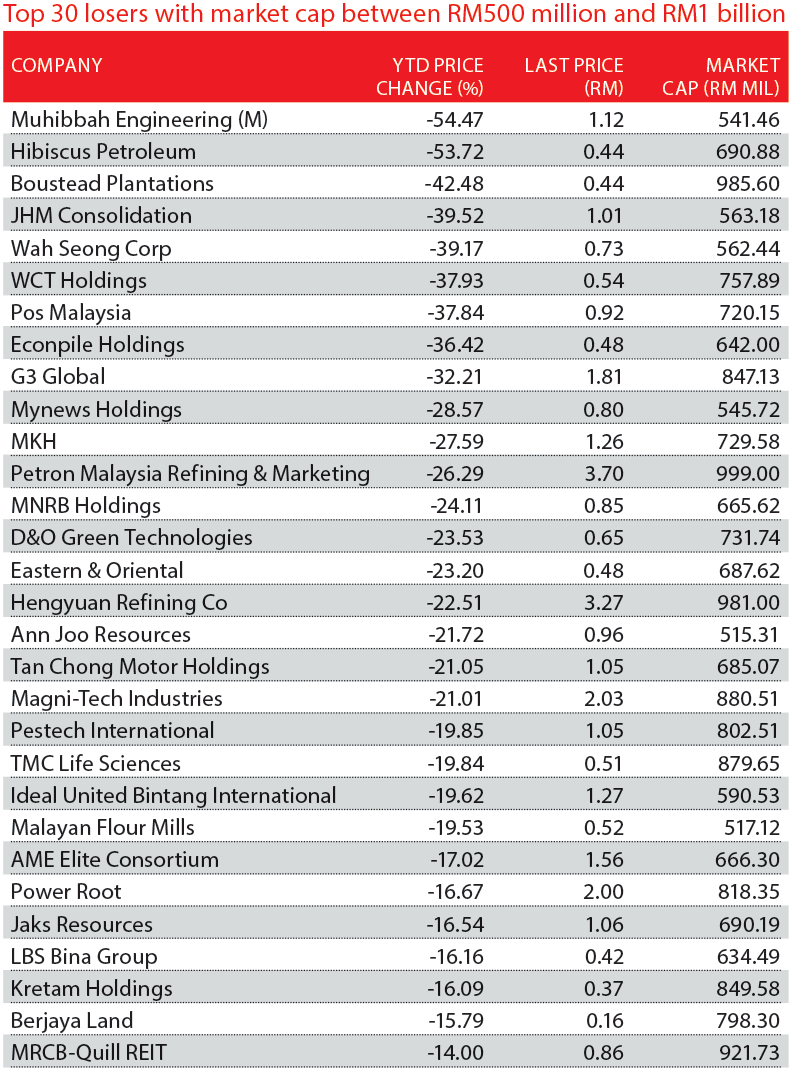 Click / Tap image to enlarge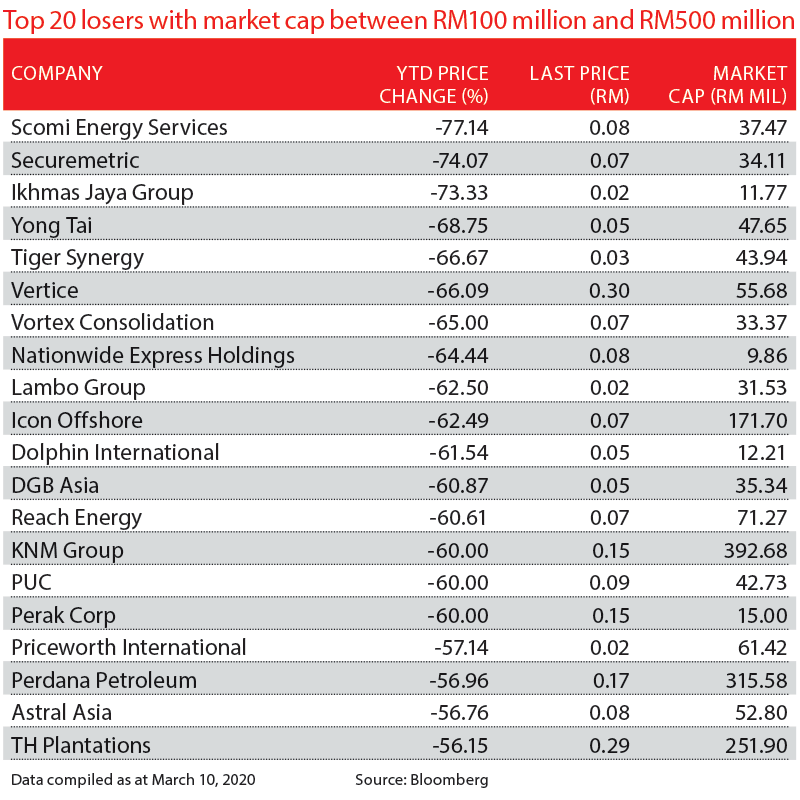 KUALA LUMPUR: It never rains but it pours. The local stock market has been hit by multiple whammies.
On the home front, the lingering political uncertainties have dampened market sentiment. On top of that, the external shocks, namely the outbreak of the Covid-19 virus worldwide that is expected to strain the global economy, and the unexpected oil price war started by Saudi Arabia.
The recent heavy selldown pulled share prices even lower after last year's lacklustre performance. Broking houses have started making margin calls as share prices spiral down.
For investors who have been on the sideline, equity strategists believe the time is ripe for some bargain hunting but one needs to be selective when picking stocks given that there are many variables in the equation at this juncture.
The FBM KLCI has slid 9.96% year to date (YTD) to close at 1,430.47 points yesterday. The benchmark index has fallen 14.25% since January last year.
The selling on the broader market was even heavier given that the Bursa Malaysia Small Cap Index was down by 19.8% YTD to close at 11,361.08 points yesterday. However, the index was up marginally by 1.28% over the past 14 months.
"Despite the enhanced market volatility, not all is dark and gloomy as Affin Hwang Capital continues to advocate a defensive stance, favouring the Malaysian real estate investment trusts (MREITs) and healthcare sectors," said Affin Hwang Investment Bank Bhd (Affin Hwang IB) deputy group managing director Yip Kit Weng.
Other sectors that Affin Hwang IB has an overweight rating are rubber gloves, plantations and electronics manufacturing services, Yip added.
In respect of the oil and gas sector, especially after the oil price crash on Monday, Yip opined that Dialog Group Bhd will be a prime beneficiary given that the low oil-price environment should see higher demand for storage space.
"In addition, we believe Serba Dinamik Holdings Bhd could benefit from higher maintenance demand in the Middle East as production ramps up," said Yip, adding that its order book target of RM15 billion by end-2020 remains intact from crucial maintenance work and the Pengerang Integrated Complex starting up.
Yip said the "buy" calls remain on Velesto Energy Bhd, Bumi Armada Bhd and Kelington Group Bhd, noting that Petronas Chemicals Group Bhd has been added to its "buy" list given the recent share price drop, which now offers a 4.5% yield.
"While we project 2020 KLCI earnings per share growth of 1.3%, there is likely a downside risk to this considering the collapse in oil prices and negative impact from Covid-19 including supply chain disruptions and weaker demand," said Yip.
Moreover, he said Affin Hwang IB continues to expect some potential outflows to arise from downside risks due to uncertainties around Malaysia's economic growth prospects due to the impact from Covid-19.
Thus, inflows into the Malaysian market are expected to be limited in the near term, especially if the spread of Covid-19 virus outside China is getting rampant, he added.
TA Securities Holdings Bhd head of research Kaladher Govindan said that investors have to nibble selectively "as [one] can never predict the bottom".
The downside risk, he noted, is that the local bourse is still trading at a premium valuation compared with its regional peers. And that would mean foreign selling has yet to subside.
"With downside pressure from oil prices, investors should remain defensive with exposure to yield play, exporters and undervalued picks," said Kaladher.
While the Covid-19 outbreak remains the main concern for the market, Hong Leong Investment Bank Bhd (HLIB) head of research Jeremy Goh said investors could sigh in relief for the time being as the recent political fiasco in the country — being one of the three whammies that caused the market selldown — has appeared to subside.
From the valuation perspective, Goh noted that the KLCI does look quite attractive now with its current price-earnings ratio level of around 14 to 15 times, compared with the historical average.
Goh continues to like rubber glove counters, but on a more selective basis. "For us, our pick would be Top Glove Corp Bhd, as the Covid-19 will continue to spur the demand," he added.
With the dovish environment, it is no surprise that HLIB would also be looking at MREITs. "While there are some downsides for the retail-based REITs as footfall in malls will start to drop, we must also bear in mind that the overnight policy rate is being reduced quite a fair bit. We have [had] two cuts this year and potentially are looking for one more cut in May," said Goh.
However, the research house would still avoid tourism-related stocks such as aviation and Genting stocks, despite share prices falling by a lot. "We have yet to see the first batch of results, and that will only be reported in May. So, without those numbers, it is quite hard to gauge how bad the impact is," said Goh.
Likewise, MIDF Research senior analyst Imran Yusof said investors would need to select potential stocks which have solid fundamentals. "This should be paired with stocks that give very attractive dividend yields which should moderate any downside risk," he added.
Stocks characterised as defensive could also be considered such as utilities and consumer staples, he noted.
Over 700 stocks lost ground on Bursa YTD
DATA compiled by The Edge Financial Daily show that of the 900 over companies, 769 were in negative territory. The sharp fall was as much as 77.14% since the start of the year.
More than half of the 30 FBM KLCI component stocks have had a double-digit decline in their share price, with Petronas Chemicals Group Bhd being the biggest loser with its share price down 40.82%. Tourism-related stocks such as Genting Bhd (-25.45%), Genting Malaysia Bhd (-19.76%) and Malaysia Airports Holdings Bhd (-24.47%) were among the big losers.
Unsurprisingly, the only three counters which have seen growth in the last two months or so were healthcare stocks, namely Top Glove Corp Bhd (29.79%), Hartalega Holdings Bhd (16.79%) and IHH Healthcare Bhd (2.19%).
For counters with a market capitalisation of above RM5 billion, the top laggards were IOI Properties Group Bhd (-20.97%), followed by Westports Holdings Bhd (-18.05%) and Gamuda Bhd (-17.44%).
Of some 104 stocks with a market capitalisation of RM1 billion to RM5 billion, 58 counters have shown a decline in their share price. Within this bracket, the top four losers were oil and gas-related counters, namely Bumi Armada Bhd (-66.98%), Sapura Energy Bhd (-59.26%), both of which share price has sunken below 20 sen, Velesto Energy Bhd (-55.26%) and Dayang Enterprise Holdings Bhd (-47.41%).