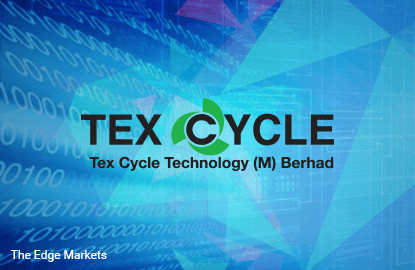 Tex Cycle Technology (M) Bhd (+ve) 
ACE market-listed Tex Cycle (Fundamental: 2.25/3, Valuation: 0.5/3), picked by our momentum algorithm for the fifth time this month, has more than doubled to RM1.00 since the beginning of September. 
In response to Bursa's unusual market activity query on Sep 15, 2015, the company claimed it was unaware of any corporate development that could have led to its share price hike. 
The Selangor-based company is primarily a waste management services provider for a wide range of industries. This segment accounted for 93% of FY2014 revenues. The balance of 7% came from the manufacturing and trading of chemical products. 
On Feb 28, 2014, Tex Cycle obtained a business license to operate its new plant in Telok Gong, Selangor. Subsequently, the plant was granted pioneer status from the Malaysian Investment Development Authority (MIDA), with a 70% tax exemption on tax payable for five years. 
With contributions from its new plant kicking in and higher demand for recycling services, FY2014 revenues grew by 42% y-o-y to RM21.2 million. Stripping out a RM5.4 million fair value gain on investment property in FY2013 and a RM1.6 million provision for a legal claim in FY2014, core pre-tax profit grew by 61% to RM7.0 million.
The company has continued to perform well in 1H2015. Revenue increased by 16% y-o-y to RM12.8 million while pre-tax profit grew by 32% to RM5.6 million. This already accounts for 80% of its core FY2014 pre-tax profit. Meanwhile, profit after tax jumped 64% to RM5.0 million from RM3.1 million in 1H2014.
Tex Cycle has a healthy balance sheet with a net cash position of RM3.9 million. After the recent surge in price, the company trades at a trailing 12-month P/E of 32.9 times and 2.4 times book. Dividend was 0.25 sen per share in FY2014, translating into a yield of 0.3%.
This article first appeared in digitaledge Daily, on September 21, 2015.