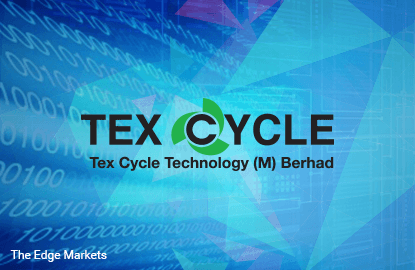 Tex Cycle Technology (M) Bhd (-ve)
THE usually thinly traded shares of ACE market-listed Tex Cycle (Fundamental: 2.25/3, Valuation: 0.8/3) climbed 3.8% to an all-time high of 82 sen yesterday. The stock, picked by our momentum algorithm last Friday, has risen a cumulative 54.9% last week on heavy volume. There have been no new announcements on corporate developments.
The Selangor-based company is primarily a waste management services provider for a wide range of industries. This segment accounted for 93% of FY2014 revenues. The balance of 7% comes from the manufacturing and trading of chemical products. 
On Feb 28, 2014, Tex Cycle obtained a business license to operate its new plant in Telok Gong, Selangor. Subsequently, the plant was granted pioneer status from the Malaysian Investment Development Authority (MIDA), with a 70% tax exemption on tax payable for five years. 
With contributions from its new plant kicking in and higher demand for recycling services, FY2014 revenues grew by 42% y-o-y to RM21.2 million. Stripping out a RM5.4 million fair value gain on investment property in FY2013 and a RM1.6 million provision for a legal claim in FY2014, core pre-tax profit grew by 61% to RM7.0 million.
The company has continued to perform well in 1H2015. Revenue increased by 16% y-o-y to RM12.8 million while pre-tax profit grew by 32% to RM5.6 million. This already accounts for 80% of its core FY2014 pre-tax profit. Meanwhile, profit after tax jumped 64% to RM5.0 million from RM3.1 million in 1H2014.
Tex Cycle has a healthy balance sheet with a net cash position of RM3.9 million or 2 sen per share at end-June 2015. After last week's sharp rise in price, the company trades at a trailing 12-month P/E of 26.0 times and 1.9 times book. Dividend was 0.25 sen per share in FY2014, translating into a yield of 0.3%.
This article first appeared in digitaledge Daily, on September 15, 2015.