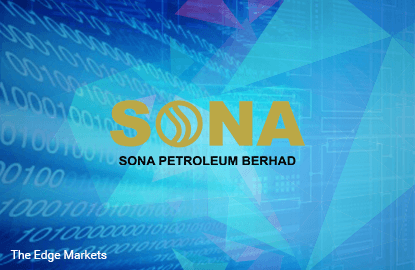 Sona Petroleum Bhd (-ve)
O&G special purpose acquisition company Sona Petroleum (Fundamental: N/A, Valuation: N/A) triggered our momentum algorithm for the first time. It closed up 1.2% at 43.5 sen after two days of heavy volume. Sona's warrants have also been actively traded.
Sona has until end-July 2016 to acquire a qualifying asset. Failure to do so will see the company liquidated and custodian account monies distributed to respective shareholders. 
The company had RM518.7 million in its custodian account as at June 30, 2015. 
Earlier in January, Sona terminated its proposed US$281 million acquisition of a 40% stake in Salamander's Thai assets after being outbid by Ophir Energy.
Sona subsequently proposed to acquire a stake in the assets from Ophir Energy but scrapped the plan in June, citing less attractive valuations arising from weak oil prices and the ringgit. 
Notably, Credit Suisse has accumulated an 11% stake in Sona over the past six months.
This article first appeared in digitaledge Daily, on September 17, 2015.