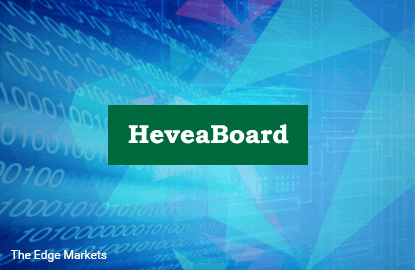 Heveaboard Bhd (+ve)
Heveaboard (Fundamental: 2.1/3, Valuation: 1.4/3) triggered our momentum alert yesterday, following announcement of its 2Q2015 earnings results and dividend payment. The stock rose to an intra-day high of 98 sen before closing unchanged at 94 sen. Nevertheless, it has risen by 131.0% year-to-date.  
For 1H2015, net profit nearly doubled to RM30.0 million on the back of a 7.6% growth in revenue to RM227.8 million, thanks to higher average selling price for premium grade particleboard and value added products as well as forex gain. 
Concurrently, Heveaboard declared a first interim dividend of 0.5 sen per share, which will go "ex" on September 11. 
With the completion of its 4-for-1 share split on July 24, the company now has 417.4 million shares outstanding with par value of 25 sen each. Heveaboard's warrants were also entitled to a 4-for-1 split and the exercise price has been adjusted down accordingly to RM0.25, from RM1.00.
Negeri Sembilan-based HeveaBoard manufactures and trades particleboards and ready-to-assemble furniture, which accounted for 43.0% and 57.0% of its 2014 revenue, respectively. In 2014, Heveaboard derived 91.6% of its sales from exports markets, mainly Japan, China, Korea, Philippines and Australia. 
Despite the furniture industry's cyclicality, Heveaboard has been profitable with fairly consistent earnings in recent years, except for a large dip in 2011 due to the weak US dollar then.  From 2011 to 2014, revenue has grown from RM373.0 million to RM422.4 million, while net profit expanded from RM3.3 million to RM30.2 million.
Notably, the company has pared down its long term borrowings to RM32.6 million at end-June, from RM141.7 million in 2010. As a result, net gearing fell to 4.2%, from 86.6% in 2010. 
The stock trades at a trailing 12-month P/E of 10.5 times and 1.38 times book. Dividends totalled 1 sen per share for 2014 (adjusted for share split), giving a net yield of 1.1%.
This article first appeared in digitaledge Daily, on September 2, 2015.